The long & short stitch is one of those embroidery stitches that is worth learning, and that's why I published a series of step-by-step lessons on a Long & Short Stitch Sampler several years ago.
The purpose of the Long & Short Stitch Sampler is to take the beginner through progressively more difficult aspects of shading using long & short stitch.
Most of the embroiderers from the Needle 'n Thread community featured today said they started out with the Long & Short Stitch Sampler, and then worked their way forward to other types of stitching involving long & short stitch, most specifically needle painting (or creating realistic looking embroidery using long & short stitch shading and other stitches).
Georgia's long & short stitch sampler is an excellent example of making good use of an embroidery sampler after its completion! She used her sampler to cover the top of a box in which she keeps her embroidery supplies.
I love this! You know why? Because I can't count how many little samplers and examples of embroidery I have floating around my workroom, that I don't know what to do with. Mostly, I slide them into a binder for later reference. But why not use them? Framing them all would be overdoing it, but putting them to use as something usable is a completely different notion!
It's a lovely sampler with a brilliant finish!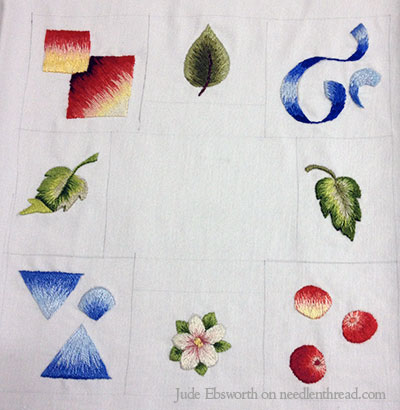 Wanting to embroider some gifts for her daughters, Jude started out with the Long & Short Stitch Sampler, and then tackled some beautiful needle painting pieces for her girls…
…like this magnolia…
…and this perfect little blue wren, both designed by Trish Burr.
Jude says her third daughter will just have to wait until she finishes the Secret Garden project! You can see her progress photos on the Secret Garden project in the Secret Garden Embroidery Group on Flickr. It's coming along!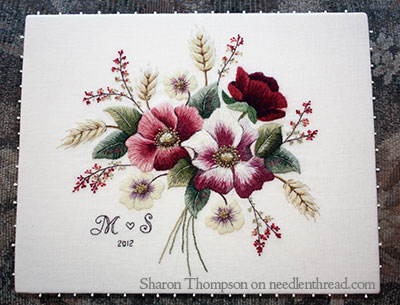 Sharon Thompson started with the Long & Short Stitch Sampler and then moved on to several of Trish Burr's designs. When she sent her photos in, this is what she wrote:
The best I had done before finding your website in '09 had been to try stitches demonstrated in black and white in an old Coats & Clark book from my mother, plus a bit of cross stitch. I have learned so much from you! My favorite has been Long & Short Stitch Needle Painting. I've worked from your sampler, through several of Trish Burr's designs after seeing your book reviews.
Exquisite work!
Sharon Shetley credits Needle 'n Thread with helping her considerably with direction and shading when working stumpwork pieces (like the one above).
This particular piece is worked with rayon threads (hence the sheen).
Sharon specializes in Brazilian embroidery, and she carries all kinds of supplies for Brazilian dimension embroidery (among other techniques) on her website, Threads in Bloom.
Roxann loves needle painting birds! In fact, she just loves birds!
She came upon Needle 'n Thread about a year ago after a 40 year hiatus from embroidery. Living on Lake St. Helen in northern Michigan, she has a wonderful array of birds around her. So, combining Needle 'n Thread, inspiration from nature, and a subscription to Birds & Blooms, she's found a happy niche embroidering her feathered friends.
The branch below the bird above is covered in a lush array of French knots!
Roxann traces outlines of her favorite images from Birds & Blooms onto fabric and then sets about stitching them in long & short stitch and other stitches.
That gloriously vibrant oriole above makes my heart happy!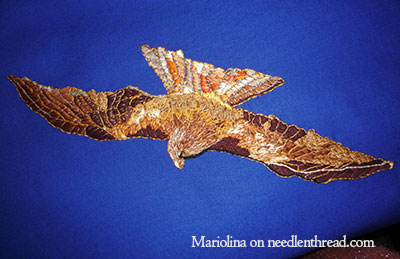 Finally, from the Isle of Wight, Mariolina's eagle embroidered on a bright blue sky, came about as a result of the long & short stitch lessons, too.
I love the texture and movement she achieved by combing many different types of stitches, layered over each other.
Inspiring embroidery all around!
If you've been longing to try long & short stitch shading, or you've been yearning to take a stab at needle painting, but you're not sure where to start, you might consider working through the Long & Short Stitch Shading Sampler. The series has some videos to go along with it, and it's written entirely with the beginner in mind!
For those just joining in, this is a continuation of series of articles that highlights embroidery from the Needle 'n Thread community, especially needlework influenced by information, tutorials, patterns, and so forth from Needle 'n Thread. You can find a call for contributions and an explanation of the series here, and you can see previous examples of embroidery-related reader contributions here.