Here on Needle 'n Thread, I post a lot of hand embroidery patterns, hand embroidery tutorials – stitch instructions and so forth – and hand embroidery projects developed step-by-step.
Sometimes, I feel like I'm posting these things into The Void – they go out there, but do they ever really get used?
In the upcoming weeks, I'll be featuring some readers' embroidery projects, and I thought it might be fun to expand the selection a little bit by calling for some photo contributions of your embroidery projects that have developed from things you've learned or used from Needle 'n Thread.
Read on, to see how you can contribute!
Maybe you've worked up an embroidery stitch sampler using tutorials from the Stitch Fun series…
…or used used the Lattice Sampler Guide to stitch up your own lattice work embroidery sampler. Different colors, different threads – even different stitches? That's what makes it fun!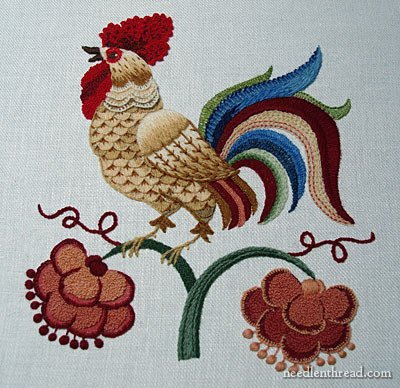 Perhaps you've worked up your own Crewel Rooster embroidery project…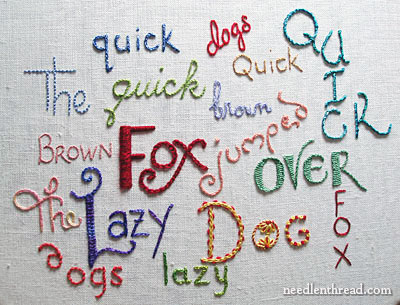 …or worked up your own hand embroidered lettering sampler using the tutorials for hand embroidered lettering here on Needle 'n Thread.
Have you monogrammed anything using any of the hand embroidery monogram patterns?
Maybe you started a new adventure in tambour embroidery, using some of the tambour embroidery resources here on Needle 'n Thread?
Have you mastered an embroidery stitch using the how-to embroidery videos here on Needle 'n Thread and created your own masterpiece?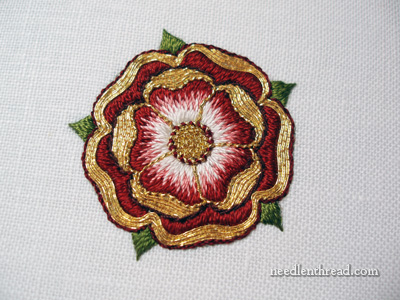 Or followed along with one of the many step-by-step embroidery projects here on the website?
Maybe you've used one of the too-many-to-count free hand embroidery patterns to stitch up your own project? Or used one in a different type of craft application?
I know some of you have even entered competitions using some of the patterns on Needle 'n Thread – won't you share some photos of your work with us?
Perhaps you've stitched something from one of my e-books? Some Little Things from Lavender Honey & Other Little Things? Or a design from Patterns for Church Embroidery? Did you learn the plaited braid stitch by using the Plaited Braid Stitch printable?
Contribute… & Inspire!
If you've done anything in your embroidery pursuits that incorporates tutorials, patterns, or follow-along projects from Needle 'n Thread, here's your opportunity to share your work with others and to inspire us!
See, there's a lot of me on this particular website, and I was thinking that there should be more of you on Needle 'n Thread, too – after all, we're a community, and I think the community part of Needle 'n Thread is the most important part.
So, your task this weekend: take some photos of your Needle 'n Thread-inspired works and e-mail them to me!
Along with your photos, include some information about the piece: the materials used, stitches, special supplies, what you liked (or maybe didn't like!) about the project, why you made it or what you eventually did with it, any amusing stories you might have about the project…
This is a great opportunity to glean some publicity for guild groups and the like, too, or for your own blog or needlework website if you have one. If you're a member of a guild group, let us know what group you belong to and where other stitchers in your area can find your group. If you have a website or a blog, be sure to include that information as well.
Deadline: I'll take entries through Tuesday, June 10th for the first round of submissions. Of course, you can send photos any time – even after Tuesday – but for this more immediate planned feature, the deadline for photos is next Tuesday.
Email your submissions to mary (at) needlenthread (dot) com. And if you have any questions, don't hesitate to drop me a line – or ask in the comment section below!
Now, I'm counting on all of you to chime in – either with your own submissions, or, if you don't have any that fit the criteria, by encouraging others to submit photos of their work! Can't wait to see what you've been up to!
Enjoy your weekend!