Since I haven't posted anything on the Secret Garden embroidery project lately (I haven't been home for the last couple weeks – did you miss me?), today I want to share with you someone else's Secret Garden project.
My reason for honing in on Lynette's version of the Secret Garden Hummingbirds will be obvious once you see it!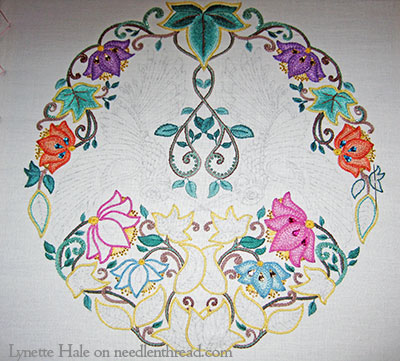 Here, you'll see a completely different, really fun approach to the Secret Garden project.
Besides a new color scheme, Lynette has incorporated different stitches into her project and several types of beads.
To fill the flowers, she worked from dark to light, from the outside in, embroidering in heavy chain stitch. Then she topped each petal with a contrasting colored teardrop shaped bead.
The pistils on the flowers are worked in straight stitch, topped with seed beads.
I love the way the flowers came out! For beginners especially – and for those who don't like the seed stitch filling topped with satin stitch on my version – chain stitch makes a lovely filling! You could work heavy chain stitch, like Lynette did, or you could work just regular chain stitch.
The dark to light progression on the petals keeps them separate, but adds a sense of dimension to them at the same time.
And the contrasting teardrop beads are a brilliant idea, for the teardrop shape in the middle of each petal on the original design.
Lynette embroidered the vines in stem stitch in a combination of browns and teal greens. She used seed beads long the vines, too.
Some of the leaves on the project are worked in long & short stitch and some are worked in satin stitch.
For most of the project, Lynette is using two strands of floss in the needle, except on some of the tiny leaves, where she's used one strand.
So there you go! A completely different approach to the Secret Garden project – fun colors, fun stitches, lively, with lots of sparkle and personality! The piece is beautifully stitched, and I can't wait to see what Lynette decides to do with the birds!
You can find photos of Lynette's progress on the Secret Garden project on the Secret Garden Embroidery Flickr group, along with several other stitchers' photos, all of which have something to offer as far as inspiration goes. It's so fun to see everyone's progress!
For those just joining in, this is a continuation of series of articles that highlights embroidery from the Needle 'n Thread community, especially needlework influenced by information, tutorials, patterns, and so forth from Needle 'n Thread. You can find a call for contributions and an explanation of the series here, and you can see previous examples of embroidery-related reader contributions here.