Last week, I began offering a new series of monograms for hand embroidery – a delicate alphabet with a few simply flower sprays adorning it.
Today, I'll share the letters D, E, and F with you, along with some stitching ideas for beginners (and beyond).
If you have some ideas you'd like to share for stitching the letters, by all means, leave a comment below! It's always nice to hear suggestions from everyone, when it comes to stitching ideas – the more ideas, the better!
This decorative alphabet lends itself well to beginner and advanced embroidery techniques, I think.
For the beginner, simple line stitches, French knots, and daisy stitches would be an easy approach to embroidering a pretty monogram.
The outlines of the letter, for example, could be worked in whipped backstitch. The whipped backstitch is super-easy (just remember to use a tapestry needle when whipping the stitches), and it creates a rope-like, relatively smooth, raised line.
Quite a while ago, I embroidered this whitework design using whipped backstitch and seed stitch. If you look at that project by visiting the link, you can see how the whipped backstitch creates an accurate, raised, solid line.
For the flower sprays, the stems would look quite nice in a fine stem stitch, and the flowers at the tips of the sprays and all the leaves would work well in detached chain stitch (or daisy stitch). The flower centers and the small decorative dots could be worked in French knots.
All of these stitches are particular suited to beginners, but they aren't limited to beginners! They're easy embroidery stitches that can create impressive results.
Each time I share subsequent letters in the alphabet, I'll try to offer other stitching suggestions, but remember – you aren't limited to what you read here! If you want some ideas for embroidering letters, look through the various line stitches on the How-To Video page (where you'll also find an Embroidery Stitch Dictionary arranged from A-Z), and feel free to experiment with other stitches!
Monograms for Hand Embroidery – Printables
If you'd like to print these letters for your files, or save them to your computer, here are the links to the individual PDFs for each letter. On each PDF, you'll find three sizes: 1.5″ high, 3″ high, and 4″ high. If you turn off the scaling options on your computer, the letters should print at those sizes.
If you want to change the sizes of the letters, use the scaling feature in your printers settings, or use a photocopy machine.
Monogram for Hand Embroidery – Delicate Spray D (PDF)
Monogram for Hand Embroidery – Delicate Spray E (PDF)
Monogram for Hand Embroidery – Delicate Spray F (PDF)
Favorite Monograms – PDF Collection
You'll find this complete alphabet – along with 15 other decorative alphabets – all in one place in Favorite Monograms, a downloadable PDF collection of 16 monogram alphabets perfect for hand embroidery and other crafts.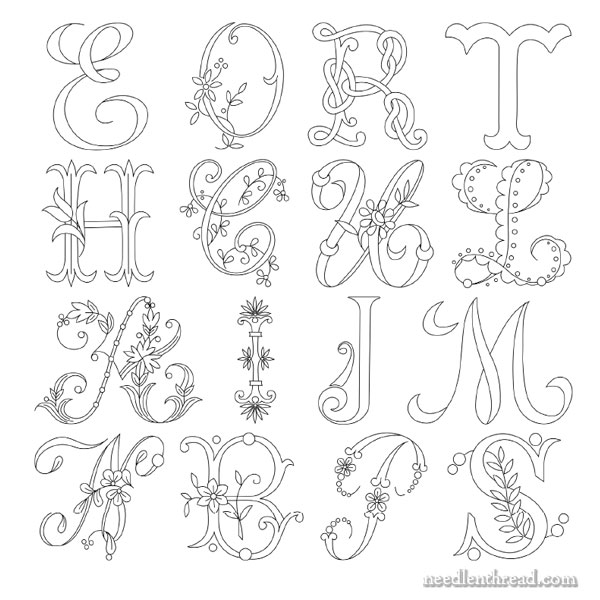 In the photo above, you can see samples of each alphabet available in Favorite Monograms.
Each letter in each alphabet in Favorite Monograms has been carefully traced into a clean line drawing that can be easily enlarged or reduced on a home printer or a photocopier.
The 16-alphabet collection is delivered as via a download link to your inbox shortly after purchase, so that you can begin creating right away! Priced at less than $1.00 per complete alphabet, monogram lovers can't go wrong with this collection!
Favorite Monograms is available in my shop, here.