You know how it is. Once you get a bug in your head for a certain embroidery thread, you can't really let it rest until you find it and try it.
Recently, we chatted a bit about the old whitework threads that can be found today, used, from various sources – estate sales, grandma's attic, and so forth. Often (but not always), these threads are not really usable. They've been exposed to bad conditions or faulty storage for too long, and thread rot has set in.
If the threads are just dirty, it's one thing – they can be cleaned. But if they are weakened due to rot, that's a different question.
So, questing about for new extra fine whitework threads, I took the plunge and bought some threads from Marie Suarez in France.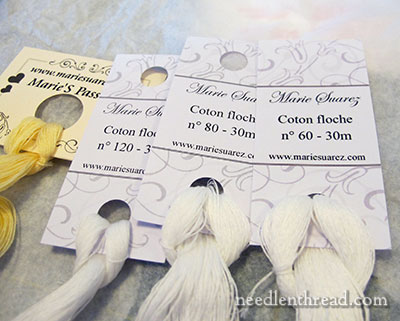 If you're not familiar with Marie Suarez's whitework embroidery, you really should check out her whitework embroidery gallery. You will such exquisite embroidery there!
Much of it is the type of whitework that is done with very fine threads, so I knew Marie must have very fine whitework threads available.
And she does. She carries several weights of floche – very, very fine floche, in size 60, 80, and 120. You can find them in these whitework threads in her boutique, here.
The threads are a little expensive – 3.5€ per 30 meters, which translates into about $4.77 by today's exchange rate.
But I've looked high and low for new and available fine whitework threads in these sizes – new, whole, complete threads; not larger threads that have been broken down into weaker single plies, or threads that are decades old that are already wearing out, but brand new threads in these sizes. And I've had no luck finding them anywhere.
So I'm very happy to find a source for them at last!
If you're looking for very fine whitework threads to use for delicate monogramming, then check out the whitework threads available through Marie Suarez.
And if I ever come across another source, I'll keep you posted!