It's time to add a new monogram alphabet for hand embroidery to the embroidery patterns page!
I love this particular alphabet! It's from the late 1800's – early 1900's (it came out in two different editions of a French publication). I've cleaned it up and added the missing letters from the alphabet (I and W… or was it J and W?).
Often, in old publications that offered alphabets for hand embroidery, certain letters were left out.
Sometimes, it was the I or J, because they can be interchanged for each other. Sometimes, the W was left out, because the M could be flipped. Sometimes, the alphabets are missing X's or Z's – maybe because there aren't as many people out there whose names begin with X and Z? Or perhaps because, in the particular language in which the embroidery pamphlet was printed, the letter didn't figure as a common letter for the beginning of names?
Whatever the case, eventually, the complete alphabet will be available here on Needle 'n Thread. We'll start with A, B, and C.
I call this particular set of monograms "Delicate Spray."
Back in the day, decorative alphabets were not actually named. But it helps me keep things in order if I give the alphabets a name.
They're kind of like kids or pets – if you didn't name them, how would you ever refer to them?!
In any case, this one is Delicate Spray in the files because it features some delicate little sprays of flowers.
The alphabet would look very pretty in any kind of monogramming technique – padded satin stitch, other simpler line stitches, even shadow work.
If you wanted to get really fancy, you could even swing it in goldwork.
Yikes! That just came out – I hadn't thought about it before, the juices are flowing…
Monograms for Hand Embroidery – Printables
If you'd like to print these letters for your files, or save them to your computer, here are the links to the individual PDFs for each letter. On each PDF, you'll find three sizes: 1.5″ high, 3″ high, and 4″ high. If you turn off the scaling options on your computer, the letters should print at those sizes.
If you want to change the sizes of the letters, use the scaling feature in your printers settings, or use a photocopy machine.
Monogram for Hand Embroidery – Delicate Spray A (PDF)
Monogram for Hand Embroidery – Delicate Spray B (PDF)
Monogram for Hand Embroidery – Delicate Spray C (PDF)
Favorite Monograms – PDF Collection
You'll find this complete alphabet – along with 15 other decorative alphabets – all in one place in Favorite Monograms, a downloadable PDF collection of 16 monogram alphabets perfect for hand embroidery and other crafts.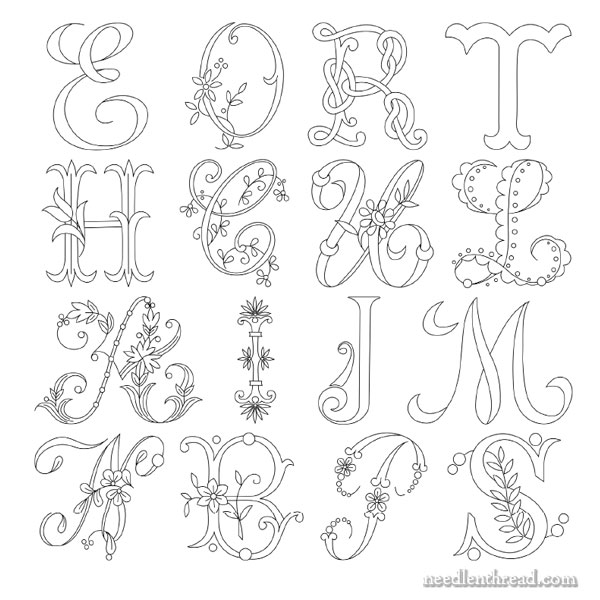 In the photo above, you can see samples of each alphabet available in Favorite Monograms.
Each letter in each alphabet in Favorite Monograms has been carefully traced into a clean line drawing that can be easily enlarged or reduced on a home printer or a photocopier.
The 16-alphabet collection is delivered as via a download link to your inbox shortly after purchase, so that you can begin creating right away! Priced at less than $1.00 per complete alphabet, monogram lovers can't go wrong with this collection!
Favorite Monograms is available in my shop, here.