I have A Thing for hand embroidered monograms. I love them – and it doesn't matter whether they're my initials or not. I just love them.
Embroidered monograms are popular these days. If you don't believe me, search "embroidered monogram" on Pinterest, and you'll come up with a whole slew of them – enough to keep you busy browsing for hours!
So I was delighted to receive several emails from readers here on Needle 'n Thread who have been dabbling with embroidered monograms in a variety of styles, and it is my pleasure to share these masterpieces with you!
I hope you enjoy them as much as I do!
Here's the first one:
Click on the photo above, and you'll see the monogram better.
Stitching thousands of French knots in the same colors as the background fabric and following the pattern in the fabric meticulously, Kerry created a subtle but fascinating R. She used my French knot video tutorial to get the hang of the French knot. I would imagine that, before she was too long into this project, she was a pro with it!
To put it into perspective, the hoop is an 18″ quilting hoop. The French knots are made with three strands of DMC floss. And there are approximately 11,300 French knots in the whole letter. It took Kerry about 60 hours to embroidery this, and believe it or not, she's still in love with French knots! She said she loves doing them, and she loves the way they feel when they're done. She'd like to French knot a whole piece of fabric and cover a binder with it!
I'd like to see this piece up close – and run my fingers over it at the same time!
Kerry also stitched this Celtic monogram R on a tea towel for her mom.
She used the Celtic monogram alphabet for the letter. Following the instructions in the Plaited Braid Stitch printable, she worked the R in plaited braid stitch in #5 perle cotton.
Just in case you thought plaited braid stitch should only be worked with metal threads, now you know!
RoseMary worked the monogram A from another monogram alphabet offered here on Needle 'n Thread. She used 6 strands of DMC to stitch a large A for the middle of a cushion, using split stitch.
I love the idea of large monograms on cushions. It's such a great way to personalize a room!
RoseMary's cushion is a perfect example of how one stitch in one color on one design can create a very nice gift.
Using the same alphabet that RoseMary used, Anita embroidered a K & N on a wedding pillow, using variegated threads in long and short stitch. A lovely, sweet memento!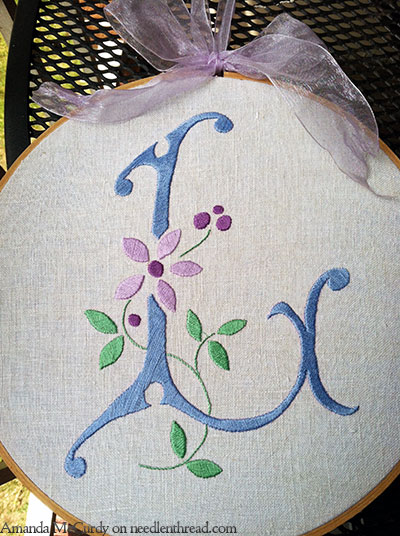 And using the same alphabet, Amanda McCurdy embroidered this beautiful L in satin stitch as a gift for her grandmother Leatrice's 90th birthday.
It is perfectly satin stitched – so pretty!
And another hand embroidered L. Heather embroidered this beautiful floral L monogram after seeing these floral monogram kits from French Needle mentioned on Needle 'n Thread.
Oh, joy! If you don't read the comments on Needle 'n Thread fairly regularly, you might not be familiar with Sarah. She's a very interactive reader here on Needle 'n Thread – her comments always make me smile!
She's 11.
Sarah stitched up this Holly & Joy design available here. The design is made up of three decorative initials put together into one word (you can read about the process of combining those letters into one design here).
Sending in the photo, she wrote:
For this project I used all DMC 6-stranded cotton embroidery floss on a white linen. The stitches I used were backstitch, chain stitch, daisy stitch, and french knots. I like to keep things simple with my embroidery; simple stitches, simple threads. When I was stitching this project, I had gotten two of the letters' yellow chain stitch done thinking, Yay! Only one more letter to go! Then I went to start on the last letter and ran out of the yellow thread. Problem was, I didn't know what number the thread was! So I had to go to the store and hold up this scrap of yellow thread to a whole bunch of different skeins until I found the right color.
I think she did a great job on it, and I really like the finish. That style of frame is perfect for a one-word piece of embroidery – very reminiscent of the older Victorian paper embroidery mottos!
Can you guess what inspired Bronwen's illuminated embroidered C? You guessed it – the Secret Garden project!
The C is worked in couched metal threads, and the whole piece is mounted in what looks like the cover of a book or journal.
I love the combination of monograms or decorative initials with goldwork – and I'd love to cover a book this way!
Cynthia, a member of the Sand Dunes chapter of the EGA (Sun Region – Florida), worked a beautiful example of a shadow work monogram on this pristine linen pouch.
It is gorgeous!
The inspiration for the embroidery came from this demonstration of a shadow work monogram.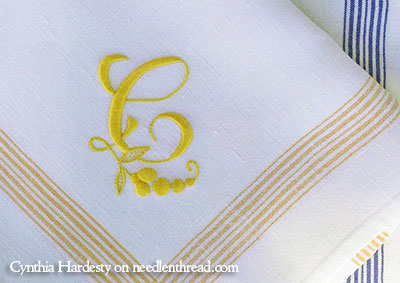 I think Cynthia must like monograms as much as I do! Here's a cheery yellow C embroidered on a linen glass towel…
…and an H in red (reminiscent of this embroidered B monogram in red on the same linen glass towel)…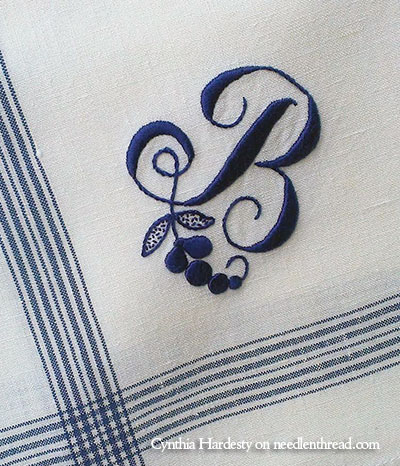 …and a B in blue.
I was so excited to see so many monograms among your photo contributions! I never grow tired of them!
Favorite Monograms – PDF Collection
If you're looking for monograms to hand embroider, you'll find 16 beautiful decorative alphabets – many of those featured in the projects above – all in one place in Favorite Monograms, a downloadable PDF collection of 16 monogram alphabets perfect for hand embroidery and other crafts.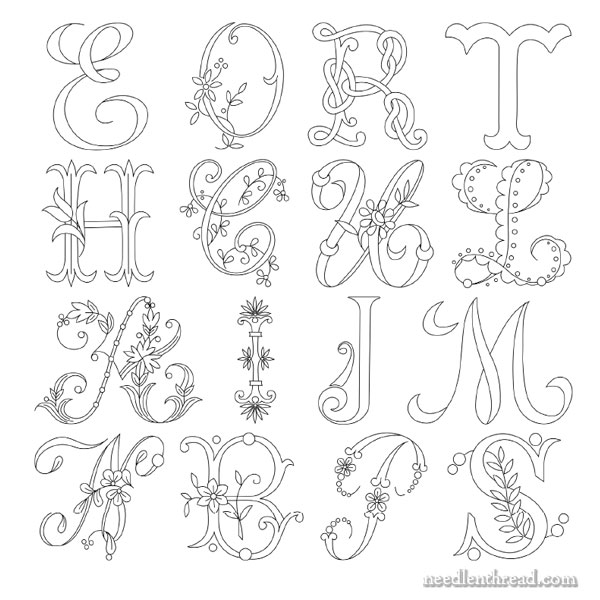 In the photo above, you can see samples of each alphabet available in Favorite Monograms.
Each letter in each alphabet in Favorite Monograms has been carefully traced into a clean line drawing that can be easily enlarged or reduced on a home printer or a photocopier.
The 16-alphabet collection is delivered as via a download link to your inbox shortly after purchase, so that you can begin creating right away! Priced at less than $1.00 per complete alphabet, monogram lovers can't go wrong with this collection!
Favorite Monograms is available in my shop, here.