Today's article has a two-fold purpose: it's part of the series of reader's embroidery stitched under the influence of Needle 'n Thread, but better yet, it demonstrates a creative way of overcoming the Most Disappointing, Horrific Experience of Color Run from embroidery threads that are not color fast.
Have you ever embroidered something with threads that you thought were colorfast, only to have them inexplicably bleed their dye onto the ground fabric come washing or rinsing time? It can be a gut-wrenching experience!
You've put hours – possibly weeks or months – of work into a project and you come to the point where you want to wash it or rinse it. You do so, still confident and happy, glowing in the sunshine and satisfaction of your stitching accomplishment.
You remove the piece from the water, and
…and…
…and…
…there it is. DYE. Oozing all over the ground fabric. Blurring the lines of your beautiful embroidery. Seeping out of the threads and spreading a halo of destruction around your stitchery. Oh, woe is you!
And woe is me, too! It's the hardest situation to advise people on, because there aren't too many solutions that absolutely work, or that work in every situation, to clean up the mess.
And that brings us to Diana's crazy quilt…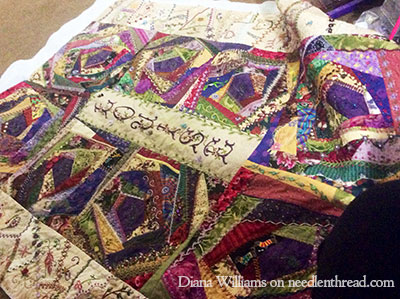 Using this monogram alphabet from Needle 'n Thread, Diana embroidered her daughter's name on the centerpiece for a crazy quilt that she has obviously put much time, care, and work into.
It's a lovely piece! And adding the name to the center is a great way to use a decorative alphabet to personalize a crazy quilt.
Using metallic threads from Kreinik, she outlined the letters and filled them with hundreds of French knots in the same thread.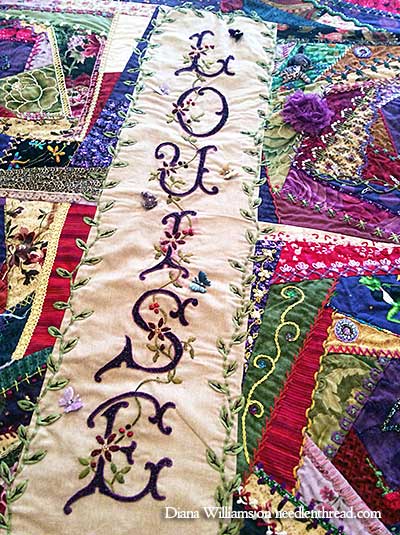 When the centerpiece was finished, she washed the quilt top, never expecting that the metallic threads would not be colorfast.
(At this point, it's probably a good idea to note that, even if a thread claims to be colorfast, it does not hurt to test it first, especially when working with darker threads like reds and purples.)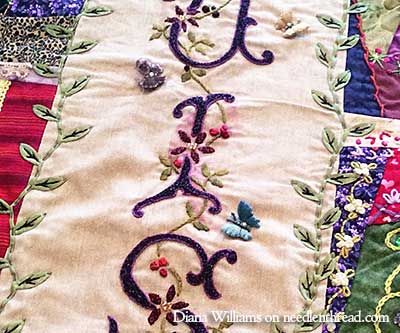 Here, you can see the color run a little closer, in the areas where she had the most difficulty trying to remove the offending dye.
A difficult situation, indeed! And what to advise? Continued rinsing did not solve the problem.
With the surrounding crazy quilt made up of a festival of colors, and with so much embroidery work already done, using a compound that removes dye would not be the best idea. Why risk dulling those wonderful colors?
Re-working the center name? Oh goodness! Only if desperate, right?
I never like the idea of bleach on embroidery fabrics, because it weakens them. And coming so close to the embroidery, even diluted bleach dabbed on is risky. Lemon juice, dabbed on, with the piece left in the sun? Well, it could work…
You see, there are so many things to try, but nothing that's absolutely guaranteed to work.
(Perhaps you've been in a similar situation and have a magic solution? If so, do leave a comment below and let us know!)
So, what did Diana do? Did she find a magic solution to remove the dye and salvage the piece? Did she start over and re-work the letter panel? Or did she do Something Else?
Well, she did Something Else. She took the quilt to Quilter's Fancy in Cortland, Ohio, and consulted with Cindy.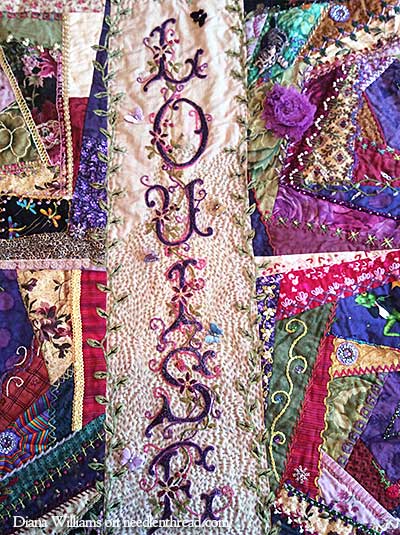 Cindy suggested enhancing the letters with another vine – instead of trying to make the dye go away, work with it!
So Diana picked out some pink and purple Cosmo threads and embroidered in some whimsical vines around the lettering, working over the areas where the dye had run into the fabric.
Here, you can see a little closer the fanciful vines worked around the letters, in brighter pinks and purples that mask the dyed area. It looks fantastic! It looks fun! And it was an ingenious idea.
She also worked marvelous swirls of running stitches all over the background behind the letters, adding texture and movement to the panel, and further distracting the eye from ever noticing that there was any problem at all.
You can't see the dye run at all. A beautiful save on a beautiful piece of embroidery!
Whew. I love happy endings.
Have you ever had a dye disaster? Any advice on how to salvage the piece or remove the resulting glow? You never know who you'll help by sharing your experience below!
For those just joining in, this is a continuation of series of articles that highlights embroidery from the Needle 'n Thread community, especially needlework influenced by information, tutorials, patterns, and so forth from Needle 'n Thread. You can find a call for contributions and an explanation of the series here, and you can see previous examples of embroidery-related reader contributions here.