Here's the next set of three monogram patterns for the Delicate Spray alphabet I've been adding to the patterns here on Needle 'n Thread – the G, H, and I.
You can find A, B, and C here, and D, E, and F here, and the whole index for monogram patterns here.
I love this style of G for a monogram! It's elegant, don't you think?
With this alphabet, I've been offering some stitching suggestions while posting the groups of letters. With the last group of letters, we talked about some simple stitching approaches, especially suitable for beginners.
Another approach that would be suitable for determined beginners and for intermediate embroiderers would be shadow work.
Shadow work is essentially backstitch alternating between two lines, forming a closed herringbone stitch on the back of the fabric that shows through as a shadow on the front, between the two backstitched lines.
With this particular alphabet, you could work the letter in shadow work, and then work the vines in stem stitch, the leaves and petals in satin stitch, and the dots and flower centers in French knots.
The letter would end up being a little subtle in comparison with the decoration, but this difference can add some nice contrast to the decorative letter.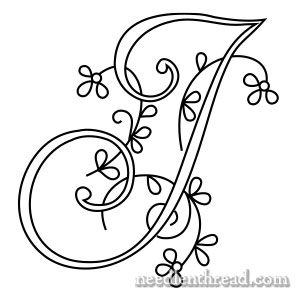 Normally, in most old monogram alphabets that are used for hand embroidery, the J and the I are used interchangeably, so you don't always find both in the collection.
For this alphabet, I altered the J a little bit to make it more distinct from the I, so in the next set of letters – J, K, and L – you'll see a difference between the J and the I.
Monogram Embroidery Pattern Printables
Here are the PDFs for today's monograms. The letters will print at 1.5″, 3″ and 4″ high if you choose no scaling (or a similar setting) on your printer. You can enlarge and reduce them by using the scaling feature on your printer or by using a photocopier.
Monogram for Hand Embroidery – Delicate Spray G (PDF)
Monogram for Hand Embroidery – Delicate Spray H (PDF)
Monogram for Hand Embroidery – Delicate Spray I (PDF)
Favorite Monograms – PDF Collection
You'll find this complete alphabet – along with 15 other decorative alphabets – all in one place in Favorite Monograms, a downloadable PDF collection of 16 monogram alphabets perfect for hand embroidery and other crafts.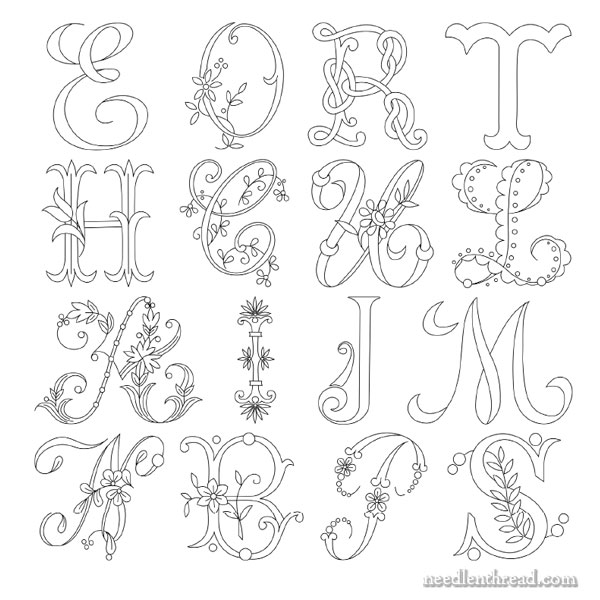 In the photo above, you can see samples of each alphabet available in Favorite Monograms.
Each letter in each alphabet in Favorite Monograms has been carefully traced into a clean line drawing that can be easily enlarged or reduced on a home printer or a photocopier.
The 16-alphabet collection is delivered as via a download link to your inbox shortly after purchase, so that you can begin creating right away! Priced at less than $1.00 per complete alphabet, monogram lovers can't go wrong with this collection!
Favorite Monograms is available in my shop, here.