The other day, we looked at the hummingbird's finished head on the Secret Garden embroidery project. Today, I'll show you how I'm embroidering the scallops on the bird's chest.
I'm still feeling my way along here, so eventually, I'm sure we'll run into a few areas that need to be un-embroidered (as in, ripped out!) and re-thought, but for right now, I'm pretty happy with how the little bird body is turning out.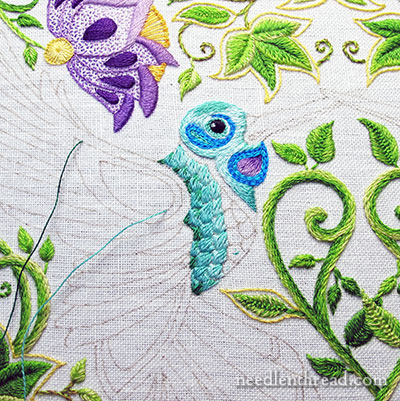 In this lower part of the main body of the bird, I'm using very simple satin stitch (no padding) and straight stitch, and echoing the colors in the background on the head.
The unfinished scallops you see there will be a different color scheme altogether.
I started on the scallops closest to the wing and stitched them in a dark emerald green. Then, reverting to the same colors used in the long and short stitch on the head, I worked from darker to lighter, layering the scallops towards the neck and the front of the bird's breast.
Then, on each layer of scallops, I took the darker shade from the layer before and stitched in a few straight stitches to give some depth and contrast.
Right now, you can see that the edges of the scallops are not super-perfect – they really don't need to be. Sometimes you can see a thread of fabric here and there, and some of the edges are a little jagged. Here, we're looking at it very close up, anyway.
The imperfections are quite alright – the edges will be covered. My plan is to accentuate the scalloped pattern using a darker thread around the scallops, probably in a kind of modified fly stitch. I'm thinking of using the emerald green, although I'm not a hundred percent certain. Too much contrast there may result in a bird breast that looks as if its covered in armor or scales.
I'll try it anyway. If it doesn't work, I can always pick it out, right?
(I'm getting pretty darned good at picking out…sometimes, I spend more time picking out than putting in!)
At this point, I'm thinking the front portion of the breast will be shades of purple, and the neck band (where I'm thinking about adding a little texture) will be the vivid blues.
Once this portion of the bird is complete, I'll give a color list so far. I'm hesitant to give an absolute color list on something I'm still feeling my way through, because I wouldn't want you to waste money on colors that may not be used after all.
Any questions? Comments? Suggestions? Have your say below!
If you'd like to follow along with the Secret Garden Hummingbirds project, you can find all the articles relating to this project arranged in chronological order in the Secret Garden Project Index.