Ahhhh – It's Thursday! The perfect day to introduce to you a new collection of free monograms for hand embroidery!
This is one of my favorite old alphabets – it's so pretty, and I have a thing for daisy-looking flowers.
And there's a lot to this alphabet, design-wise, which opens up all kinds of embroidery possibilities, from simple to complex.
I like the idea of embroidering the letter's lines with some kind of outline stitching. Depending on the size of the monogram, the outlining could be fine or heavy.
For smaller monograms, the outline could be embroidered with a stitch that creates a fine line (like stem stitch, whipped backstitch, outline stitch, etc.), or, with larger monograms, you could use a textured or heavy line stitch – like Palestrina stitch, Portuguese knotted stem stitch, or a chain stitch or variation thereof.
Then, the other design elements on the monogram – the rings and the flower – could be embroidered in a smooth, padded satin stitch, to provide contrast.
That's one approach that comes to my mind, anyway – what about you? Any stitch combinations or suggestions for this alphabet? How could you see it worked?
Printable Monogram Patterns
Here are some handy dandy printables for the A and B in this alphabet. If you choose "no scaling" (or a similar setting) on your printer, the letters should print at 2″, 3″, and 4″ high. You can enlarge and reduce them to suit your needs!
Daisy & Rings Monogram for Hand Embroidery: A
Daisy & Rings Monogram for Hand Embroidery: B
Favorite Monograms – PDF Collection
You'll find this complete alphabet – along with 15 other decorative alphabets – all in one place in Favorite Monograms, a downloadable PDF collection of 16 monogram alphabets perfect for hand embroidery and other crafts.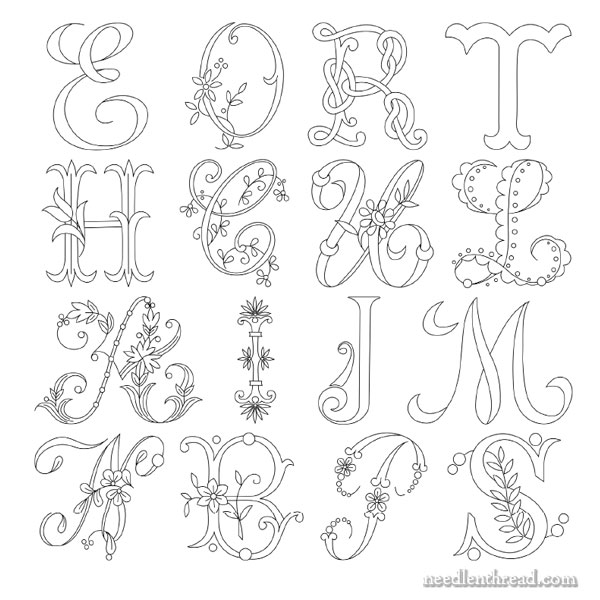 In the photo above, you can see samples of each alphabet available in Favorite Monograms.
Each letter in each alphabet in Favorite Monograms has been carefully traced into a clean line drawing that can be easily enlarged or reduced on a home printer or a photocopier.
The 16-alphabet collection is delivered as via a download link to your inbox shortly after purchase, so that you can begin creating right away! Priced at less than $1.00 per complete alphabet, monogram lovers can't go wrong with this collection!
Favorite Monograms is available in my shop, here.