Moving along with the latest monogram alphabet, here's the G & H for the Daisy & Rings alphabet for hand embroidery.
Some of you asked if I would just go ahead and post the whole alphabet all at once, so that you can choose the letters you need and not have to wait for them. Good question, and the answer is simple!
It takes a couple hours of sitting at the computer to clean up the letters from their original scans, turn them into vector illustrations, and make them print-friendly. I work on the letters when I have spare time to sit at the computer and fiddle.
Cleaning up two letters every several days to once a week is a good average, because sometimes I have more time, and sometimes I have less.
Sometimes, I feel like sitting at the computer and doing this kind of work (which can admittedly be rather monotonous!), and sometimes, I don't!
(I Love this H!)
So, no real secret – it's just a matter of how much time I have to devote to this type of work on the computer.
Printable Monogram Patterns
Here are the printable pages for the G and H in this alphabet. If you choose "no scaling" (or a similar setting) on your printer, the letters should print at 2″, 3″, and 4″ high. You can enlarge and reduce them to suit your needs!
Daisy & Rings Monogram for Hand Embroidery: G
Daisy & Rings Monogram for Hand Embroidery: H
Favorite Monograms – PDF Collection
You'll find this complete alphabet – along with 15 other decorative alphabets – all in one place in Favorite Monograms, a downloadable PDF collection of 16 monogram alphabets perfect for hand embroidery and other crafts.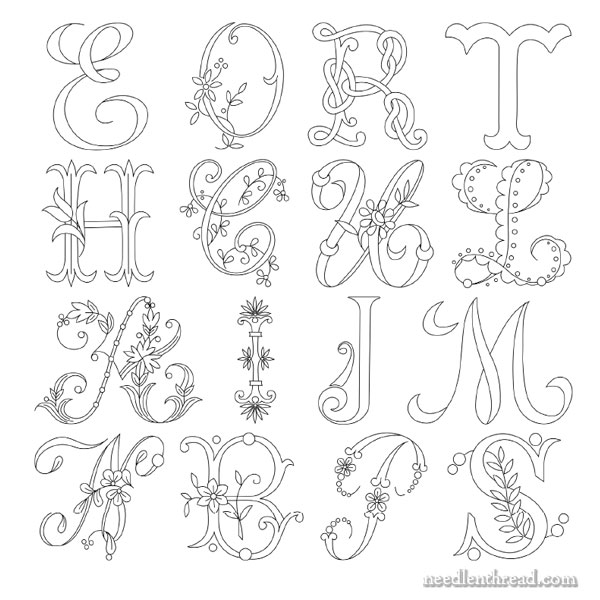 In the photo above, you can see samples of each alphabet available in Favorite Monograms.
Each letter in each alphabet in Favorite Monograms has been carefully traced into a clean line drawing that can be easily enlarged or reduced on a home printer or a photocopier.
The 16-alphabet collection is delivered as via a download link to your inbox shortly after purchase, so that you can begin creating right away! Priced at less than $1.00 per complete alphabet, monogram lovers can't go wrong with this collection!
Favorite Monograms is available in my shop, here.