Yesterday, we looked at the Spanish Knotted Feather Stitch worked closed, so that it produces a nice, complicated-looking (but not complicated at all!) braid-like line.
We looked at those stitches very close up, and I received some questions about how I get clear close-ups like that, and some questions about the camera I use.
Since I was working on some stitch samples for another project yesterday, I have a few photos on hand that I can use to explain what I do when I take photos of stitch samples.
You should probably understand right off the bat that I am no professional photographer. If you want professional photographic advice to produce professional, gorgeous photos, you'll want to ask someone else!
First off, there's the photo equipment that I use when embroidering. My camera criteria is pretty simple: it must take high resolution photos easily and quickly, without having to spend a lot of time fiddling with the camera.
Equipment I Use for Photographing Stitches
Camera: Right now, I'm using a Canon PowerShot G12 to take photos for the blog. It's not the most up-to-date model of the PowerShot, as I've had it for a while.
The PowerShot has some features that make it easy to use – it's essentially a point and shoot, but you can manually adjust some things to improve your photos, depending on what you're photographing. Or you can just put everything on auto…
Most importantly for what I do is the fact that it has a macro setting. Most digital cameras do – you just have to know how to turn it on. So read your manual and look for the macro setting! It's usually pretty easy to find.
Another important point for me: it's not a complicated camera. I don't have to spend a lot of time manipulating anything in order to take pictures for the blog – I can just grab it and shoot the photos I need as I go. They aren't professional photos, but they do the job.
Another important point: it's a good camera, but it didn't break the bank.
Lights: I use BlueMax lights in my workroom, and they work really well for taking photos. The color spectrum is right, the lights are good and bright, and I can bend them and move them if I need to manipulate where the light's coming from.
OTT lights won't do it, if you want sharp pictures. For one thing, though you might not normally notice it, OTT lights pulsate. The camera does notice it! Another thing: they just aren't bright enough.
Sunlight: Nothing like good sunlight for good macro photos – just be aware of shadows.
Taking the Picture
The picture above was taken with my camera on a macro setting (that's the setting for close-ups), and the lens was practically on top of the fabric, which is evident by the shadow at the bottom of the photo.
The shadow is there because I didn't have the right light set up when I took the photo. Why not? Because I was being lazy, and because my work area was such a mess, it couldn't accommodate another light!
For the photo I was taking, I wasn't concerned so much about that whole shot. I really just wanted part of the chain stitch line in the photo, and, by cropping the photo, I'll lose the shadow.
Those lines are just less than two inches long. Each chain stitch is 1/8″ long. The thread is coton a broder #25, which is a somewhat fine thread.
So there they are, two chain stitch lines, with 1/8″ long stitches, taken fairly close up with the camera.
If I took the picture as far away as my eye when I'm doing the embroidery, you would see even more of the fabric, and even less detail on the individual stitches.
And, as it is now, it's not the best photo for instructing on anything, because you can't really see much detail.
After I take pictures, I load them on my computer. I use a Mac and I use Photoshop to edit my photos. There are plenty of other more economic software options out there for photo editing, though. I use Photoshop pretty much because I've always used it and I'm familiar with it.
I crop the photo to the area I want to focus on (see the photo above) and make any adjustments in brightness, contrast, etc. Then I re-size it so that it fits on my website (400 px in width).
The resulting photo shows the stitches a bit out of normal proportion, when it comes to the real size of the line of stitches and of the individual stitches!
But this way, you can see every detail of each stitch, and in fact, every detail of the thread. I figure, if my purpose is to instruct on the movement of a stitch, you need to see everything in detail.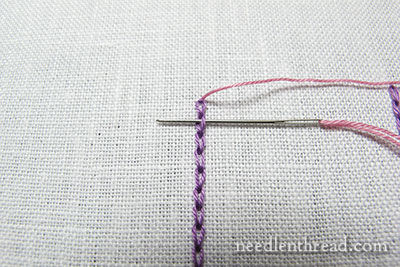 A. Above, the original shot, relatively close up using the macro setting.
B. Above, the cropped version.
So that's how I get my close-up photos. No big secret! But if you're trying to figure it out, I hope that helps!
And I meant it when I said I had no more room for another light. I suppose my workroom is a mess (again!) because it's Wednesday. I'm not sure why my Wednesdays start this way, but it will end on a much tidier note, I promise!
Another little thing I got done: I transferred some monograms onto small pieces of left over linen, to play with different approaches to these particular lettering designs. If I manage to actually get around to working on them, I'll share them with you down the road!
Now, off to straighten and organize, so I can think again! Hope you have a jolly day!