Yesterday, I asked if you recognized a certain embroidery stitch and could name what it is, and several of you came through with the goods!
Let's look at it again, shall we?
Here, the stitch is worked relatively close together, but not quite as close as yesterday's green wool sample.
The sample above is stitched with #16 metallic braid from Au Ver a Soie, on a 1/4″ wide line. The needle next to it is not a regular needle – it's a #18 chenille needle, so it's a large needle, but it helps to put the size of the stitch sample in perspective.
Funny thing about large chenille needles: after you've been working with a fine #9 or #10 crewel needle, the #18 chenille needle feels like a railroad spike! In any case, why the chenille needle? It's got a long eye, like a tapestry needle, but a sharp point, like a crewel needle, and it works well with metallic braids like this one.
But back to the stitch…
With the metallic version, which is spaced slightly farther apart, the stitch should be more recognizable. It is indeed the Spanish Knotted Feather Stitch.
Those who suggested some kind of twisted chain variation or chain and feather stitch combination were spot on, too, because that's what the Spanish Knotted Feather Stitch is – it's a combination of twisted chain stitch and feather stitch.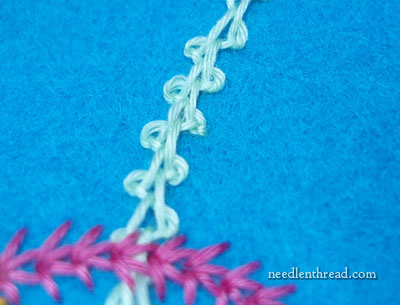 When the stitch is worked open and farther apart, it creates a kind of interlocking zig-zag line. This is how the stitch is demonstrated in my how-to video for Spanish Knotted Feather Stitch – spaced farther apart – and this is how you'll see most diagrams drawn for the stitch in most stitch dictionaries.
Here's another example of the stitch, close up, worked loosely and open, using two strands of Fine d'Aubusson wool. The line is 1/4″ wide.
And the stitch bunches up a bit towards the end…. not the best-stitched sample in the world!
Next door to the open line, you can see the stitch worked closed – or without any space between the stitches. Both lines are 1/4″ wide.
Both samples use the same length of thread. Both samples have the same number of stitches in them.
So be warned! When working Spanish Knotted Feather Stitch closed (that is, close together with no open space between the stitches), the stitch is a thread hog!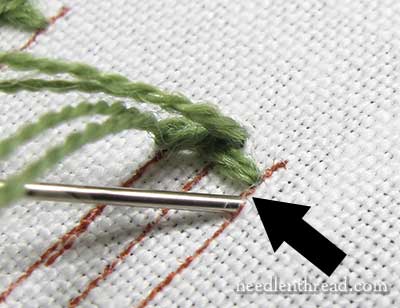 So, how close do you have to work the stitch, to end up with a nice, compact braid? Pretty close!
For the green wool samples, for each stitch, I only moved a few threads of fabric down the line for each stitch. The arrow in the photo above points to the space between the stitches.
How close you make your stitches will depend on the thickness of the thread you're using and just how compact you want your braided line. The best thing to do is to test a few stitches first with whatever thread you want to use, to determine the best spacing for the look you want.
Here's an example of the stitch worked with coton a broder #25, a thread that's about the thickness of one and a half strands of regular stranded cotton combined together.
Coton a broder 25 works up really well into a braided line using Spanish Knotted Feather Stitch. The line above is about 3/16″ of an inch wide, or just slightly over 1/8″ but not as wide as 1/4″.
Other Threads for the Stitch
Other threads that work well with this stitch, worked closed: perle cotton in any size, two or three strands of stranded cotton, tapestry wools, stranded silks. Filament silks (buttonhole silk, Soie Perlee, Trebizond, etc.) and rayons (EdMar, Brazilian embroidery threads) are a little more difficult to work with, because they're a slippery and boingy.
Just remember to adjust the width of the line and the spacing of the stitch according to the weight or thickness of the thread you choose.
Spanish Knotted Feather Stitch, then, is a much more versatile stitch than it may seem at first glance. Frankly, I think the poor stitch is underused!
It makes a glorious braided line easily – there's nothing complicated about the components or the movements of the stitch. If you can work a twisted chain stitch, you can work the Spanish Knotted Feather Stitch.
So, next time you're contemplating adding a wider braided line to your embroidery – whether it's a stem on a piece of crewel work, a golden vine on a silk and metal thread piece, or even a braided simple monogrammed letter, give Spanish Knotted Feather Stitch a try! You'll be glad it's in your repertoire!
Stitch Fun is a tutorial series on Needle 'n Thread in which we explore obscure stitches, different uses for common stitches, and fun combinations of all kinds of stitches. For more Stitch Fun tutorials, visit the Stitch Fun Index, where you'll find a whole slew of tutorials to spice up your surface embroidery!