Just a quick little offering today – the next four letters in the Daisy & Rings Monogram Alphabet.
I always feel So Accomplished when I can crank out more than two letters at a time! I know, I know, I'm slow!
In any case, for those looking for the next four letters – O, P, Q, and R – here they are!
Back to some stitch talk for these monograms. One of my Needle 'n Thread friends wrote to ask if I thought this particular alphabet would work well, embroidered entirely in padded satin stitch. She's a beginner, but she likes the padded satin stitch for monograms.
I like the padded satin stitch for monograms, too – I love it! But it's not something I'd foist upon a beginner with this alphabet.
There are definitely some elements in these letters that would be (more or less) easy to embroider in padded satin stitch and achieve a beautiful result, even as a beginner – the rings, the daisy petals, the center of the daisy, the leaves.
But to try to work the padded satin stitch for the whole letter and the daisy & rings adornment would be difficult, I think, especially for a beginner. I'd find it difficult myself, especially where the flower rests on the letter.
It can be done, but to do it without its looking crowded or jumbled – to do it in a way that keeps the integrity and balance of the design – can be difficult.
Instead, if you're really keen on using padded satin stitch, use it for the areas suggested above.
For the main body of the letter, you can achieve a nice contrast with the padded satin stitch by using a a line stitch for outlining the main lines of the letter.
For example, stem stitch, split stitch, chain stitch, whipped backstitch, or maybe an overcast satin stitch over one thread or even a knotted stitch like Palestrina stitch, would all work.
Then either leave the inside of the letter lines empty, or work them in a seed stitch, which would provide good textural contrast with the padded satin stitch elements.
I probably wouldn't work a knotted stitch (like Palestrina) for the outline and seed stitch for the filling – it would be too much texture, I think.
But a smooth outline and seed stitch filling would look really beautiful, in contrast with the padded satin stitch elements – or a smooth outline and no filling at all – or a textured outline and no filling.
So, there are some options if you want to incorporate padded stitch in a way that would be less challenging for a beginner.
This is essentially what we discussed when first introducing these letters, but hopefully, this helps clarify a bit!
Printable Monogram Patterns
Here are the printable pages for the O, P, Q, and R. If you choose "no scaling" (or a similar setting) on your printer, the letters should print at 2″, 3″, and 4″ high. You can enlarge and reduce them to suit your needs!
Daisy & Rings Monogram for Hand Embroidery: O
Daisy & Rings Monogram for Hand Embroidery: P
Daisy & Rings Monogram for Hand Embroidery: Q
Daisy & Rings Monogram for Hand Embroidery: R
Favorite Monograms – PDF Collection
You'll find this complete alphabet – along with 15 other decorative alphabets – all in one place in Favorite Monograms, a downloadable PDF collection of 16 monogram alphabets perfect for hand embroidery and other crafts.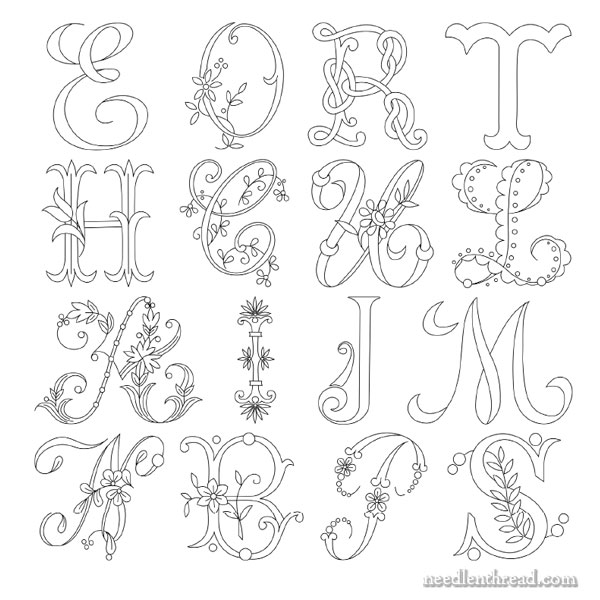 In the photo above, you can see samples of each alphabet available in Favorite Monograms.
Each letter in each alphabet in Favorite Monograms has been carefully traced into a clean line drawing that can be easily enlarged or reduced on a home printer or a photocopier.
The 16-alphabet collection is delivered as via a download link to your inbox shortly after purchase, so that you can begin creating right away! Priced at less than $1.00 per complete alphabet, monogram lovers can't go wrong with this collection!
Favorite Monograms is available in my shop, here.