Do you have but one pair of embroidery scissors? I know many embroiderers who do – one pair of scissors, exclusively for embroidery, that they cherish, protect, and defend with their lives.
I used to have one pair of embroidery scissors that I used exclusively for surface embroidery. For goldwork and wire, I had a pair of snippers that eventually died the death.
But that was before I started Needle 'n Thread. I'm not sure what happened, but over the past many years, I've accumulated a few pair. I blame it on the blog.
Off the top of my head, I couldn't even guess how many pairs of embroidery scissors I have right now.
But I can tell you this: embroidery scissors are not all created equal.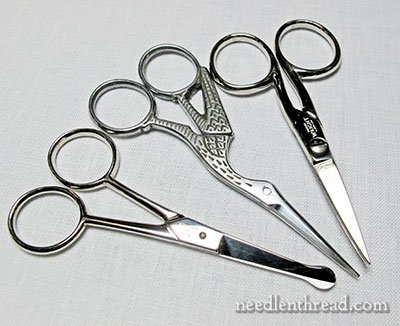 Recently, after about a month of expectation, three new pairs of embroidery and needlework scissors arrived by post.
(I call it the "post," because they came from England. If they were from America, they would have come in the mail.)
You may recall that, at the beginning of August, I shared with you a video about the making of scissors in Sheffield, England, by Ernest Wright & Sons, LTD.
Around that time, I placed an order for three pairs of needlework scissors from Ernest Wright & Son. Not only did I want to support the company, but I also wanted to try them, see if there's much of a difference between these scissors and any other pair of scissors, and eventually review them for you.
I ordered their rounded lace scissors, their antique pattern stork scissors, and their large bow embroidery scissors with straight blades.
Until you actually have a product in hand and know what it's like, you can't really say whether it is "reasonably priced," but at £20 each, (about $32.50 / pair), I figured they were in the range of what I'd pay for a good pair of scissors that weren't an elaborate pair of scissors.
For those of you who know scissors and are familiar with prices, you can find DOVO (German) scissors from about $35 upwards to a whole (a whole) lot more. You can find Bohin (French) scissors from around $17-$20 (for their "fun" scissors) and upwards, PreMax (Italian) around $30 for their better scissors (around $20 for their light, but fun, scissors), and Kai (Japan) scissors from around $13-$15.
All of these are ok scissors, and some of them are "excellent" scissors.
In my mind, ok scissors are scissors that are great while they're new, but in reality, we don't really expect them to last our whole lives. In many cases, we buy them because, yes, they cut, but often it's more because they're attractive in some way. They add to the collection. They're fun. They're most likely light in weight, they might have plastic components.
And while initially sharp and usable, we don't hold them and say, "Oh. You are my Life-Long Cutting Companion, and I will hand you down to my children and my children's children."
Excellent scissors, on the other hand, are the type of scissors you hold in your hand, you open and close, you use, and then you let out the most contented of sighs, because they just feel good in every respect.
They're always a pleasure to use, they fit on your fingers, they have enough weight to them that they feel real, and you could legitimately say to them (and mean it), "You really are my Life-Long Cutting Companion. If I take care of you, you will serve me all my stitching days."
So the question is, where do the Ernest Wright & Son scissors fall?
Here are the lace ones, with the rounded tips – they're a super-duper handy tool to have, and if you do any kind of needlelace and even cutwork (they can be handy for long edges in cutwork), you should have them in your tool box.
Here are the stork scissors.
I only ever had one other pair of stork scissors – a little pair of Gingher stork scissors from a local fabric store. They weren't Gingher, as in made-in-Germany Gingham. They were Gingher, as in made-in-China Gingher. They lasted, oh, a year, maybe? They were never a pleasure to use – the finger holes were small, their blades were relatively thick. They weren't snippy. And the finish didn't last. They put me off storks for quite a while.
The Ernest Wright storks have restored my faith in storks.
These are the large bow scissors. The finger holes are a bit larger, making them quite comfortable to use.
While the blades on the large bow scissors are wide, they are also nice and thin.
Here are the three new Ernest Wright scissors (left) next to a pair of Bohin scissors (far right). You can see that, over all, the Ernest Wright scissors are noticeably larger than the tiny little fad scissors with decorative handles that we've become accustomed to seeing everywhere these days.
Not only are they noticeably larger, though, but once you hold them in your hands, you will conclude that they are noticeably more substantial in every conceivable scissor-related way.
As far as comparing the three Ernest Wright scissors, they're all three excellent scissors. The stork scissors have a little more snip to them than the large-bow scissors and the lace scissors. It could be the smaller blades or the position of the fulcrum – they just close with a noticeable snip. That's not a bad thing, it's just a different feel, compared to the large-bow scissors or the lace scissors.
To sum it up, the Ernest Wright scissors are smooth as glass. They are weighty. They are substantial. They're balanced – they feel good and they feel right in your hands. They fit well. They're mechanically perfect, in their opening and closing. There's no wiggle, there's no vibration, there's no catching, there's no uncertainty.
The scissors open and close with that perfect precision that softly hisses the delectable sound of a faultless meeting of the blades.
Ernest Wright & Sons in Sheffield produce scissors as scissors were meant to be. They are real scissors. They are scissors that will be your Life-Long Cutting Companion.
Yes, I'd say they're reasonably priced – after all, you will never need another pair of embroidery scissors.