Today, I'm happy to announce the winner of a copy of Hazel Blomkamp's lovely embroidery book, Crewel Intentions, from last week's embroidery book give-away.
And what a great way to start October, right? Thinking of Hazel's gorgeous Jacobean-esque designs, planning some new embroidery projects…
Incidentally, speaking of Hazel's designs and this particular one ("Late Harvest" from Crewel Intentions), I think I'll be setting up this project to embroider on this winter. I'll let you know when I get going on it. It won't be my main project, but I do want to set it up and work on it off and on, just for the sheer pleasure of it.
If you want to join me, you're welcome to. You can find my review of Crewel Intentions here, so you know what to expect as far as instructions go. And you can find information below on where to find the book, and on Hazel's kits, if you want to go the kit route.
Crewel Intentions Give-Away Winner
Back to the winner!
The question I posed was whether or not you're a seasonal stitcher. By that, I meant do you stitch according to the season – do you stitch holiday projects, spring projects, summer and fall projects, winter projects, when the seasons change? Do you find yourself choosing colors and textures and so forth, based on the season? Or even based on your mood as influenced by the season? Do you like stitching Christmas projects, Halloween projects…?
I'm not really a seasonal stitcher. I do find, though, that my color choices and even thread and texture choices are somewhat influenced by the season. For example, I'd be more inclined to embroider a wool blanket during the winter. During the summer, the thought would not occur to me. In the fall, I like working with autumn colors. In the spring, I tend to want to work with bright, lighter colors. But for all that, I don't really embroider seasonally-themed projects during any specific season.
And all that being said, that doesn't mean I never would! I like to leave myself open for every contingency!
Congratulations to Karen Hilinski, who unabashedly admits she pulls out her knitting needles when the weather starts getting cooler!
I am not sure that I should admit this here, but when the weather starts getting cooler, unless I have an embroidery project going, I pull out my knitting needles. When I am embroidering, I never think about the season, rather I am guided by what I want to make, usually something in white work or if I am making something for someone. I have Hazel's last book and I love it – the colors, beads, and especially the Jacobean designs.
Please drop me a line with your mailing address, Karen, and I'll get crewel Intentions off to you soon.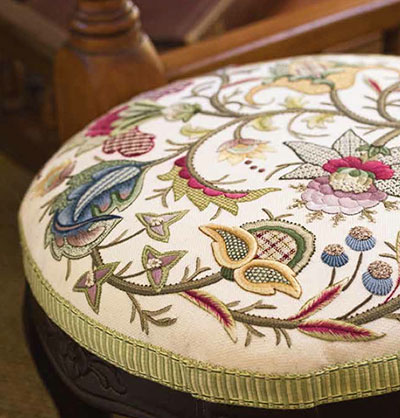 Where to Find
You can order Crewel Intentions through Amazon in the US now.
Worldwide, you can find Crewel Intentions through Book Depository, with free shipping, and where they have it currently listed as shipping within 24 hours.