A couple weeks ago, we looked at silk chenille for hand embroidery, and started exploring how to work with the thread.
First, we talked about silk chenille thread and what it is, looking at it up close. Then, we looked at couching silk chenille and using it for woven stitches.
Today, in part 3 of this mini-series on silk chenille embroidery thread, we'll discuss some tips for stitching with silk chenille and look at some other types of stitching it can be used for.
Ground Fabric & Silk Chenille
Before we plunge too deeply into the subject of embroidery stitches with silk chenille, let's talk a bit about the ground fabric used with this thread.
In hand embroidery, you can pretty much use whatever ground fabric you want to use for embroidery. Any fabric can be embellished with embroidery stitches, right?
But when you're using a thread like silk chenille, the ground fabric you choose is going to make a difference in how the thread performs. For this particular article, I'm using a linen called Montrose 1750.
Montrose 1750 is a medium-to-heavy weight linen that's tightly woven (the threads are close together in the weave), but with a relatively low thread count of about 24 threads per inch. It's a sturdy linen, but it's a soft linen. The threads that make up the weave are not brittle or harsh. They're rounded and plump. They separate easily. And this ability to separate the threads of the ground fabric easily helps the needle to open up a suitable hole in the fabric for the chenille thread to pass through.
Tightly woven, finer fabrics, like silk grounds, high count linens, cottons, and multiple layers of fabrics (for example, that you find at the seams of a crazy quilt square) – these types of ground fabric make it more difficult to stitch with silk chenille. You can use silk chenille with them, but you have to be more careful, more watchful of the thread, and you have to make sure you're using the right needle for the job. Couching and woven stitches in silk chenille work better on these types of fabrics.
Silk chenille is often used on needlepoint canvas, by the way, where the holes are already there for you, and they're big.
So, if you want to stitch with silk chenille, I suggest using a fabric that allows the needle to easily open a nice hole for the chenille to pass through.
I'm using silk chenille from Au Ver a Soie. It comes in 3-yard put-ups here in the States. One of the nice things about it – the chenille coordinates with other silk threads in the Au Ver a Soie line that can be used for couching.
Soie 100/3 (left) and Soie Gobelins (right) are both suitable for couching silk chenille.
Even if you are not planning on couching the chenille, you do need to have another thread available, so that you can secure the ends of the silk chenille on the back of the fabric. Of course, that thread doesn't have to be a coordinating silk! But if you're couching the silk chenille, you'll want to use a coordinating thread color.
Length of Thread, Threading the Needle
To work embroidery stitches with silk chenille (as opposed to simply couching the thread), use short lengths of thread – I'd say no more than 15″ long, but in fact, shorter is even better! The shortest length you can get away with is best.
When using the silk chenille for regular embroidery stitches, you have to thread it into the needle.
If you thread the silk chenille straight into the needle as it is off the skein, you'll find that the thread looses a lot of fuzzies as it passes through the fabric.
Instead, strip the fuzz off the end of the silk chenille, so that you're left with about 2″ of plain thread, sans fuzz.
Thread this naked thread into the needle…
…and tie a knot in it, as close to the beginning of the fuzzies as possible.
This will help keep the fuzz in place as you pass in and out of the fabric.
When you begin stitching, leave about an inch of the chenille on the back of the fabric. You don't need to knot it – it should just hold there. When it's time to end the thread, take it to the back and cut it so that there's about an inch left. Then take a finer thread and oversew the ends onto the back of the fabric, to hold them in place.
Stitches Samples with Silk Chenille
There are many, many embroidery stitches, but not every stitch works well with silk chenille. In fact, I'd say very few stitches work well or easily with silk chenille.
That doesn't mean you can't try whatever stitches you want to try with the thread – just be aware that certain stitches work better.
I absolutely love silk chenille worked into "granitos." If you're not familiar with the granito, feel free to watch my how-to video for granitos, or just to check out the photos of them, here.
When working granitos with silk chenille, you only need three stitches with the chenille to create nice, plump, fuzzy berries.
You can build on the granito further by working a stem stitch around it in a lighter color, to create a rose.
You can create buds by continuing the granito with a lighter shade (top left) or working a fly stitch around the granito (lower left).
And of course, you can continue to add to your stem stitch rose or your granito bud, by adding another layer of chenille in a lighter shade.
The rose looks so warm and snuggly!
If your thread even starts to hint at rattiness, it's time to change it!
With the Au Ver a Soie chenille, I found that some colors actually worked much better for hand embroidery stitches than others. I don't know if this has to do with the dye on the original threads (I believe the chenille is made from Soie Ovale), but it surprised me that some of the colors simply held up better and longer when stitching like this.
The dark red, for example, was dreamy to stitch with. It kept its integrity and passed smoothly in and out of the fabric for almost the whole 15″ length, without a worry. The lighter red (it's actually "antique violet") was much more finicky and didn't hold up as well for as long.
The point: as you stitch, keep an eye on your thread! Not all threads behave exactly the same way.
Stem stitch works ok with chenille, and you can even alternate colors with your stem stitch to get a nice striped effect, which would work great for borders and the like. Or for bugs. Or for candy canes.
What I found out while working with this silk is that any kind of straight stitching works best. The simpler the stitch, the better the chenille works!
Finally, this is a green hillside worked in three shades of green silk chenille, using undersided couching – a technique I'll show you up close down the road.
I wanted to see how well the thread worked with undersided couching, as opposed to regular couching, and whether or not the technique would produce a nicer finished result than regular couching. I think it does! So that's another stitch to consider using with chenille, especially if you're using it to stitch grass, fields, and the like.
Remember this autumn tree I embroidered year before last, using silk gimp and silk wrapped purl?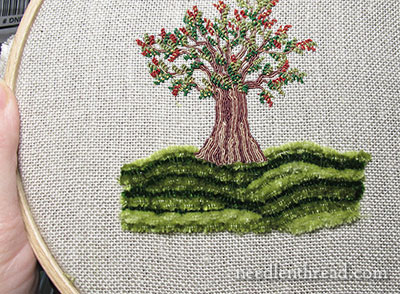 I think it looks pretty good on a hill of silk chenille!
So, there's a lot you can do with the silk chenille. While it is probably mostly associated with Victorian images of large and sumptuous leaf and floral motifs embroidered in long straight stitches (or surface satin stitches), you can work other types of embroidery with it.
I can see silk chenille working best in stumpwork applications, in crazy quilting, and as little accents in regular surface embroider projects.
If you're looking for the thread and want to give it a try, locally owned needlework shops that carry goods from Access Commodities should be able to get it for you. You can find many of these shops online, too. There are other types of silk chenille out there, too – I haven't tried them all, though, so if you have a favorite, feel free to shout it out in the comments below!