If I could categorize embroidery books into types, I'd probably divide them up like this:
Embroidery techniques, embroidery projects, embroidery history (and culture), old embroidery books, embroidery patterns…
I'm sure if we all put our heads together, we could come up with a few more general categories that hand embroidery books usually fall into, but off the top of my head, those are the divisions that come to mind when sorting books.
And I was sorting books the other day, when I came upon an oldy but goody. It fits into pretty much all the categories listed above, in one way or another.
The book is Scandinavian Embroidery by Edith Nielsen, published in 1978.
Although it's long out of print, you can find copies of Scandinavian Embroidery available through plenty of used book sources.
I don't know if you've noticed, but there's a current trend involving Things Scandinavian right now – from Scandinavian furniture designs, to colorful Scandinavian folk embroidery, to Scandinavian Christmas ornaments and greeting cards… Scandinavian is in.
But long before Scandinavian was quite so "in" in so many spheres of living, Edith Nielsen wrote her book on Scandinavian embroidery.
When I bought the book (used), admittedly, I was drawn to it by the cover, which seemed to promise a book that focused on colorful folk embroidery. I'll tell you right off the bat, that's not the real focus of this book. In fact, there's very little surface embroidery in the book – the cover image and one or two other pieces inside are surface embroidery, but that's it, really.
I found the book to be a delightful treasure for a different reason.
And no, it has nothing to do with the book plate I discovered on the inside cover!
There's nothing better than coming across a good bookplate inside a used book. And this one – well, let's just say I found it fortuitous. I have no idea who Dixie is. But I think the book was destined for me!
The treasure I found within Scandinavian Embroidery is the thoroughly written history of Scandinavian embroidery, from past to present, just as the cover promises.
For those of you who have an interest in Hardanger embroidery or Hedebo (which I wrote about here), keep an eye out for copies of this book! If you enjoy knowing something about the embroidery that you practice, then you will thoroughly enjoy reading this book.
In it, you'll find a readable, in-depth history of embroidery techniques from Scandinavia, with a heavy concentration on Hardanger and Hedebo.
The text is accompanied by photos of different Scandinavian techniques – and although the majority of the pictures are black and white, they're still a pleasure to see. And considering much of the embroidery discussed in the book is whitework, the black and white photos serve their purpose just fine.
And that's not to say there's not some color, like this peasant cushion from the late 1800's.
In the surface embroidery of the region, I'm particularly taken with the geometric and folk designs like the ones in the cushion above. I love the grid work, the heavy textured stitching, and the folk motifs, especially that adorable rooster!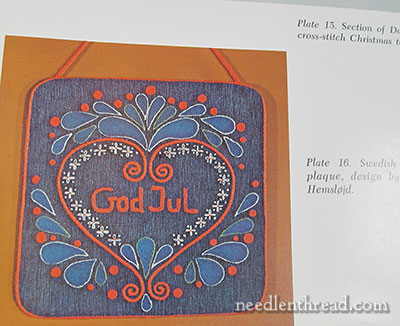 And, appropriate for the coming Christmas season, here's a Christmas greeting in surface embroidery.
One aspect of the history of Hardanger and the accompanying photos that really interested me was the fact that Hardanger of old is much, much more delicate than the Hardanger we commonly see today. The fabric is finer and the voided areas are larger and more open, with quite a bit more drawn thread work.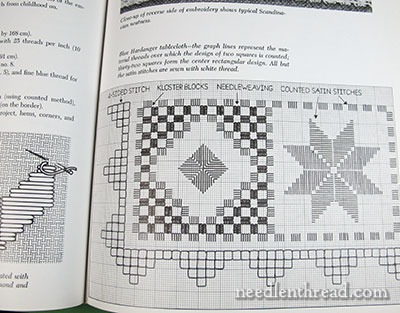 In the back of the book, several projects are presented, most of which are counted cross stitch and Hardanger….
…although the God Jul plaque did make it in as a project, too! This would make an adorable little ornament in bright, folky colors.
There's also a stitch dictionary and technique section in the back of the book, to help the embroiderer tackle the various projects.
Overall, this book is best as a resource for learning about Scandinavian embroidery history. Secondly, it's a project book; third, a technique book; and fourth, a pattern book.
If you're a fan of Hardanger, I recommend it for your reading library! If you're a lover of folk embroidery in general or you like to read books on region-specific embroidery, it's definitely worth acquiring and reading! It's probably not the best "project book" in the world – the projects are a little outdated, but they can certainly serve as a springboard for other project ideas.
You can find several copies of the book available through ABE books and Alibris right now, at very affordable prices.
If you enjoy Scandinavian style, folk costumes, textiles, and the like, you'll love Laila Duran's blog, Folklore Fashion. Her photography is absolutely stunning and the gorgeous folk costumes that are a focus of her work are vivid and gorgeous.