Two things you might not know about me: I have a Thing for the color red (ok, if you look at Needle 'n Thread, you might gather that), and I have a deep-seated affection for Sunbonnet Sue.
Sunbonnet Sue is iconic. When she's done right, she's just adorable. Admittedly, there are some Sues I like better than others. The vintage, homey, sweet Sunbonnet Sue – well, she just pulls my little heartstrings.
And so, there I was, a few weeks ago, meandering through new embroidery books out on the market, when my eyes were arrested by a whole redwork collection devoted to the sweet, vintage, homey Sue that I love!
Be still, my heart! Oh, I must have you! said I.
And the rest, as they say in Kansas (and many other places as well), was history.
The book was everything I hoped it would be. Here's my review of Sunbonnet Sue Redwork Collection for All Seasons by Loyce Saxton of Yesterday's Charm.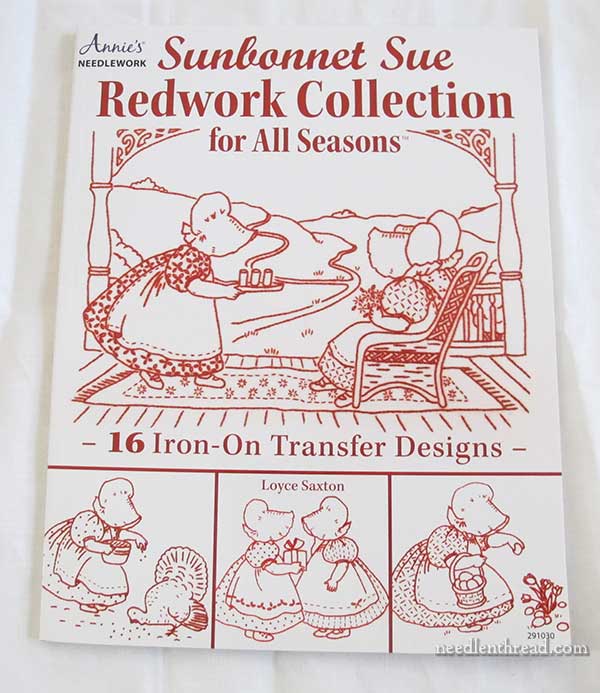 Sunbonnet Sue Redwork Collection offers 16 different Sunbonnet Sue vignettes. Some are a little more elaborate than others – all are Perfect Sue.
In addition to the iron-on transfer designs and the embroidery itself, there are suggestions and instructions for ten projects that can be made with the finished redwork Sues.
The book begins with basics on redwork embroidery, covering information on supplies, project set-up, and the like.
There are stitching instructions for the basic stitches used commonly in redwork.
Then we get into the various projects featuring the designs.
The book is titled "For All Seasons," and a focal point in the designs are these four seasons scenes.
Spring, Summer, Fall, and Winter are each represented with darling scenes of Sue and her friends doing seasonal stuff – frolicking among flowers, drinking lemonade, climbing apple trees, building snowmen.
The projects range from adorable spring or Easter towels (the bunnies with the mirror are So Cute!)…
…to fabric gift bags for Christmas…. to lots of things in between!
I love the idea of fabric gift bags! They'd make terrific needlework project bags – and much more permanent than paper. They'd be a gift in themselves, you know? And they can definitely be adapted for other occasions.
All the projects are accompanied by materials lists, instructions for the embroidery, and then complete assembly instructions via text, step by step photos, or drawn diagrams.
It's a bread bucket!
The projects and designs leave a lot of scope for mixing and matching. The bread bucket above, for example, doesn't have to be used for bread – it can be used as a small sewing basket or … whatever!
The Sunbonnet Sue design could be a spring design – it doesn't have to be an autumn one.
And, incidentally, the embroidery doesn't even have to be redwork!
This is a Sunbonnet Sue I embroidered ages ago. It's worked on flannel, for a square on a baby quilt.
The fun thing about Sunbonnet Sue? You can go all-out on her adornment, her environment – you can embroider her any way you want to! And you can make her into anything you want, from baby blankets to wall art, from journal covers to bread buckets. She's totally adaptable.
In the back of the book, you'll find 16 iron-on transfers for all seasons, plus the same designs on vellum for tracing, so that you will always have the design, even if you use up the transfers.
Some of the larger projects (like the seasonal scenes) can be broken down into smaller designs, too, and many of the smaller vignettes can be combined into larger scenes, so really, there are more than 16 design possibilities.
Pros & Cons
Well, I can't think of any cons at all – the book gives everything it promises, and it's easy to understand, well-written, and very affordable.
If you like redwork, or if you like vintage embroidery vignettes, or if you like Sunbonnet Sue – all are good reasons to love this book and add it to your needlework library!
Where to find Sunbonnet Sue Redwork Collection For All Seasons
You can find this adorable collection through the following book affiliates:
In the US, you can find Sunbonnet Sue Redwork Collection through Amazon. Although stock is somewhat low right now, they have more coming!
Everywhere else, you can find Sunbonnet Sue Redwork Collection through Book Depository, with free worldwide shipping to most countries.