Last week, we looked at goldwork embroidery kits from Benton & Johnson.
I have a little secret to tell you…
I did something really stupid.
When I bought the kits, I figured I was already in the soup for the overseas shipping from the UK, so I added a few extras to the order.
Buying extra goldwork threads and saving on shipping is not really stupid.
But this is the type of thinking that gets every hobby budget into trouble. And here I am, being a very bad example!
Still, I was curious to see Benton & Johnson's colored passing threads, since I haven't seen any of them up close. At the time, with the currency conversion, I wanted to see just how much thread I'd be getting for about $8.80 a spool (plus shipping, of course…)
So I could justify it, right?
I have absolutely no project in mind for these.
(Yet.)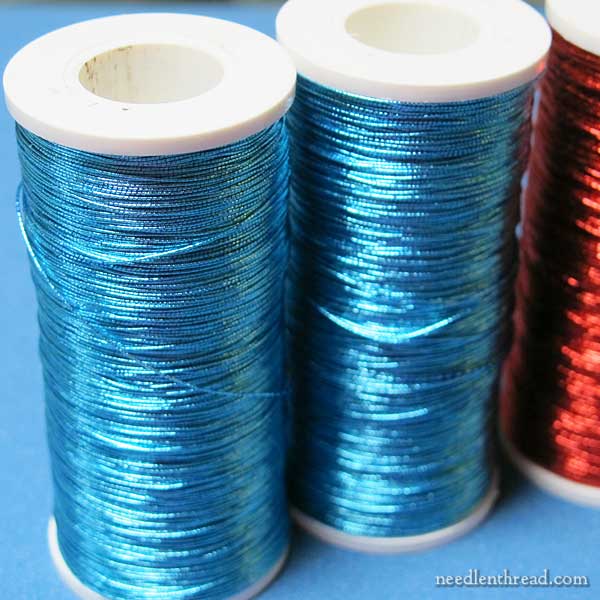 But the stupid part? I unintentionally ordered two of the same color.
At this point, I'd normally insert a Note to Self, but it's so glaringly obvious, that I think I'll skip it.
If you're familiar with goldwork threads, these colored threads are the 371 threads, so if you have any gold 371 one hand, you can get an idea of the size of the threads. They're quite fine – not thick, heavy threads. They couch quite nicely in pairs.
The Shipping Dilemma
For US stitchers looking for colored metal passing threads, this is the thing: While we have a good array of colored purls available already in the US (they're available through needlework shops that stock them from Access Commodities – like Hedgehog Handworks and the like), I'm not aware of anyone distributing couchable colored passing threads in the array of colors available through Benton & Johnson.
(Just a note: Tanja Berlin does carry some colored passing threads – she's in Canada.)
If you order them from Benton & Johnson in the UK, you have to order at least eight spools to bring your order total and shipping total into a 50-50 balance. In other words, for eight spools, you're paying about the same price for the product as for the shipping.
What that means: with the current currency conversion, it'll cost you a whopping $104 to get eight spools to your door. That comes out to about $13 / spool.
There are 170 meters on a spool (185 yards), which means the thread costs about $.07 / yard. So while the initial cost may seem incredibly high, when you break it down to cents-per-yard, it isn't that expensive.
But the question is, are you ever going to use 185 yards of each color of passing thread? Unless you're a designer, probably not!
The solution: an order pool.
Chum up with guild friends, stitching buddies – anyone who is interested in acquiring a supply of colored metal passing threads – and split the cost. Divided in half, and assuming you order eight colors, you'd have 92 yards of thread in each of eight colors, for around $52. Between three people, you'd each have 61 yards of each color. That's a good bit of thread, for about $35 after the split. It still works out to about 7 cents a yard, but your initial layout is a lot less, and you still end up with plenty of thread to work with.
If you approach the overseas shipping dilemma with an order pool, the shipping becomes much easier to handle.
Of course, if you happen to live in the boonies and you don't have stitching and guild buddies near by, it doesn't help much. But, for those of you who are fortunate enough to have a group of stitching friends sharing similar interests, this becomes a reasonable solution.
Just don't order duplicates accidentally, ok?