Stitching commitments do work! Making a commitment with a specific plan is a great catalyst for finishing an embroidery project.
The other day, we talked about my new determination to finish the Secret Garden Hummingbirds by committing myself.
Er… by committing myself to stitching One Feather a Day.
Now I find myself super-duper motivated to finishing the hummingbirds altogether. I'm encouraged, because I know that One Feather a Day is manageable. And I'm encouraged because – well, let me tell you how the first few days went.
On Monday, I embroidered a bird feather, as planned. There it is, above, finished.
And I was feeling mighty good about myself! I had accomplished the Day One Feather.
And not only that, but I had selected one of the larger feathers. It's not the largest feather I could have embroidered, but it's not the smallest, either.
I was off to a Good Start.
Back patting at this point.
And then Tuesday rolled around.
And on Tuesday, I had a slew of things to do, and on top of them, I had a five-hour airport run.
(One of the disadvantages of rural life is that the international airport is not next door.)
Early Tuesday morning, I awoke with a start. The sky was dark, with no promise of dawn in the immediate future. The birds were silently a-bed, and I figured I should be, too.
Feeling rebellious, determined to sleep another half hour, I smacked down my cheeky, intrusive alarm clock.
And then the Cold, Dead Fish of Reality struck, and one word wafted into my brain:
Feather.
Now, if I didn't know that it was impolite to say such a thing, I probably would have followed up with something utterly shocking, like Bloody Stupid Feather. But in some circles, that would be so rude!
So, instead, I grumbled something unintelligible, and heaved myself into Dreaded Wakefulness.
I really didn't want to resent the Daily Feather. But you know how it is…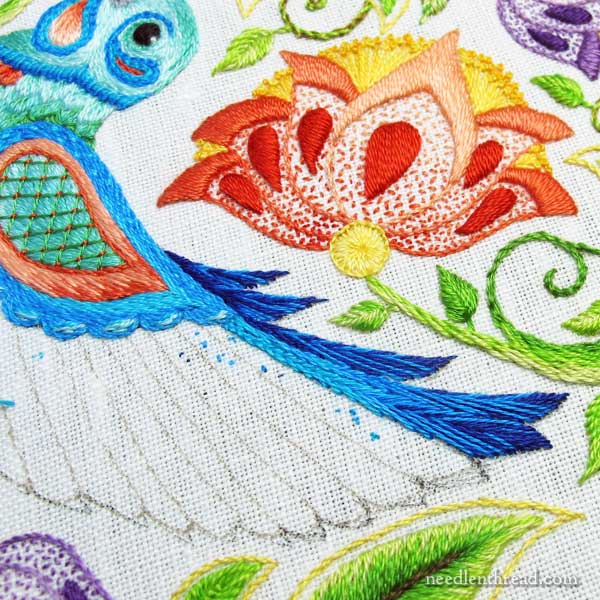 When I got to my embroidery frame, an amazing thing happened!
Not only did I stitch Tuesday's Feather (the long one on top of Monday's feather), but I stitched all three little feathers, too – four feathers in one day!
And that's why breaking down projects into doable, committed goals works. Once you face the doable portion and actually start doing it, it's easy to do just a wee bit more.
Now, I could say I have three feathers in the bank, and I could forego feathers for three days, right? But that wouldn't be a prudent investment of time, would it?
Instead, by sticking to my commitment of One Feather a Day despite getting ahead of myself, I'm now three days closer to my finishing goal.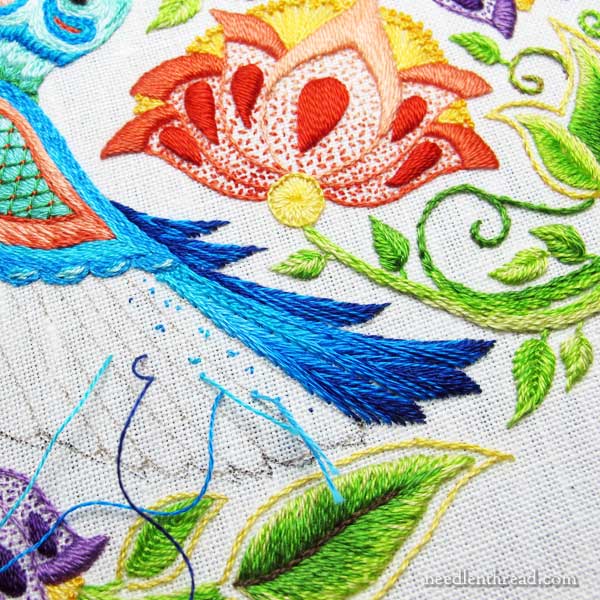 So here we are, six feathers down, counting Wednesday's.
Having started and stuck to the commitment, even if for only three days, motivation is pretty high.
If I happen to be able to bank a few feathers here and there, that's even better.
Whatever you're plugging away on, I hope it's going well! Don't give up! Just chip away a little bit every day, and you'll get there!
If you'd like to see the Secret Garden Hummingbirds develop step-by-step, you'll find all the articles relating to this project arranged in chronological order in the Secret Garden Hummingbirds Index, which can be found under Tips & Techniques on Needle 'n Thread. You'll find information on the design and where you can find it, all the thread colors and stitch choices, as well as stitching tips and tricks along the way.