Good morning and a happy weekend to you!
It promises to be a glorious, beautiful weekend here in Kansas. The first hint of spring! I'm going to stitch with my windows open today, even if I freeze in the process.
Just a quick note this morning to announce the winner of Salley Mavor's new book, Felt Wee Folk: New Adventures, which I reviewed earlier this week, and to share some little snips of needlework news.
Ready?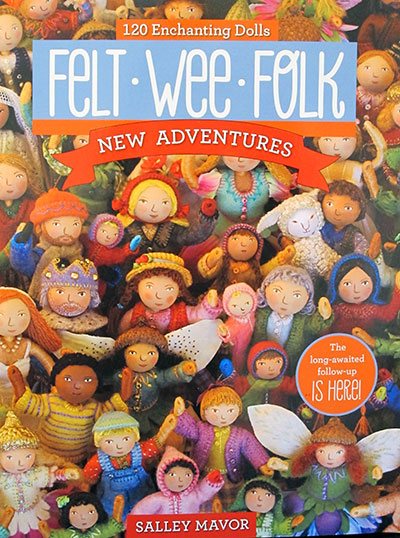 We'll start with the winner of Felt Wee Folk: New Adventures – and the winner is Candice, who answered the give-away questions as follows:
Love your doll, love your work! I think she suits the name 'Natalia Rose'. I look forward to your newsletter in my inbox every day! Brights up my dreary office mornings.
Well, that should cheer a dreary office morning, Candice! Congratulations, and Natalia Rose, she now is.
I'll probably just refer to her as Nat.
And if she becomes bothersome, I'll call her gnat.
Just drop me a line with your mailing address, please, and I'll send that along to the C&T Publishing, who offered the book for the give-away.
News, News, News!
Here are a few jolly little snips of needlework-related news for your weekend reading and dreaming pleasure.
Blue Bonnet Studio and Spanish Goldwork
Blue Bonnet Studio has a new website, and just in time to announce their 2016 four-day stitcher's retreat in Texas. (2017 Update: The original links for these classes are no longer functional, but you can still find Blue Bonnet Studio online here.)
There are some really lovely classes on offer next year. The one that caught my eye – Cristina Badillo from Spain will be teaching a four-day class in Spanish goldwork! This is a great opportunity to learn Spanish goldwork techniques without having to travel to Spain to do so. I would imagine the class will fill up quickly once word gets out that it's on offer, so if you've been hankering for such a class, I'd sign up pretty soon. The whole retreat looks like a wonderful, luxurious experience, and I've heard really nice things about their yearly gathering.
For the 17th Century Embroidery Enthusiast – a Dream Come True!
Is 17th Century Embroidery your Thing? Are you enamored with the embroidered casket, stumpwork, and other 17th century needlework delights? Well, then… you've got to read Tricia Nguyen's recent announcement about the Thistle Threads Embroidered Casket Tour of England & Scotland that's taking place in October of this year. Oh my! It's a casket-lover's dream vacation!
A Free PDF eGuide for my Fiesta Fob
For your weekend stitching, you'll find a free PDF eGuide available for my Fiesta Fob available on the Craftsy website. It's 22 pages long, loaded with photos and whatnot.
It's called Adding Dimension to Your Hand Embroidery, but it's more about adding texture. This is a compilation of the series of how-to articles I wrote for Craftsy on adding texture and dimension to hand embroidery, which culminated in creating a little scissor fob. They converted the articles into an eGuide and made it available for free, if you want to download it.
Anyway, the nice thing about the scissor fob is that it's small, it works up quickly, it's a fun stash-busting project, and you can use it to decorate your scissors, or as an ornament, or as a keychain…or whatever!
And the dreadful thing is that there's a truly horrid photo of me in it.
Ugh.
If those links above don't take you to the Fiesta Fob e-guide (this is especially for email newsletter readers), if you visit today's article on Needle 'n Thread, you'll find the links there and they do work.
Gorgeous Crewel Inspiration
You must, you absolutely must go see this striking and downright gorgeous piece of crewel embroidery on Anna Scott's website.
Oh my. I love it.
It's THAT Weekend Again
Light! Sunshine! Spring! And why I don't like this weekend.
Earlier this week, I enjoyed reading "Twenty Interesting Things About Daylight Saving Time" by Heather Sanders on Pioneer Woman.
You may rightly think that, at face value, this has nothing to do with embroidery. But good light has everything to do with embroidery. And while I appreciate the long-light days of summer, they would come anyway, whether I have to move my clock ahead or not.
Sigh. Tomorrow morning's 4:30 alarm is not going to be well met. If I'm grumpy next week, you'll know why.
Maybe I should move to Arizona.
And Coming Up…
Today, I will finish the photo instructions for the last four stitches and stitch combinations for the Floral Sampler Alphabet e-book. I'm still on target for a pre-Easter release!
And on Monday, I'll tell you about my new "regime" that involves one small daily goal to the completion of one Big Project. I'll let you in on my plan so that you can keep me accountable (oh dear), and maybe you can adopt the approach to tackle something big with your needle and thread.
Enjoy the weekend!