Remember the tiniest bit of stitching that I managed over the weekend?
Well, it's now another finish to cross off The List.
I just love crossing things off The List, don't you?
The particular thingamajig I showed you that began with "save this" was a bookmark, and here it is:
In a week or so, over where I blog on Craftsy, the step-by-step tutorial for making this particular style of hand embroidered bookmark will be available. I'll let you know when it's there, but in the meantime, I thought I'd share some short notes on this short project with you.
I've had a fondness for books all of my life. I like to read, and I use bookmarks. You know – the torn corner of a piece of scrap paper, the gum wrapper, the stray index card, the envelope from last month's bank statement – those are the kinds of bookmarks I normally use.
I've not embroidered a whole lot of bookmarks in my life time – three total come to mind. These felt bookmarks were a great project to work up with a bunch of kids one summer, and other than that, I made an embroidery-on-paper bookmark once upon a time, and a little folded paper and ribbon bookmark at one point. But that's it!
So I'm not really a bookmark-making fiend or anything…or at least, I haven't been, up to this point!
But the thing is, handmade bookmarks are really fun to make, they work up quickly, they make great little gifts (this time of year, graduating scholars come to mind), and they can be made from scraps, literally!
There are all kinds of styles of bookmarks to choose from, too – a quick search online will turn up quite a few tutorials.
This typical narrow and long bookmark shape (like the one above) is great for embroidering a note on – think: favorite literary quotes, pithy humorous statements, words of encouragement or inspiration.
Embroidery stitches that produce narrow, fine lines work well in the smaller space a bookmark affords – so, in this case, I used whipped backstitch for the lettering.
Depending on how you design the layout of the text, you can use decorative lettering as well. If you check out this series of articles I wrote quite a while ago on hand embroidered lettering and text, you'll find some good ideas for bringing lettering to life with embroidery.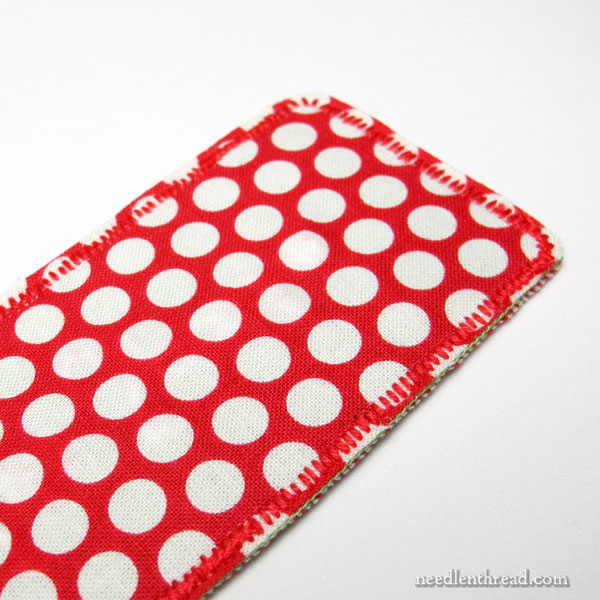 All you really need to make the bookmark is the ground fabric for the embroidery and some thread, but if you want the back to look finished, a coordinating backing fabric can be adhered to the back of the embroidery fabric.
I used a very light fusible, paperless interfacing called Mistyfuse to adhere the two fabrics together (after the embroidery was done) and to provide a little stiffness to the bookmark, without adding thickness. I like Mistyfuse because it adds just that slight stiffness, it adheres nicely, but it's so super light that it's easy to stitch through by hand and it doesn't gum up the needle.
To keep things neat, I finished the edge of this one with a buttonhole stitch, whipped along the outside twisted line, and then I cut away the excess fabric. But there are certainly quicker ways to finish the edge – a zig zag or an overlock stitch on the sewing machine would do it.
So, if you're looking for a quick gift for a graduate or for a favorite reader in your life, why not whip up a hand embroidered bookmark? Dig through your stash and use up some scraps of fabric and those fragments of floss.
And then, if you find yourself addicted to the fun of making them (because they really are fun to make!), you can always make a whole bunch of them and donate them to a local library or school. They'd make great prizes for summer reading programs and the like.
Ok, that's one more item off The List. Today, I eliminate the duckies…
Enjoy your Tuesday!