Here in the US, we celebrate Memorial Day today.
On Memorial Day, we remember those in the services who died in the line of duty and we commemorate their sacrifice.
The poppy, thanks to a Canadian poet, is a fairly universal symbol for Memorial and Remembrance Day celebrations world wide.
While the poppy has specific connections to World War I – John McCrae wrote his poem "In Flander's Fields" in honor of the sacrifice made by his comrades in World War I – the flower is used as a symbol of remembrance of those who fell in other wars, too.
In the US, the poppy was adopted in 1922 by the VFW (Veterans of Foreign Wars) as the memorial flower.
In the past year, with the commemoration in 2014 of the 70th anniversary of D-Day when the Allied forces landed at Normandy, and with 2015 marking the 100th anniversary of the landing of the ANZAC forces at Gallipoli, the poppy has enjoyed quite a bit of extra attention, and it's popped up in embroidered forms all over the place. A quick search of "embroidered poppy" on Google images will demonstrate!
Today, I'd like to share a fantastic hand embroidered poppy sent from a reader, Allan Bowers, along with some links to other sources for poppy-related embroidery ideas. Whether embroidered in remembrance or not, the poppy is a glorious flower, and it translates well into all kinds of embroidery.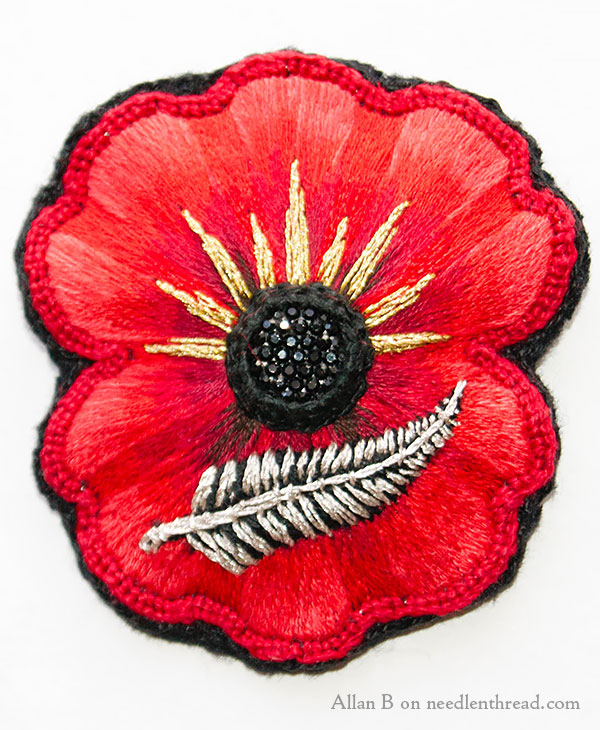 Allan's poppy is a stylized ANZAC poppy, which he finished for the 100th anniversary commemorations.
The flower features a buttonholed edge over wire, long and short stitch filling to create a beautifully shaded flower (there are six shades of red), a fantastic interpretation for the center of the flower – I think it's ingenious! – with a black faceted crystal center attached with Shisha stitch. The NZ silver fern is couched metallic thread over a felt mound covered with satin stitch. And the Rising Sun symbol of Australia (the gold threads) is also worked in metallics.
Fantastic job, Allan! Really, really beautiful!
Looking for Poppies?
If you'd like to stitch your own poppies, here are some ideas for you:
Search online for "poppy coloring book pages" – there are several quite good ones out there. Just be careful with some of the coloring page websites – they have lots of pop-ups and things on them that are very annoying.
A search for "poppy clip art" will turn up some good images suitable for embroidery, too. ClipArt ETC has a nice collection of poppy images that would stitch up beautifully.
I reviewed these two iron-on transfer books a while ago. In the second book, Ready to Stitch: Flowers, there's a nice line of poppies in iron-on transfer form, just waiting for embroidery.
Aunt Martha has a poppy iron-on design in the State Flowers collection, which you can find at Colonial Patterns. It does, admittedly, have the word "California" right across the middle of the design, but if you're looking for California poppies, there they are!
The current issue of Inspirations Magazine (#85) has a fantastic poppy-related embroidery project in it, for a poppy purse. They even have the kit available, if you're keen to make it.
And if you're just looking for something beautiful and poppy-related to look at, do check out this lovely piece of ribbon embroidery featuring poppies on Di van Niekerk's blog. It's sumptuous, lavish, and oh-so-gorgeous!
For those celebrating Memorial Day today, I hope you enjoy the day and that you have a moment to recall why we celebrate it in the first place. What will you do on your day off? Any stitching?
Have a terrific Monday, everyone!