How to transfer embroidery designs to fabric is one of the most frequently asked questions from beginner embroiderers and beyond.
We're always seeking the "magic solution" for easy embroidery design transfer, and, in most cases, there is no perfect solution. Eventually, we get used to the design transfer process, and we end up with our own pet methods for transferring embroidery designs to fabric.
Now matter what transfer method we use, I think we can all agree that the notion of an iron-on transfer is pretty appealing, because it's quick and it's easy.
With iron-on embroidery transfers, you can be stitching complex designs in a matter of minutes, without all the hassle of tracing, pouncing, tacking – whatever design transfer method you like to use – and with no specialty tools beyond a household iron. What a deal!
The problem is finding iron-on patterns for hand embroidery that you really want to stitch. Sure, you can find playful, retro, subversive, and juvenile iron-on options out there through various companies, but it's harder to find classy, pretty designs that are not overly faddish, with a style that will withstand the test of time a bit better.
And rarely do you find iron-on transfers and good instruction in one package.
Enter: two new books on the market – Ready to Stitch: Borders & Motifs and Ready to Stitch: Flowers, published this year by Search Press.
They're fun, they're instructional, they're versatile, and … they sport a nice collection of iron-on embroidery designs.
Borders & Motifs has 84 iron-on embroidery designs included in the book, and Flowers has 74 iron-on design included in it.
Both books start with all the basics: supplies and tools for hand embroidery, instructions on transferring designs, starting and ending threads.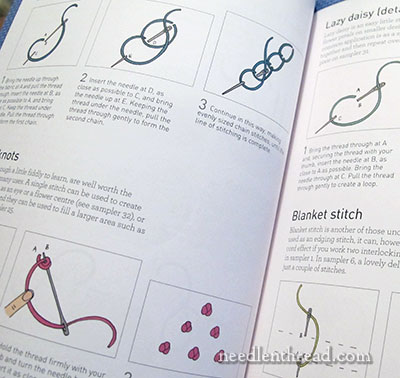 There's also a stitch dictionary at the front of each book, with simple diagrams illustrating common embroidery stitches.
After the basics, we proceed to the "samplers" section of the books, where the designs are shown, stitched.
A color key and stitch guide accompany each design.
The design above, for example, is from Borders & Motifs, and on the right page, you can see a nice close-up of the stitched sample, and on the facing page, you'll find all the information on DMC colors used to stitch the design, and the stitches employed in it.
Of course, you're absolutely free to stitch the designs however you want to stitch them, but for those looking for more guidance, it's very handy to have a color key and stitch guide available for each design!
Here's another sample from Borders & Motifs.
This is a design from Ready to Stitch: Flowers, showing an airy line of poppies.
Keep in mind that the stitch keys are just suggestions – you can get as creative as you want with the embroidery!
And again, another Borders & Motifs design.
Each design is not necessarily given the same coverage, page-wise – some of the designs are listed more like an index, with a clear photo, color scheme, and stitch key.
Following the "Samplers" section, you'll find a "Projects" section in the book, where the embroidered pieces are used in specific projects, such as the greeting cards above, from Borders & Motifs.
And here's a notebook cover from Ready to Stitch: Flowers.
The "Projects" section is more of an idea and inspiration area, rather than an instructional area. You'll find some fabulous photos of finished embroidered items that are relatively self-explanatory and easy to make, but you won't find instructions for completing the projects.
Finally, in the back of each book, you'll find the iron-on transfer designs. They are fine-lined, which is nice! They don't necessarily wash out of the fabric, so the design lines need to be covered.
There's a handy-dandy pocket inside the back cover of the book for storing patterns that have been cut out and used.
Pros & Cons
The pros are numerous: pretty embroidery patterns that are easy to transfer, decent instructional diagrams for the stitches and good instructional information at the beginning of the books, plus really well done color and stitch guides, for those who want specific guidance with the embroidery. The books are very good quality, as is typical of Search Press.
Cons: Not any that I can think of, except perhaps that the books are selling like hotcakes and stock in any one place is not very high. I'm assuming that they will be restocked (they just came out a couple months ago!), but who knows? So if you've been seeking iron-on transfers, now's the time to get them!
Where to find them…
You can find both books through the following book affiliates:
In the US through Amazon, you can findReady to Stitch: Flowers here and Ready to Stitch: Borders & Motifs here.
Worldwide with free shipping from Book Depository, you can find Ready to Stitch: Flowers available here and Ready to Stitch: Borders & Motifs available here.
More Iron-On Embroidery Transfer Information
You can find more reviews and information about iron-on embroidery transfers on Needle 'n Thread:
Iron-On Embroidery Transfers from Mani di Fata
Really Nice Iron-On Transfers for Embroidery
Embroidery Iron-On Transfer Book: Fleurs en Transferts