I don't often use iron-on transfers for hand embroidery. I'm more of a trace-your-pattern sort of gal, or transfer it in other ways, depending on the project. But good iron-on patterns have their place, and they are a Very Convenient way to get an embroidery design onto a piece of fabric.
The problem is, there's not that great of a variety of embroidery designs available as iron-on patterns. There are, of course, the Aunt Martha iron-ons which have been around for a long time. And there are the fun-and-funky, very trendy Sublime Stitching (and similar) designs, for craft embroidery.
But for other types of general surface embroidery designs that are a little more classic and will withstand the test of time, it's somewhat difficult to find iron-on transfers. Generally, if I'm looking for iron-on transfers that fall into this category, I look for them abroad among the French and the Italians. (For example, these Mani di Fata iron-on transfers from Italy or these iron-on transfers from Mains et Merveilles of France.)
And that brings us to the book I want to show you. DMC France has a book out that is jam-packed with a huge variety of embroidery designs in iron-on-transfer form. It's called Fleurs en Transferts or Flower Transfers.
Now, the cover might not tell you much. The colorful samples on the cover all pretty similar due to the way they are stitched. But, as with any type of design, you are certainly not limited to approaching the designs in the same way.
The designs in the book are suited to all types of embroidery, from colorful free-style surface embroidery, to whitework, to goldwork, to different types of folk techniques – whatever approach interests the stitcher.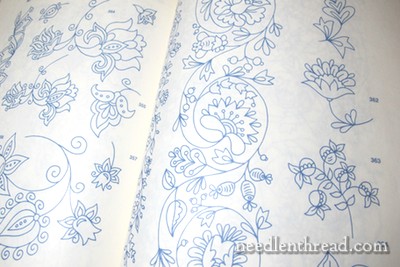 The book features plenty of individual design elements that can be worked in isolation, as well as borders that can be repeated (think tablecloths, pillowcases, curtains, what-have-you).
There are large, bold designs as well as small, delicate designs throughout the book.
There's even a monogram alphabet decorated with roses – although a little caution here. I do believe this is the publisher's mistake, but the photo above shows the ink side of the iron-on, and in fact, those letters should be inverted. If you ironed them onto the fabric as they are (ink side down), your letters would end up backwards. So there is this one little glitch in the book!
Other than that, though, among the several hundreds of transfers in the book, you are bound to find many that will entice you into a new project!
There are a couple pages in the front of the book with some stitch instructions (simple diagrams) and instructions on using the transfers, but all the text is in French. If you're afraid of a language barrier, don't be – there is no special knowledge presented in the book that can't be found in any instructions for iron-on transfers.
As with most iron-on transfers, the ink does not necessarily wash out. You should always test your fabric first, so that you know how careful you need to be about covering the design lines.
If you'd like to get ahold of this collection of iron-on transfers, you can find the book through The French Needle (in the US), also through third-party booksellers on Amazon (check the shipping speeds on those – most of them are coming from Europe), or, in Europe, through Amazon France.