How about some Monday Morning Inspiration?
Vintage embroidered linens are an obsession of mine – I love to collect them, especially if I find beautiful ones that I can afford.
Sometimes, I wash them up and use them for gifts.
Sometimes, I use them in my home.
Sometimes, I just want the embroidery – I want to rescue it somehow, because it's beautiful. But I don't always have ideas on how to do that. So the linens end up being stowed away until inspiration strikes… and then, admittedly, they risk being forgotten all over again.
So sad!
Enter: Kelly Cline.
Kelly Cline is a long-arm quilter, and she does pretty amazing things with old Society Silk embroideries.
I'm enthralled by her combination of vintage embroideries with long arm quilting. I love what she's doing to reclaim these pieces of Society Silk, making them into new pieces of textile art.
I've written about Society Silk in the past, so if you want to know more about this type of embroidery and its history, you can find a few articles here on Needle 'n Thread:
Hand Embroidery: Lessons from the Past
Society Silk Embroidery: A Beautiful Resource
Society Silk, Revisited – a historical overview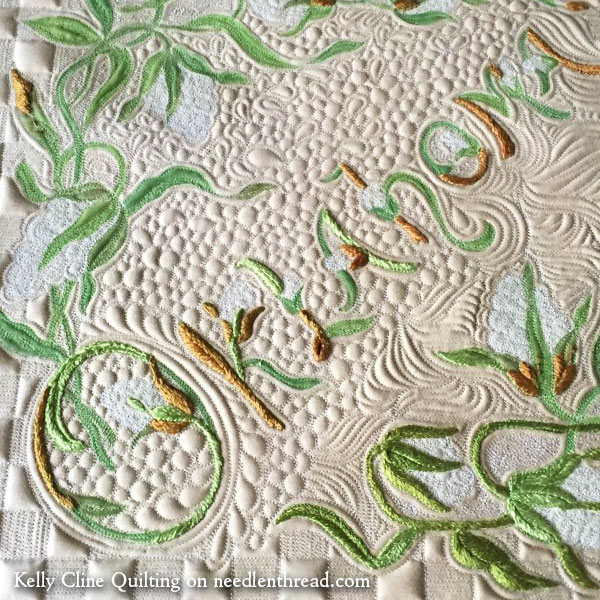 What Kelly does is take old pieces of Society Silk that she acquires, and she makes them new again by applying her long-arm quilting skills to the embroidered pieces.
She quilts with fantastic textures, patterns, and flourishes that really enhance and show off the embroidery, and she turns the resulting pieces into items for display.
I especially love her Oklahoma piece! Maybe it's because I'm partial to the Midwest. Maybe it's because of all the texture. Maybe it's those leafy, whirling insets of quilted lines among the green leaves, the pebbles behind the text, and the neat and tidy checkers. Maybe it's the green silk leaves and the big clumps of white milkweed…
I suspect it's a combination of all of the above. It was definitely love at first sight.
Take some time to meander through Kelly's blog and see her Society Silk pieces. She's got quite a few of them on there, including a very vibrant pansy mix.
I hope you enjoy the stroll and that you'll be as twitterpated with this ingenious reclaiming of antique embroidery pieces as I am!
Enjoy your Monday!
Like what you see?
If you enjoyed this article and you're looking for more inspiration, information, and instruction on hand embroidery, why not sign up for my daily newsletter?
There are all kinds of reasons to have Needle 'n Thread delivered to your inbox – check them out and sign up today!