One recurring question that keeps showing up in my inbox ever since we broached the subject of adding beads to embroidery is this:
How do you organize and store your beads?
A month ago, my first reaction to the question was pretty forthright:
Organization? Hahahahhahahahahaha!
It's not something I'd actually bothered with… until recently.
How did I store and organize beads? In the little ziplock bags they arrive in, or in the tubes and cylinders they're packaged in, all jumbled together in a box here, a basket there, a larger bag inside that particular box, tossed into this drawer or that drawer.
You get the point: I had no organizational or storage solution for beads until about a month ago.
I finally capitulated. I was fed up with foraging and weary of wondering what beads I have, in what color, size, and type.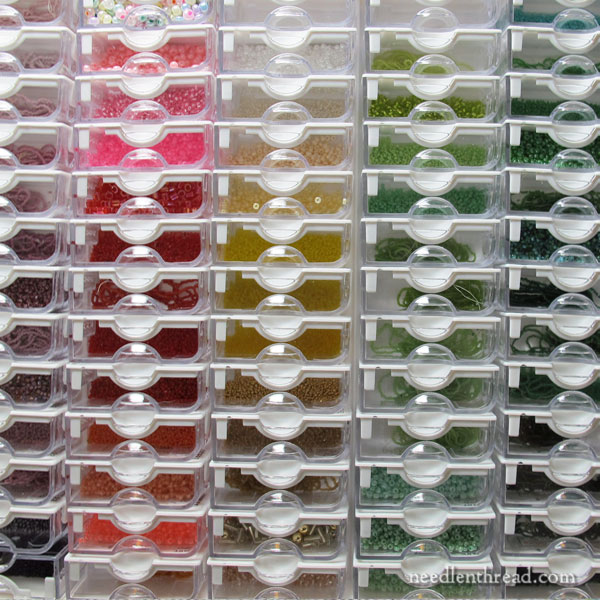 This is The Thing, though: the main reason I never really bothered with organizing beads is because I don't use beads often in embroidery. If you don't use beads often, or if you don't really like adding beads to your embroidery (and this is a whole different discussion!), then you might not have any reason to seek a solution for organizing beads and keeping track of what you have.
Chances are, if this describes your situation, you won't have enough beads to bother with a storage and organizational solution.
The wee ziplock bags, the tubes and cylinders, the tiny glass jars that housed your beads when you bought them – all kept together in a box or a drawer – is a perfectly suitable way to store a small or random collection of beads.
Disorganization & Waste
I've purchased beads off and on over the years, but not really in any quantity at any one time. Still, the collection has built up, and because I didn't organize my beads from the beginning, I had no idea how many I had – what types, colors, sizes, and so forth.
Right now, I'm starting a project that involves some embroidery with beads, and in order to design the project and make it work the way I envision it, I thought I needed a wider supply of beads than the ones I had on hand (because I didn't really know what I had on hand).
I placed an order for the types of beads I like to work with.
When the order arrived, I rummaged around in my workroom, collecting all the little packets, jars, and tubes of beads that I already had, and I put all those packages and all my new beads together in one place.
Then I sat and contemplated the heap.
I cannot, I said to myself, start stashing up beads.
Well, I chided myself, eyeing the heap with a sigh, it's a little late to be thinking that, don't ya reckon?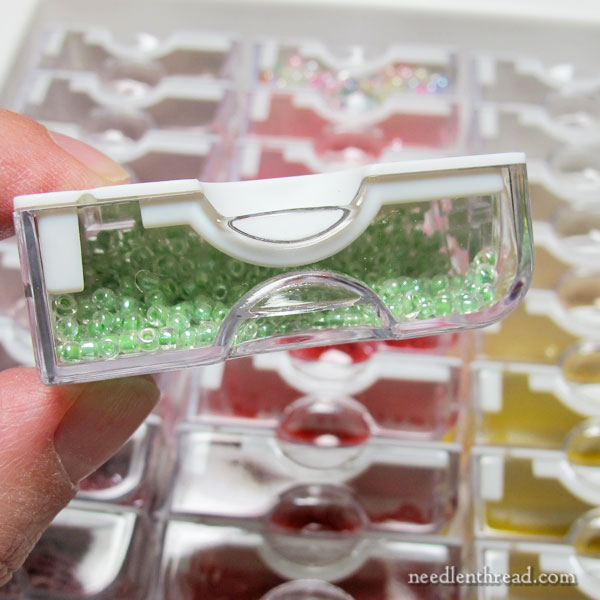 Two things I discovered as I sorted through the pile:
1. Duplicates.
2. Excess.
When you begin to build up a stash of anything – whether it be beads or threads or favorite cuts of fabric – if you don't have some kind of organizational structure, the result will always be waste, in some form or another.
This isn't to say that I will throw away any of the duplicates or excess amounts of the beads I have. It simply means I wasted something, due to a lack of organization.
The two waste products that come out of a lack of organization:
1. Money (I bought duplicates I didn't need, and I bought excess that I didn't need because I didn't realize the variety I had on hand already)
2. Time
The former – money – I can absorb and make up, in a way. I can be aware of what I now have, and use it so it doesn't go to waste. I can avoid spending money on beads that I don't really need, because I have others that will do the job.
The latter – time – I can't make up. All the time I spent foraging for particular beads, for example, could have been spent doing something much more productive.
All the time I had to spend organizing a newly grown collection so that I could see what I actually have – I can't make that up. It could have been spent in better ways.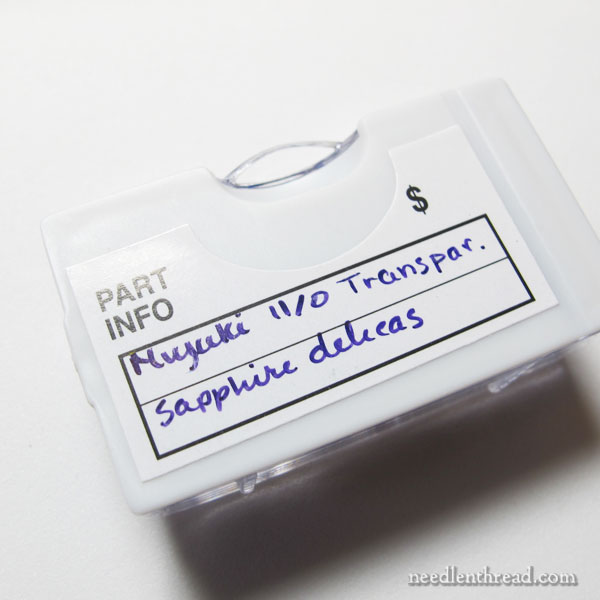 Now, I enjoy adding to my needlework stash when I can afford to, just as much as anyone else does. I love threads! I love useful and beautiful embroidery tools. And I like beads, too, even though they don't play a dominant role in my needlework.
A long time ago, I learned the importance of organizing threads. For me, it's necessary to have a thread stash, because this is what I do for a living.
But when I discovered that I was purchasing excess or duplicates because I wasn't sure what I had, it became a priority to invest in a good storage solution to keep my threads in order, clean, and safe from deterioration, and to spend time organizing my threads. I use these cabinets to store threads.
And now I organize beads, too.
So I learned the same lesson about beads last month: better to organize them and know what you have, than to waste time and money.
I looked around for several storage solutions. I wanted something compact, visible, with small compartments, because most of the beads I use are tiny seed beads. And I wanted something affordable.
I visited craft stores to scope out their offerings. I contacted people who I know are into bead embroidery. I chatted with jewelry making friends. I read lots of reviews.
Finally, I settled on the >82-piece Bead Storage Solution tray that you can see in the first photo above.
The containers (there are 78 of them) are tiny and they all fit neatly in one tray. They're not the easiest lids to manipulate at first, but once you get the hang of them, they work fine.
I use most of the containers to hold 8 grams of seed beads in sizes 11/0 and 15/0, along with other sizes of beads (6/0, 8/0, 10/0) in smaller quantities.
The wee containers are easy to pick up and replace in the tray, thanks to the little "handles" built into them.
The storage tray lid clips closed and holds everything in place. It's see-through, so you can see the bead colors easily.
The tray comes with labels for the containers, and the labels are removable. I don't really like the shiny writing surface on the labels, because ink tends to smear on them. But as long as you're patient and wait for the ink to set, they work fine.
So far, I like this solution. It's one tray, it fits neatly on a shelf, and now I know where all my beads are. I can see colors at a glance, and the labels tell me what's what.
The same system is available in different configurations with various sizes of containers, too, so if you have larger beads or larger amounts of beads, you can use the same system with the larger containers.
Better!
And now I feel a little better about undertaking this upcoming project that involves a smattering of beads.
I know I won't be wasting my time, scrounging about for beads that are somewhere. And I can tell pretty much at a glance what kinds of beads I have that will work well on the project.
What about you?
If you have a stash of beads, how do you store yours? Do you have any advice for folks looking for an organized storage solution for beads – any tips on what to look for, what works best, and the like?
Do you have any questions about other organizational or storage solutions that other readers might be able to help you with?
Feel free to join in the discussion below, if you want! I'd love to hear your take!
Where to Find It
You can find the bead organization system that I use listed here on my Amazon Recommendations page under Tools & Accessories.
My Amazon Recommendations Page is an affiliate link, which means that Needle 'n Thread receives a small commission for purchases made through the links on that page, with no added expense to you.
Like what you see?
If you enjoyed this article and you're looking for more inspiration, information, and instruction on hand embroidery, why not sign up for my daily newsletter?
There are all kinds of reasons to have Needle 'n Thread delivered to your inbox – check them out and sign up today!
This article contains affiliate links, which means Needle 'n Thread receives a small kickback if you purchase through those links. Affiliate links are an easy way to help keep Needle 'n Thread going without costing you anything! Thanks!