So, I mentioned the other day that I'm setting up this crazy-big needlework project.
It's essentially a counted cross stitch project, but I'll be working it in tent stitch on a 30-count linen.
Last night, as sleep was wafting over me, I found myself contemplating switching to a 40-count silk gauze, by the way. When I awoke this morning, I instantly recalled the thought, and then I forthwith brushed it aside as a nightmare.
The project involves 200 colors, a little less than half of which are solid (only one color of thread in the needle at a time) and the rest, blended (two colors in the needle at a time).
Now, when you're dealing with This Much Thread for one project, there is no way around it: you must come up with a reasonable, logical, efficient organizing system for your thread.
I know this. You know this. But the question is, what system to use? How does one go about organizing this much thread for a project of this scope?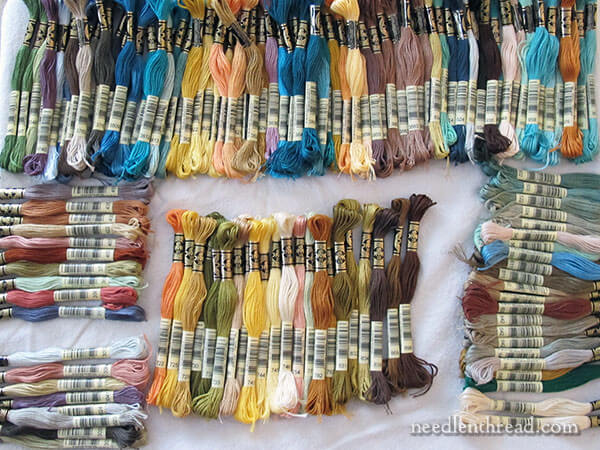 This is a question I contemplated for a while. I came up entirely empty-headed from my own efforts.
So, I went looking for different ideas for thread organization. There are lots of "systems" available out there for thread organization!
Jotting down what I considered important for this type of thread organization, these are the points I came up with:
1. Above all else, the system must allow for clear labeling with room for a symbol and color numbers in print large enough to easily see.
2. The system should accommodate pre-cut threads, to make the project more efficient.
3. The system should be as space-efficient as possible, despite the large quantity of threads.
4. The system should be able to be neatly contained, closed up (to keep things clean), and even easily portable, so the project can be moved from spot to spot easily, or taken somewhere else entirely.
5. The system should allow for easy replacement of threads and rearrangement of threads if necessary.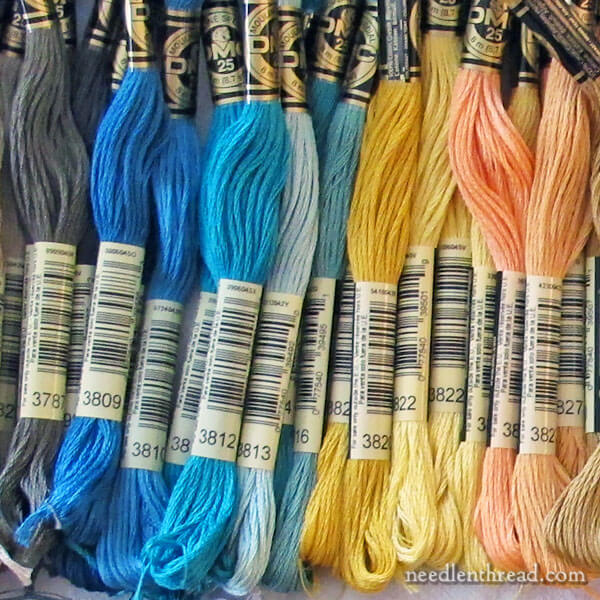 My question to you: Have you ever organized a large number of threads for a project, using a system that incorporates all the points listed above? If so, how did you do it?
I've settled on a way to organize my threads already, but I'd like to know what other people do with this type of project. Maybe I've got it all wrong!
So far, as I work through getting the threads in order, the system I'm using seems to be working out quite well. I'll show you what I'm using and how I'm setting it up, once I get it all together.
In the meantime, though, I did discover one important point: before you try to organize this many threads for a project, the smartest thing you can do is put your threads in numerical order. It is So Much Easier to find a specific thread if you lay out all the project threads and arrange them numerically.
At first, I was just digging through a heap of thread on the table, looking for each color number. That lasted about two skeins. I realized I wasn't getting anywhere, fast. So I laid out all the threads by number and voilá! Finding each color to associate with each symbol is now a breeze.
I've been setting up my system for about four days now, off and on. It may sound like a bit of a drag – it takes a lot of time to get threads for this type of project organized! – but I have to admit, it's a lot of fun. I love organizing threads!
Besides, I figure doing this type of work carefully ahead of time will pay off in the long run.
What's Your System?
If you've ever been crazy enough to venture into an Extreme Project like this, where you've had to organize some 200 colors with associated symbols, how did you do it? What advice would you offer to others venturing into the same type of project? Do you have a favorite system for organizing large numbers of thread for a project? Or have you seen anyone else's system that you thought was logical and efficient?
I'd love to hear your thoughts on the topic! Please feel free to chime in below with your ideas!