Finally.
Finally, I say! I'm So Excited about the slate frames that are being produced for the general US embroidery market by Access Commodities. Finally, a slate frame that is strong, solid, serviceable, and absolutely meticulously correct in all its details. And – finally – I've been able to get one!
Yes, I'm a bit of a frame junkie. I have tried them all, you see. And I like many different types of embroidery frames.
But the slate frame – that is, a good slate frame – just can't be beat.
I've also tried lots of different slate frames over the years. Frames made with very heavy, thick wood that, though well-made, were so cumbersome they were hard to handle and manipulate. Frames made from such thin, light wood that they bowed under the pressure of lacing. Frames that were poorly finished, that needed constant touch-up sanding to prevent splinters and snagging.
Frames with roller holes that were too large, so that the frame easily skewed itself with the slightest bump. Frames with twill tape that shredded on the first use.
Frames with conical pegs that popped out whenever the frame was set on a flat surface.
Frames that I've made due with when I needed a slate frame, but never felt satisfied with.
All that ends now.
Here in the US, the slate frame has not come into its own yet – but it really needs to!
I think that, if stitchers could experience the pleasure of sitting down to an embroidery project that is framed up correctly on a good slate frame, and if they could experience the satisfaction felt when removing the smooth, finished piece of embroidery worked on a slate frame, they'd understand why the slate frame is favored at institutions like the Royal School of Needlework.
Because the slate frame allows for long-term drum-taut tension for fabric that is framed up square with the grain, it is almost impossible to produce a piece of embroidery – no matter how densely stitches – that is puckered or warped.
And although the slate frame takes a little more work to set up compared to a hoop or stretcher bars (you become faster at setting up a slate frame once you do it a few times), it is worth the extra time. When you can sit down at a piece of embroidery that's laced up tightly on a slate frame two years after you mounted it on the frame, and still enjoy drum-taut tension, that's a good thing.
All the Details that Make a Great Slate Frame
So, on to the Access Commodities slate frames in particular. Here's what I've discovered after examining them and setting one up:
1. The wood from which they are constructed is a strong hard wood. It's not a super-heavy wood that makes the frame unmanageable, but it's not a light, soft wood that would bow over time. It feels sturdy without being overly weighty.
2. Every bit of the frame is perfectly finished and smooth as glass. Methinks the person making them really knows and loves wood and takes pride (with good cause!) in the work.
3. The rectangular holes on the roller bars are made to accommodate the side slats like a glove. They aren't tight, so that the slats are hard to push in, but they aren't loose, either. The slats, once in and pegged, don't shift. This is how it should be.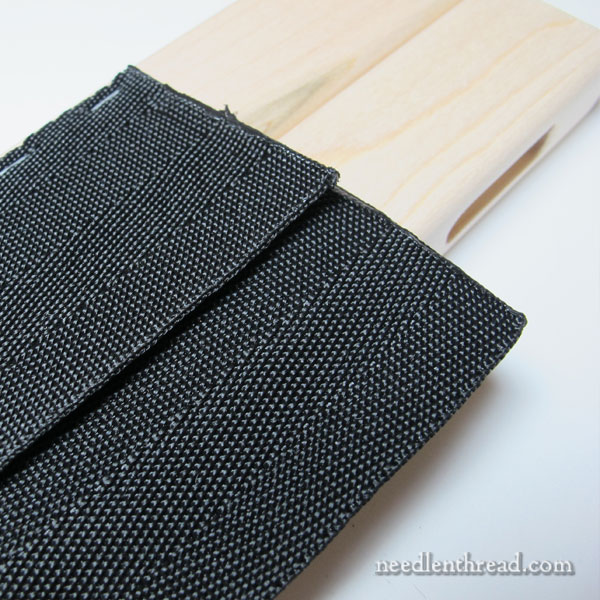 4. The twill tape is a firmly woven, finished synthetic twill tape that doesn't shred and separate when it is sewn. It's sturdy and a little stiff-ish, but still flexible enough to turn over the roller bars if necessary.
5. Then there's the question of the pegs. Sometimes, I think the pegs on a slate frame are an afterthought of the manufacturer. But they shouldn't be!
The pegs on a slate frame are critical to the frame. They provide the vertical tension on the frame. They have to hold the top and bottom bars apart from each other, and in between those two bars is a piece of fabric that is under great tension. So the pegs have a big job to do.
On many slate frames, you'll see conical pegs that slide rather far into the holes on the slats. They are just smooth cones of wood. If you want these conical pegs to stay put, you have to jam them in and hope for the best. Any good knock on the back of a peg – or just laying the frame on a flat surface so that the peg is coming into contact with the table – displaces the peg. That's just no good.
On other slate frames, the cotter pin is the peg of choice, and while it works and is a good choice (I prefer it to conical pegs), it is not as easy to use as a peg, if you have trouble with your hands. Cotter pins are small, and they can be really hard to pull out when you need to move them.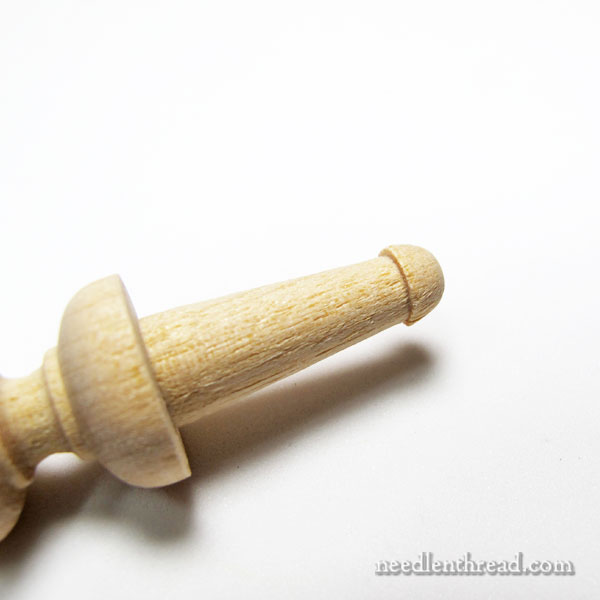 The solution here? A peg that is relatively short, that has a knobby head that's easy to grasp, and that has this interesting little shelf feature at the tip.
The peg fits into the hole, and with a little pressure, it locks into it. You can lay the slate frame on a flat table, and the pegs won't pop out.
As a bonus, the pegs are pretty, too!
When to Invest in a Slate Frame
Not every embroiderer needs a slate frame. Especially if you know your interest in embroidery is more on the crafty side and will probably pass when another craft you're interested in comes along, then you probably wouldn't invest in one.
But if you have taken up embroidery and are serious about learning the art to your fullest potential; if you are already a die-hard stitcher; if you do long-term needlework projects (surface embroidery, goldwork, crewel work, whitework, needlepoint, cross stitch, and so forth) – then a good slate frame is worth the investment. It will last you your whole stitching life and beyond and afford you much pleasure.
If you find the price tag a little hefty, this is what I do: I never buy an expensive needlework tool right off the bat. I budget for it and save little bits here and there until I can buy it.
Or I put it on my Christmas list and drop very subtly-obvious hints to all parties concerned.
Where to Find Them!
At long last, they have them listed here at Needle in a Haystack as special orders. (Scroll down the page to slate frames.)
The nice thing? They're available in Small Sizes, too! Normally, you don't find small slate frames, so I'm glad to see that there are some smaller sizes available.
They come with a thorough instructional packet on how to set up a slate frame, plus a spool of linen lacing string for setting it up. The linen string is more important than you might realize. Linen doesn't stretch like cotton – it's the ideal fiber for setting up a slate frame.
You can also find them available at Thistle Threads, but I think they only have one size available right now.
So, for stitchers in the US who have been pining for good slate frames to be made more widely available, this is good news indeed.
Put one on your Christmas list!
See you tomorrow!