Autumn is upon us! It's well past the mid-October mark, and if you live in the northern hemisphere, you're probably enjoying a break from your typical summer heat.
That's the principle, anyway. It's not been the case in Kansas the last couple days, but I have high hopes of a chilly weekend!
When autumn hits, I like to at least think about the possibilities for fall-ish embroidery projects. And this is really a shame, because if it's already autumn, by the time I get around to stitching something autumn-related, it's usually winter. And the urge, by then, has passed.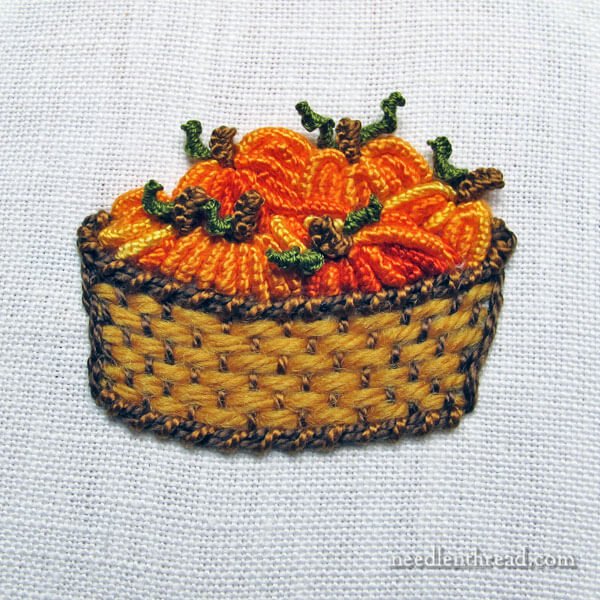 The little basket above is something I drummed up for an article for DMC, which will be published on Commonthread next week. It'll include the pattern for the little basket of pumpkins, which, in fact, is a tad over 2″ wide.
The point: when I do actually manage some seasonal embroidery, it's generally small. It goes faster that way!
And in this case, the little basket was embroidered while the searing heat of summer was still upon us. So now and then, I actually do manage to work in advance of the season… but only when pressed.
Autumn Embroidery Patterns & Tips
In any case, if you want to do some seasonal autumn embroidery, here's a list of patterns and tutorials that can help you out:
Tree with Leaves – this is a free embroidery pattern that would work great in tambour embroidery or any kind of line stitching. It would be especially effective in variegated fall colors.
Leafy Corner – Also a free pattern, which would work great with soutache braids or couched cord, but would also well (and quickly) in tambour embroidery or any line stitches. Another good one for some variegated fall colors.
Be Ye Thankful – a free pattern that offers a good reminder. It's a simple pattern. I doodled it up for my niece. She liked it!
Blackwork Autumn Leaves – if you like blackwork and you like leaves, this is a corner pattern (and very easy to repeat) that would look nice on table linens.
Turkey Embroidery Pattern – Well, he's often center stage on the Thanksgiving table, but if you embroider him, he'll last longer.
Acorn & Leaf Border – Ages ago, I posted the tiny scanned version of this acorn and leaf border. Recently, I re-worked the pattern and turned it into a corner pattern (with a linear repeat, if you want to repeat), so that it would be more useful on kitchen and table linens. I also provided a cleaned up line drawing and a PDF printable.
How to Embroider a Wee Pumpkin – this is a tutorial for embroidering tiny pumpkins in less than five minutes. They're sooooo cute. (If you like tiny pumpkins!)
How to Embroider a Fall Tree – Part one covers embroidering the trunk and branches, and part two covers adding the foliage. The tree is worked in silk gimp and in silk wrapped purl, and it would be a neat addition to stumpwork pieces and similar embroidery projects.
Are You a Seasonal Stitcher?
Do you stitch seasonal projects? Do you wait until the season hits to actually start stitching them? Or do you plan ahead? Do your stitching preferences change with the seasons? Do you have any good tips on how to plan ahead (or how far ahead to plan!) for embellishing seasonal items? Feel free to chime in below with your thoughts on seasonal needlework!