Yesterday, we looked at embroidering a tree trunk, and today, I'd like to show you how I added leaves to my silk gimp tree. I would've included all the information in one article, but holy cow! I was up to 2,000 words, and I figured no one needs that much of me in one day!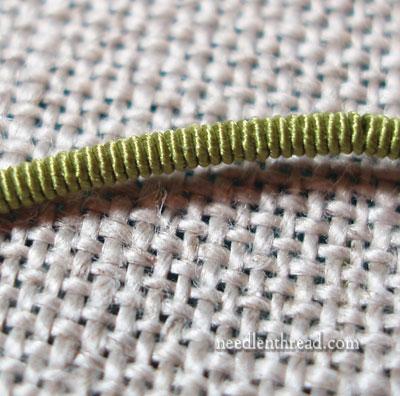 For the leaves, I used silk-wrapped purl. This is the silk wrapped purl up close. It's made from a copper wire wrapped with filament silk and then coiled into this tiny spring. To use it, the silk wrapped purl is cut and sewn on, through the coil, like a bead would be.
I decided to stretch the silk wrapped purl and use it that way. Once you stretch this stuff, it doesn't return to its former shape, but, because of the nature of copper wire, you actually can do quite a bit of shaping with it. For my leaves, I didn't do any shaping.
I cut small lengths of the silk wrapped purl…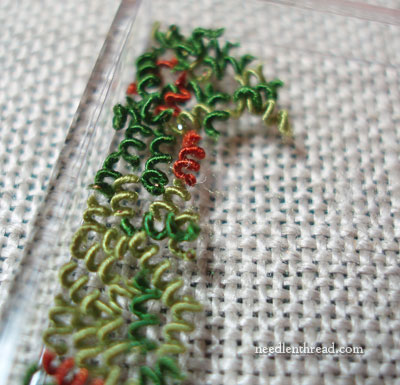 … in light green, dark green, and rust, and placed them all on a little tray, ready to sew onto the tree.
Then, using the gold-colored Soie de Paris mentioned yesterday, I sewed the little coils onto the tree branches, very randomly, keeping the rust towards the outer tips of the branches, filling in with the light and dark green, and sometimes covering the branches and sometimes leaving them exposed.
The reason I used the gold-colored Soie de Paris is because I wanted touches of gold peeking through the rust and greens, to give the tree more of an autumnal look. I think it worked pretty well! If you're substituting threads and stitches (mentioned below), you can always use a variety of colors of threads (and shades) for the leaves.
You can see that the open coils create a very light, speckled effect for the leaves, rather than a heavy, dense leafy filling. This works well for an autumn tree.
Fill up the tree randomly and lightly at first, working in just a few stitches, then stepping back to see if you should add more. It's always better to go lightly at first with this kind of filling, and then to fill in here and there if needed.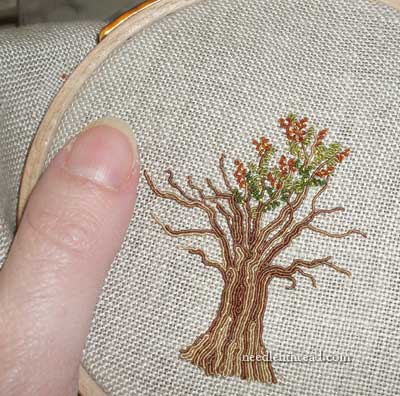 The Scale of the Tree
Here, you can see the tree right next to my thumb. It's only 2.5″ high at its peak, so it's pretty small! The size of your tree may help determine the threads and techniques you want to use on your tree.
If you are embroidering a large tree, for example, you might stick with crewel wool for the trunk, because it will fill the space a lot faster and the texture of the wool will contribute to the tree-ness of your tree. If your tree is large, you'll also have more room to play with different stitches for the leafy areas, and the threads you use for the leaves can be a combination of heavy and fine.
If your tree is small, you might try finer threads for the leaves. Heavy threads in a small space can look a bit bloppy and they lose their distinction.
By the size of my tree, you can see the silk gimp I'm using is, in fact, pretty fine stuff! Don't confuse this thread with other gimp available on the market that's thick and stiff. This gimp, because it's made specifically for hand embroidery, is very fine indeed, and the silk core makes it extremely supple. Gimps with cotton or viscose cores are not generally this fine, and they don't move or handle the same way.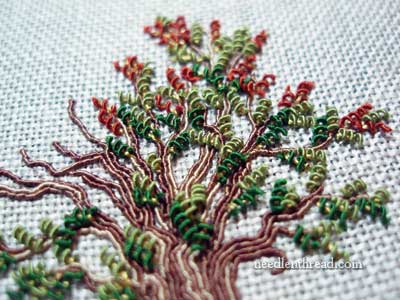 The rest of the tree is just a matter of filling up – going lightly at first, and then going back and filling in a little here and there, wherever I thought a leaf would improve the look of the tree.
Remember to stitch a few leaves on the "front" of the trunk, up high, before the branches proper begin. This will help give your tree a more natural look.
And there's the finished tree, with a ruler for size reference.
Finally, I added a bit of green at the base of the tree to "ground" it. After all, a tree floating in space looks a lot like… a tree floating in space.
Substitutions for Leaves
If you don't have silk wrapped purl, you can substitute regular embroidery stitches for your leaves. You can use detached chain stitch (daisy stitch), French knots, drizzle stitch, or even small bullion knots – or, for interest and texture, try a combination.
So, go to it!! Embroider your own autumn tree! Substitute what you have on hand, work in a relatively random way, try combining threads and stitches, and see what you can come up with!
Have any questions, comments, or suggestions? Feel free to leave a comment below!
Tags