I haven't done a "Top 10" list of embroidery books in ages upon ages. One reason is that it takes ten forevers just to collect the stats and figure them out. But since I was updating my Embroidery Book List the other day, I took the plunge and did some real work… for a change!
So here's my list of Most Popular Embroidery Books on Needle 'n Thread for 2012 so far. I've included 15, because numbers 15 through about 9 all rank very close in popularity. They're all excellent books in their own way, and worth having for reference or instruction.
I'm eager to know if you agree with the popular consensus! What books are you surprised to see on the list, or not on the list?
Maybe you'll find something here to add to your own library (or at least to your Christmas Wish List). Each entry on the list is linked to my book review for that entry, so feel free to browse!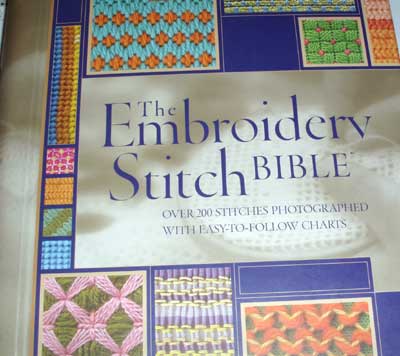 #15: The Embroidery Stitch Bible is an excellent stitch dictionary to have on hand for reference. It's been popular on Needle 'n Thread since I reviewed it in 2007, and even when it was unavailable for a little while, people kept asking about it. Handy little book!
#14: English Crewel Designs was surprising to see in the stats! For some reason, in the last 6 months, this little book has gotten a lot of attention! For the low price tag, it's a nice source book for crewel designs. I reviewed the book originally in 2010.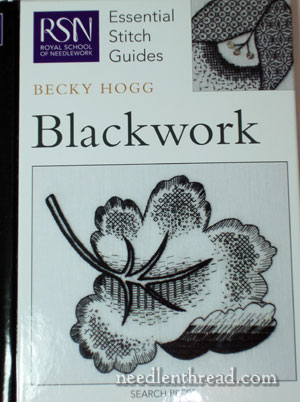 #13: The RSN Essential Stitch Guide for Blackwork. A most excellent instructional book for blackwork embroidery, this is the most popular RSN Essential Stitch Guide on my website, from what I can tell. Anyway, it clocked in at #13 overall, since January!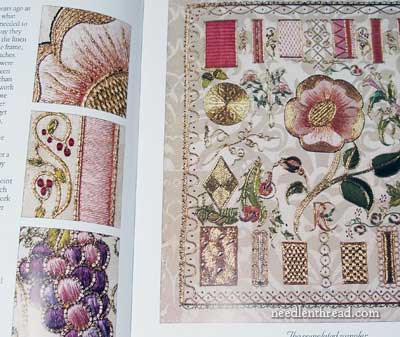 #12: Beginner's Guide to Goldwork by Ruth Chamberline. I reviewed this book in 2007, and it's still proving to be quite popular! The instructions in goldwork (mostly couched techniques, not chip work) and silk embroidery are given by way of working an absolutely gorgeous sampler. Great for beginners, if you're toying with the idea of taking up goldwork!
#11: Elizabethan Stitches by Jacqui Carey – this is a new book, reviewed earlier this year. If you like 16th & 17th century embroidery, this should be on your Christmas Wish List.
#10: Left-Handed Embroiderer's Companion by Yvette Stanton. If you're a left-handed stitcher pining for embroidery instructions written just for you, you'll definitely want this stitch dictionary on your bookshelf!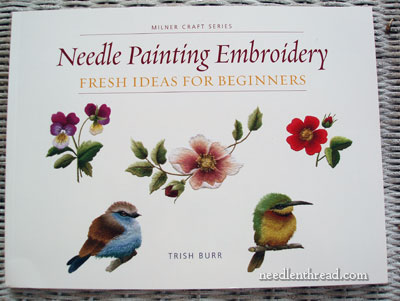 #9: Needlepainting Embroidery: Fresh Ideas for Beginners by Trish Burr. This is one of Trish's more recent books. If you're just venturing into needlepainting, or you've been dabbling with needlepainting at the beginner or intermediate level, you can kick things up a notch with Trish's book – it's positively lovely!
#8: Beginner's Guide to Crewel Embroidery by Jane Rainbow – an excellent guidebook to crewel work, for beginners and beyond. And extremely reasonably priced!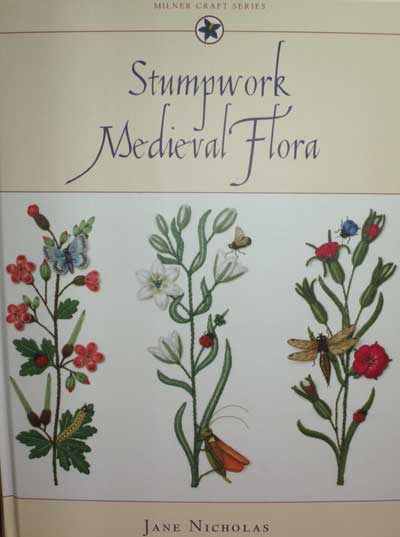 #7: Stumpwork Medieval Flora by Jane Nicholas. This is a gorgeous, gorgeous, and did-I-say gorgeous stumpwork book by Jane Nicholas – like all her books, really. I reviewed this one in 2009, and it's still consistently popular.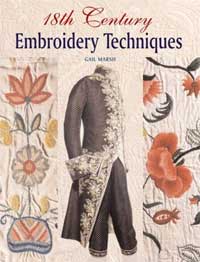 #6: 18th Century Embroidery Techniques by Gail Marsh. I love Gail Marsh's book, which take us through specific centuries in embroidery techniques. First reviewed in 2007, the book is a favorite among costuming aficionados and embroiderers alike. It's an instructive and fun stroll through history.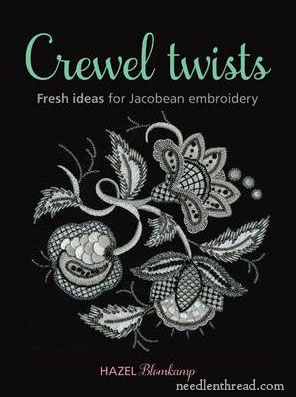 #5: Crewel Twists by Hazel Blomkamp. Hazel's approach to surface embroidery is beautiful and diverse. She uses designs that are typical crewel embroidery designs, and embroiderers them with floss, beads, sequins, goldwork, whitework, and so forth (as well as wool!). If you want some fun, colorful embroidery, take a look at this book!
#4: The Embroiderer's Handbook by Margie Bauer. This classic has been around for a while! It's the first book I reviewed on Needle 'n Thread – not too many weeks after I started blogging. It's still selling strong, and for good reason. Not only is a good stitch dictionary (with all kinds of other useful information in it), but it's a downright gorgeous book!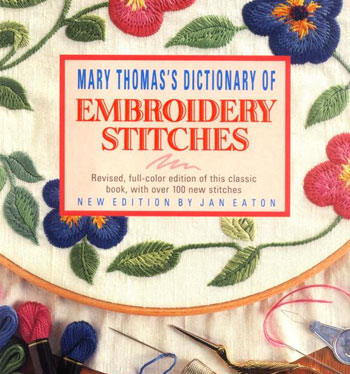 #3: Mary Thomas's Dictionary of Embroidery Stitches, edited by Jan Eaton. This is another stitch dictionary, packed with over 400 embroidery stitches. It's a best seller – affordable, with lots of stitches.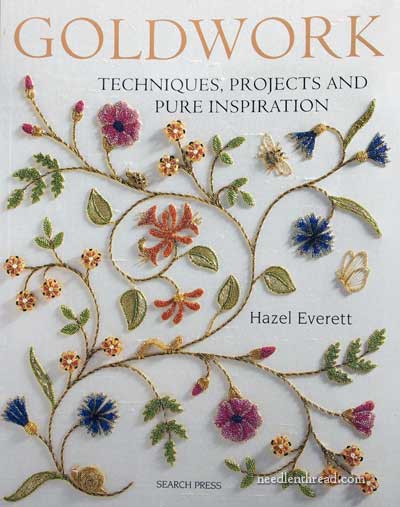 #2: Goldwork Techniques, Projects and Pure Inspiration, by Hazel Everett. This book is a real stunner – very beautiful stuff within! It came out last year (2011), and if you have the slightest interest in goldwork and metal thread embroidery, it's worth adding to your book collection. What's different about this one? Besides covering pretty much every goldwork technique, Hazel also focuses on using colored metal threads as well, with magnificent results.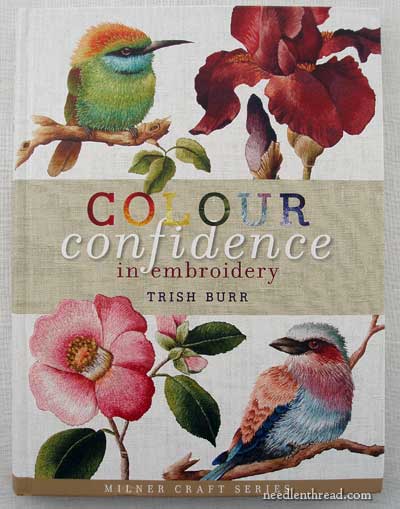 And the #1 most popular book on Needle 'n Thread this year so far is Colour Confidence in Embroidery by Trish Burr. This is understandably a very popular book, because it is unique, and because it addresses a specific need: instruction on choosing colors and color schemes for embroidery. Besides offering an array of color palettes and options, Trish instructs on color theory in clear, understandable terminology, and she also provides plenty of practice projects (really, incredibly beautiful pieces!) to help the embroiderer build confidence with color choices. It's a lovely, informative, hefty, essential volume for any stitcher's library.
So there you have it! The 15 most popular embroidery books on Needle 'n Thread this year so far. What do you reckon? Anything on here that surprises you? Or anything missing, that you thought would make the list? How many of these have made it into your library? Which ones are on your wish list?! Would love to hear your thoughts – leave your comment below!
You can find all the embroidery books I've reviewed here on Needle 'n Thread listed alphabetically by title on my Books page. If you don't see something you think should be there, do let me know!