You might remember that, last autumn, I was fiddling around a bit with some fun needle woven fillings that can be used to add color, texture, and pattern to large areas of embroidery.
Needle weaving is pretty much just weaving embroidery thread on the surface of fabric. In concept, it's not too complicated. But the results that you can achieve by following a variety of patterns and by working with different types of threads, colors, textures, and whatnot are pretty amazing!
If you've had a bit of a hankering to try out needle weaving on your embroidery projects, you're in luck! Hazel Blomkamp has put together a terrific little instructional book called Needle Weaving Techniques for Hand Embroidery, and it's chockfull of so many patterns that you'll never tire of the offerings!
I'm excited about this instructional book! Let me show you why…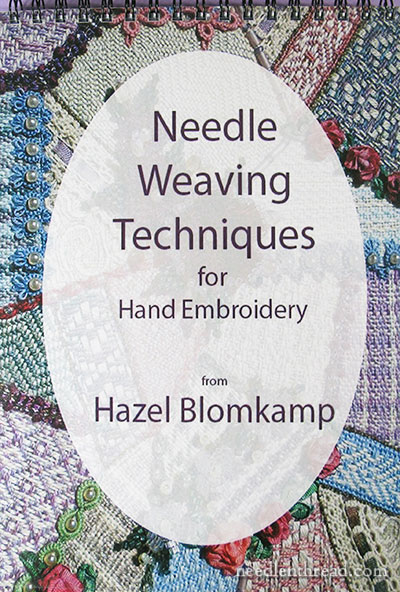 This is the cover of the book. It's a small flip book, with a spiral binding on the top, so that you can set the book flat in front of you and follow the patterns more easily that way. You can also slide a magnetic board behind the pattern page and use the strip magnets that come with the book to mark your way as you work through a pattern.
Now, the cover is interesting, I think. It looks like a crazy quilt square in the background, doesn't it? Well, Hazel is just crazy enough with her "crazy quilting" that her crazy quilting isn't crazy quilting at all!
Did you follow that? Perhaps I should explain.
Even though all those background patterns in the photo on the cover of the book look like fabric, they aren't fabric. They're actually areas of hand embroidered fillings worked on the surface of a piece of fabric. The edges of the various areas are embroidered and embellished further, as is done in crazy quilting.
Hazel uses a terrific variety of woven fillings to create fabric-like filled areas on the surface of her embroidery. You can see these techniques used in many of her designs in her book, Crewel Intentions.
In fact, if you've been following my attempts on Late Harvest, you've seen it done already:
In Needle Weaving Techniques for Hand Embroidery, Hazel concentrates just on needle woven fillings, offering a variety of filling patterns that can be used in all kinds of surface embroidery applications.
The booklet begins with general instructions on using the book and the basics of needle weaving.
All the techniques you need to know are right in the front of the book.
From there, it's just a matter of applying those techniques when working the various patterns presented in the book.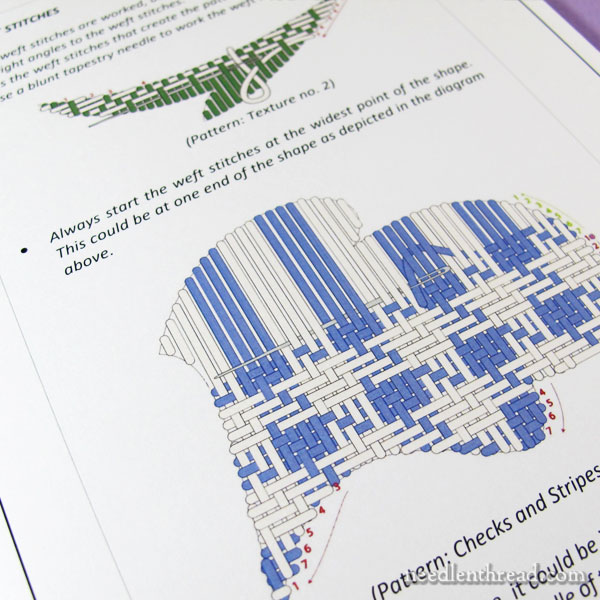 As long as you start at the beginning of the book, following the basic instructions, and then work your way through the book from the simpler to more complex patterns, you'll have no problem achieving beautiful and intricate needle woven fillings on your own embroidery projects.
The filling patterns start with the very simple…
…and they move forward to pretty darned complex!
It would be fun to use the book to build a sampler in one or two inch blocks, or even in various shapes all worked together (kind of like my Lattice Jumble Sampler, only with woven fillings rather than lattice stitches).
I hope to have a lot of fun, playing about with some of these fillings this year. I like the idea of working dense patterns as filled areas on surface embroidery, and I've got a few ideas brewing in my noggin. Ah, me…
Hazel has also published a similar booklet on needle lace techniques to use as fillings and edges, and it's set up the same way: introduction and basic techniques, followed by pattern blocks to follow, all arranged from simple to more complex.
If you enjoy needle lace, if you do a lot of whitework and the like, if you're working on stumpwork pieces that might employ different types of needle lace, this would be a great reference book to have on hand!
Update: 2017
Earlier this year, Search Press published both of Hazel's technique books in a new format.
Both books are available now in a new binding, and you can read about them here.
Where to Find
Both books are now available, published by Search Press, through the following book affiliates:
Needle Weaving Techniques is available in the US here through Amazon, and worldwide with free shipping here from Book Depository.
Needle Lace Techniques is available in the US here through Amazon, and worldwide with free shipping here from Book Depository.
The Search Press publications come with hard covers and spiral bindings, to make them easy to use when practicing the techniques. They're quite nice!