It's been a long time since I've posted a free surface embroidery pattern, so this morning, I thought I'd share a little heart I've been dabbling with.
There's something a little Valentine's Day-ish and a little St. Patrick's Day-ish combined in this design – sort of hearty, sort of shamrocky, and good for all kinds of craft techniques.
Here 'tis: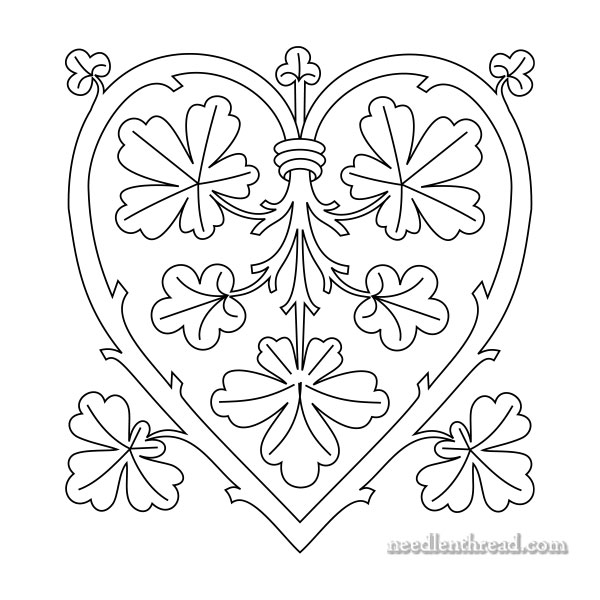 Besides using this rather exuberant branchy heart for surface embroidery (any kind of embroidery technique would work, practically!), I think it would also make a terrific appliqué for on a quilt square, or even a felt appliqué for felt work. And of course, it would translate well into paper crafts, too, if you're into card making and the like.
If I were working it, I could see it in two embroidery techniques especially: silk shading with a goldwork outline, or whitework, with various pulled thread filling techniques worked inside the larger leaves.
But it would also work up into just a quick embroidered piece, outlining the design with stem stitch or chain stitch. Tambour embroidery, anyone? The lines are fairly continuous, which would make approaching it with a tambour hook pretty fun!
Whatever way you envision the design, I hope you find a use for the pattern and enjoy it!
PDF Printable
You can download the following PDF and print it straight from your computer, ready to transfer. The design prints at 5″ high, if you choose "no scaling" or "100%" or a similar setting in your printer settings.
Heart: Branching Out – free hand embroidery pattern (PDF)
If you're looking for something to stitch and you're not sure what, you might enjoy browsing through the free embroidery pattern collection here on Needle 'n Thread. There's all kinds of stuff in there for surface embroidery – you're bound to find something you like!