Today, short and sweet!
It's time to announce today's winner of last week's give-away for some luscious over-dyed threads from Colour Complements.
There were heaps of participants in the give-away. It just goes to show you – we all like thread!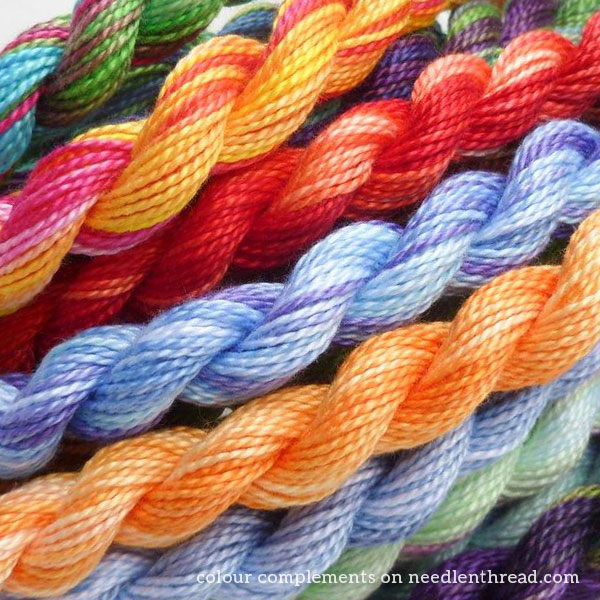 The question you were asked to answer in your comment on the give-away was "What's your favorite use for over-dyed threads?"
The winner, randomly drawn, was KerGiz, who answered the question:
Thanks for this wonderful opportunity! I like to stitch counted work, and have several projects on my to-do list which are perfect for these beautiful threads. Perhaps some ornaments with Algerian Eyelets, Satin stitch, or some hardanger in them. Or just would do some not-so-monochrome monochromes with my favourite color.
Congratulations, KerGiz! Please drop me a line with your mailing information and email, and I'll forward that on to Lorraine at Colour Complements. She'll arrange the rest with you. I'm sure you'll love the threads!
Sale!
The thread sale is still going on at Colour Complements, so if you're looking for some great over-dyed threads to add to your stash or play with on your current projects, stop in and browse! You're sure to find a good fit!
Personal Update
For those who have asked to hear how my Adventure with Cancer is going, here's a personal update in letter form. I don't really like talking about it on the website so that's why I do it this way. For those who want to read it, please feel free. If you don't want to, no worries at all!
This weekend, I'll be finishing up one stumpwork leaf and taking some photos of things like gorgeous threads, good books, and project progress! I'll also be doing a bit of writing and hopefully soaking in some warm Kansas sun while enjoying the plethora of flowers (and bees and butterflies) in my front yard.
Wherever you are, I wish you an equally splendid weekend!