Finally – a finish of sorts!
The stumpwork elements for Late Harvest are all stitched up and ready to go! Not that they have anywhere to go yet – I still have to finish the left half of the main part of the project.
But it's always nice to accomplish a minor goal, isn't it?
Today, I'll show you the stumpwork pieces and share a couple handy tips that might help you on your own embroidery projects.
For those of you who are just joining us on Needle 'n Thread, Late Harvest is an embroidery project from Hazel Blomkamp's book, Crewel Intentions, which I've reviewed here. I'm working it from the kit, which I reviewed here.
The embroidery isn't "crewel" embroidery, technically, despite the name of the book. Instead, it's a combination of surface embroidery techniques, including regular surface embroidery with floss, bead embroidery, and stumpwork embroidery, which is a three-dimensional embroidery technique.
After completing the first half of the main design, I decided to devote my stitching time to finishing the stumpwork pieces before venturing on to the second half.
The main reason I decided to get the stumpwork pieces completely finished was because I know myself pretty well. Once the second half of the main design is completely stitched, I'm going to be dying to affix the stumpwork pieces to it. Better to have them done and ready to go!
Before cutting out the stumpwork pieces from the fabric, Hazel suggests outlining them carefully with Fray Check, which is a liquid fray stopper sold widely in sewing stores.
Fray Check is a clear liquid, and it dries clear and a little stiffish. It comes in a tiny little squeeze bottle with a pointed tip to the cap. But controlling the flow on Fray Check or any similarly bottled substance can be difficult. The idea here is to paint the fabric outside the wire with the Fray Check, allowing it to seep only so far as the wired outline. Tricky, around those little pieces of stumpwork!
I didn't have any of the original Fray Check on hand. Well, I did. But it had died the death. It was solid. Now I know what happens to ten-year-old Fray Check.
But I did have this Fray Stop on hand, which is the same concept, only it tends to dry softer than Fray Check.
So I decided to use it.
But … how to control the flow? That was my question. I could use a tiny paintbrush. Or…
…better yet, how about an Aqua Brush? These are water pens with brush tips, that Pentel sells for working with water color pencils, inks, and dyes. You fill the squeezable pen reservoir with whatever liquid you're using, and then you use the pen like a fine brush.
I love these! I use them for watercolor pencils primarily, but they've come in handy over and over again for other times when I need to get a tiny bit of liquid into a tight spot.
Here's the pen reservoir filled with the Fray Stop. Notice that it's white, not clear. That's ok – it dries clear.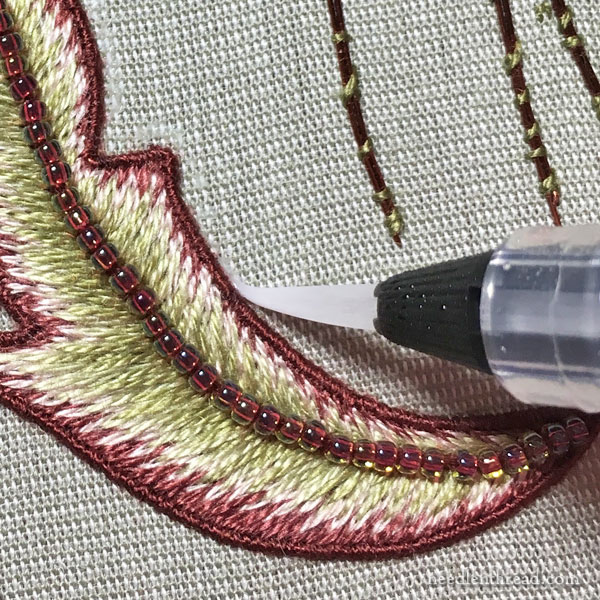 And here's the fine brush tip making its way around the outside of a stumpwork leaf.
It worked great!
After the Fray Stop dried, you know I had to cut out at least one stumpwork piece. I decided to cut out the chunk of three leaves that I had to redo (I wrote about that kerfuffle here), because the size was wrong.
I'll leave the rest of the stumpwork pieces together on the fabric until I'm ready to actually put them on the whole embroidery piece. Wouldn't want to lose any of them!
I practiced a bit of cutting on the Mistake Leaves. I think it came out ok, but there's still room for improvement.
Two points: 1. use Really Sharp Tiny Scissors for this part of the job, and 2. angle under the wire as you cut.
I found it a little tricky on this particular leaf, when snipping in the tiny little angles. But I'm pretty confident the corners will work out ok on the larger version of the leaf.
And now, onto the second half!
More Late Harvest
If you'd like to follow along with Late Harvest from the first stitches until now, you can find all the articles relating to this project in the Late Harvest Project Index, listed chronologically.