A couple weeks ago, I wrote a review about DMC's new floss, Coloris.
One question that came up in the discussion of this new variegated thread from DMC was whether or not a list of corresponding solid DMC colors was available for color matching.
Welllll….it so happens, there is!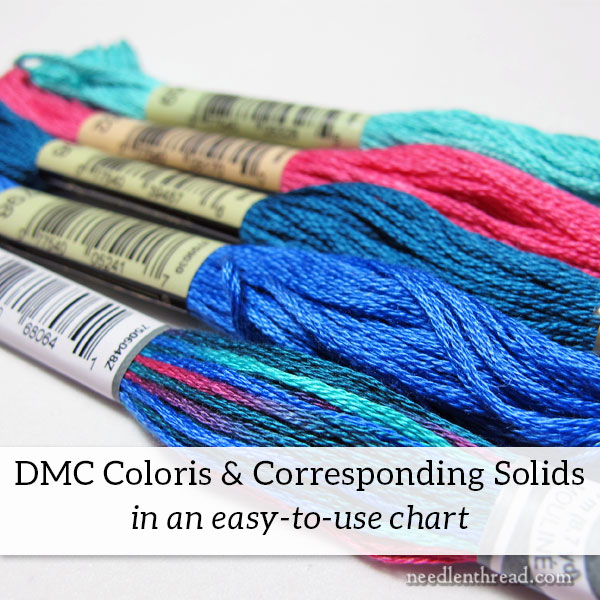 Thanks very much to Sue, a reader here on Needle 'n Thread, who sent me a link to the list posted by DMC to their PDF with the corresponding solids listed.
I took that list and reformatted it for easier reading. Coloris #4520 is missing from the list (it's the combination of Christmas colors), so I'm going to color match that myself and fill that in for you.
You Can Color Match for More Shades, Too!
A couple weeks ago, I started color matching some of the colors in the skeins of Coloris with my own DMC threas, to find corresponding colors. It takes a lot of time, but it's a Very Satisfactory exercise. I ended up stumbling upon lots of color families and shades within them that work well together.
When I compared the list from DMC to some of the groupings of solid colors I had put together to match the skeins of Coloris, I wasn't that far off in my selections. I found that you don't have to be perfectly precise with each color or shade, to find a satisfactory match.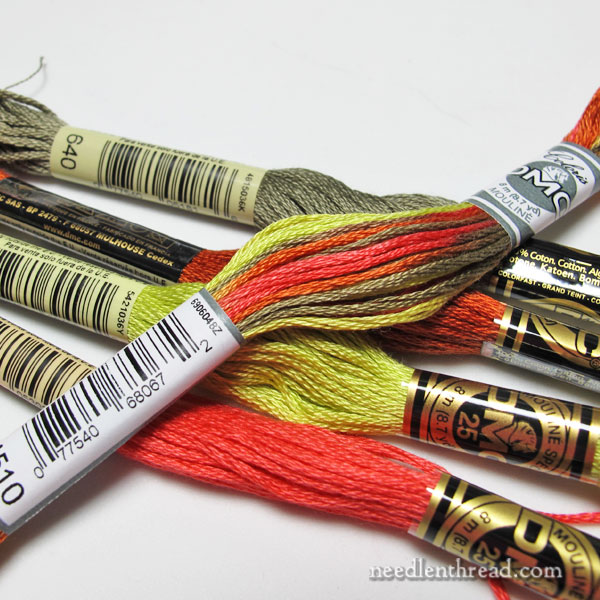 For example, in the photo above, the rusty orange (behind the Coloris skein, second color from the top in the back) is not the same rusty orange listed on DMC's list. But it works fine.
The moral of the story: feel free to experiment with color matching if you're playing with Coloris. You might, for example, pick out several shades from the color families listed on the chart below, to add some depth of color and shade to your project.
I'll delve more into a color family / shade experiment a little later, along with a sneak peek of some projects I'm playing with.
Coloris & Corresponding Solids Chart
This is what the original Coloris chart with corresponding colors looks like:
I went ahead and reformatted the list, placing the Coloris color numbers first, followed by the corresponding solid shades. I made the list into a table that's easy to read, to avoid confusion while shopping, too. I always like thread lists that are easy to read and follow with the eyes, without losing your place!
So, here's my version, for download and easy printing:
Coloris with Corresponding DMC Solid Colors (PDF)
And, for those looking for it, here's a PDF for DMC Variations to Corresponding Solids:
DMC Variations with Corresponding Solids
What I'm Doing With the List
I'm taking this list and sorting out skeins of corresponding DMC solids with each skein of Coloris, along with a few extra shades of the solids, and putting each set (one skein of Coloris plus matching solids) into small ziplock bags and marking them. That way, when I explore some of the little projects I'm working on right now, I'll have easy access to each group of colors.
Keep in mind, I don't necessarily have to use Coloris in the project. The color groupings work well together as solids, too, so if I don't want a variegated thread in a project, I can skip it. If I add some extra shades for a couple color families into the bunch, I'll have a nice project palette to work with, with or without the variegated thread. See how Coloris opens up all kinds of possibilities for project planning?
Once I get all the preliminary thread sorting and selecting finished, it's just a matter of grabbing a bag of colors that appeal and launching straight into stitching.
Hope you find the chart handy!