A long, long time ago – back when the idea of blogging for Ten Whole Years had never even crossed my mind – I started a project that would become an Old Friend.
It has withstood the test of time rather well, and I thought it would be fun to revisit it.
Maybe it will inspire you to take up some random embroidery project and just stitch your little heart out!
Because I'll tell you this much: it may not be the most beautiful embroidery project in the world, it may not be the nicest finishing job, and it may be a bit on the bizarre side overall, but this project was downright fun.
And now and then, doing something Just Plain Fun with needle and thread is darned good therapy!
The project I'm talking about is this felt needle and tool book that began as a road trip project, that was worked with absolutely no plan in mind using a bag of random threads and a few scraps of felt, and that eventually ended up in my niece's sewing stuff because she really liked it.
She still uses it to this very day whenever she's sewing, and that makes me feel pretty happy!
You can click on the photos to enlarge them, and when you do, you'll see that Time has flattened the stitches a little bit, but overall, they're still in ok shape.
The threads I used on this piece were pulled randomly from a stash bag that had all kinds of cotton threads in it that no longer had tags on the skeins. Perle cotton in sizes 3, 5 and 12 figure in quite a bit, along with stranded embroidery floss, floche, and some scraps of silk ribbon here and there.
The stitches? Anything that came to mind!
Stem stitch, chain stitch, buttonhole stitch, ribbed spider webs, daisy stitch, feather stitch, Palestrina stitch, Portuguese knotted stem stitch, whipped stitches… whatever happened to pop into my head once I finished one area and moved into the next.
I remember combining a lot of stitches and playing with stitches in general – overlapping some, whipping others, whipping parts of others, layering odd stitches. I really didn't think long and hard about what stitches to use where, or how to use them.
The pattern? There was none! I started with a swirling line and went from there. Whatever developed, developed.
Now, when I look back on the piece, I think of all kinds of stitches I could still add to it. Maybe it's time to work another one?
I have a feeling, though, if I worked another one, it would end up being a little more polished. A little more precise. A little more thought-out.
Would that be a good thing? Or a bad thing?
I think it would be ok. I think it would be the natural consequence of the passing of years and the learning of new things.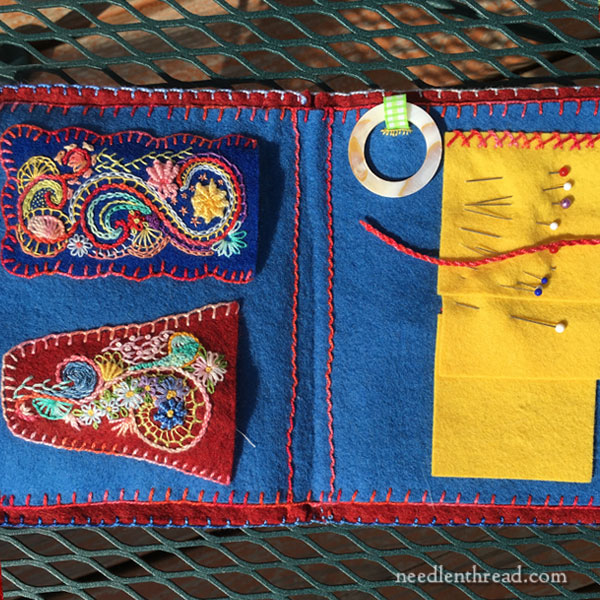 When I started the piece, I had vague plans for turning it into book cover of sorts.
I added two little pieces of felt to serve as scissor pockets, some felt flaps for needles and pins, and a mother-of-pearl ring to loop thread on.
I stitched up the sides with buttonhole stitch, but left the blue felt unattached to the red up the sides, to create two large pockets, into which my niece invariably stuffs things like spools of thread that she's working with and the like. It works great for her!
You can read more about the finishing here.
Even the inside little pieces were great fun to stitch! Completely random. No plan. Just whatever sort of fit the shape of the scrap of felt.
When I look up close at the book cover, I'm not all that impressed with the stitching. And I find a lot of blank areas where I hadn't "finished" – centers of flowers that aren't filled. Areas of seed stitch only half complete.
But that doesn't matter to me at all! What matters is that the project was loads of fun and the needlebook has served my niece well and given her a lot of pleasure, too.
Planting Seeds
Strangely enough, working this project planted the seeds of a completely different project – my Stitch Sampler Alphabet.
When I finished the needlebook, I started thinking about working an alphabet "randomly," with all sorts of stitches on all the letters. It took years for that project to actually materialize, and then two more years for it to turn into my Stitch Sampler Alphabet ebook. If you like the idea of random stitching, you'll find a ton of really fun stitch combinations in that e-book, and you can apply them to all sorts of projects, not just the alphabet!
It's fun to revisit old projects and to see them years later.
I can't do that with many of projects because they are mostly given away, and to people far away. But there are a few that are still close to home, and now and then, I get a glimpse of them.
I think about the hours of work that went into them, the joy of stitching them, and the pleasure they still give to others.
And you know what? Every time I see them, it makes me happy!
I'm so grateful for the gift of hand embroidery, for this art that's been passed down for centuries through all the folks who came before us and kept the art of hand embroidery alive.
I wonder if they knew how much pleasure they'd be bringing to generations after them?