Over the next several weeks, I'll be reviewing embroidery kits for you, from designers around the globe who sell their own kits through their own small embroidery businesses.
If you've been hanging around here on Needle 'n Thread for a bit, you might remember that back in April, I published a very short starter list of places where you can order quality embroidery kits directly from designers. I'll be adding to that list in the near future.
Ordering kits directly from designers ensures that you get a good quality kit directly from the person who made it, who designed the project, worked it from the ground up, and knows all about it.
These types of kits are a great way to learn a technique well, and they often come with a good support system. If you are having trouble with your kit, you can often email the designer directly and get good tips that will see you through the project successfully.
Today, I'm going to show you, up close and personal, what you get in a kit from The Crewel Work Company, Phillipa Turnbull's business in the UK that specializes in historically accurate crewel embroidery designs and materials.
The kit I'm reviewing here is the Mellerstain Firescreen kit. It's lovely, and I can't wait to get started on it!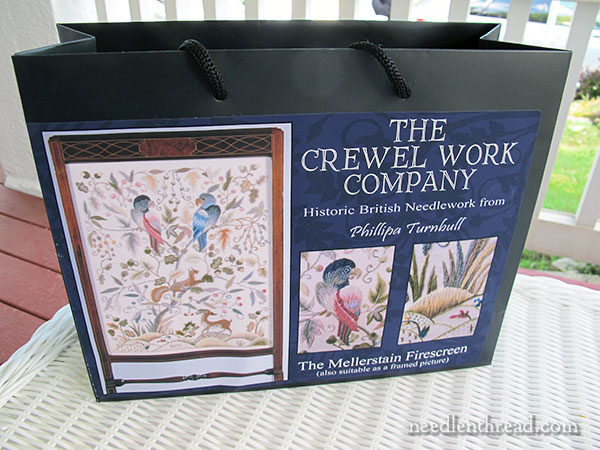 The kits from The Crewel Work Company are packaged quite attractively in a gift-type bag with nice, clear photos of the project on the outside of the bag.
The bag, besides making a great presentation, serves a purpose – it makes a terrific project bag, where you can keep all your supplies for the kit while you're working your way through it.
(I love bags!)
Inside the project bag, you'll find everything you need to work the crewel kit, with the exception of a hoop and scissors.
Phillipa recommends a sit-on hoop stand like this one, and they sell them for a very reasonable price through The Crewel Work Company. If you live in the US and aren't keen on paying the overseas shipping for bulkier items, you can find them through needlework shops that stock goods from Access Commodities. Needle in a Haystack in California carries them.
Personally, I'll just be using a regular hand-held wooden hoop – a thicker Hardwicke Manor hoop. My plan for this project is to be able to easily tote it around wherever I want to take it, so a hand-held hoop will work better for me. But if you want two hands free, you can't go wrong with a sit-on hoop for this type of embroidery!
The kit comes with very high-quality, durable linen twill, preprinted with the design on it; the project booklet; a booklet for beginners to crewel work, full of stitching tips; Appleton crewel wool in 31 shades (some with more than one skein per shade); beads; and needles.
The project pamphlet opens up nice and flat, and starts off with general information about the project itself and setting up the project for stitching.
The instructions in the pamphlet are very clear and easy to follow. Even if it's your first time doing crewel work, if you have a little experience with surface embroidery, you shouldn't have a problem following the instructions.
Speaking of first timers, the Mellerstain Firescreen is a level three kit on The Crewel Work Company's website. I think this is because of the quantity of long and short stitch shading and also the scope of the project – it's a big piece! But really, the techniques are not difficult, so if you have even a little experience with embroidery, I think a determined beginner can do it. (If you want it badly enough to persevere through the large project, that is!)
The other instruction booklet that covers the essentials of crewel work is also very clear and easy to understand.
Diagrams map out everything you need to know about starting your threads, ending your threads, working stitches and techniques. Everything is there that you need to know, and it's laid out simply and directly, making it very easy to grasp.
Along with the kit, you'll also receive a full-size diagram and layout map for colors and stitches, as well as a list of the crewel wool shades and numbers of skeins needed to complete the project.
And finally, there's the fabric itself, pre-printed with the design. What I especially love about the way The Crewel Work Company prepares their fabric is that the pre-printed design includes all the directional lines, which assures the stitcher of an accurate and much easier stitching experience. This is especially handy for those who are new to long and short stitch shading. And hey! It doesn't hurt with any of the lattice work, either! It makes it super easy to achieve even line spacing!
No worries about the blue – it covers up well with the heavier wool threads.
The twill from The Crewel Work Company is a specially woven z-twist twill, which is historically accurate for the re-creation pieces available through them. It's a heavy duty fabric, very sturdy. I plan to use at least a 7/8″ thick hoop with mine. It'll handle the heavier fabric well.
So that, my friends, is a Crewel Work Company kit for you, in case you're considering purchasing one of the many beautiful crewel kits offered through them. They are high quality all around, and a great way to learn or advance your skills in real crewel embroidery.
Speaking of Real Crewel Embroidery…
I think this is a good place to note or re-note (I've said it before!) that real crewel embroidery is embroidery done with crewel wool, which is a strong, long-staple thread spun from wool. Although we see a lot of designs and kits emerging these days that include "crewel" in their name, if they aren't done in crewel wool, they aren't really crewel embroidery.
Crewel embroidery is not a design style, although there are certain types of designs that are typical of crewel work. Crewel embroidery is surface embroidery worked with crewel wool, usually on linen, and often involving certain families of stitches.
A while ago, I wrote an article for Craftsy on what makes crewel embroidery crewel embroidery here, if you'd like to read more about it. Just be aware that some of the photo samples show embroidery that's worked with other threads besides crewel wool, just to demonstrate families of stitches.
The crewel kits from The Crewel Work Company are authentic crewel embroidery kits, from tip to toe!
Where to Find Crewel Work Company Kits
If you're keen to learn crewel work and you want to learn the authentic, real stuff, a kit from The Crewel Work Company is the way to go!
You can find their crewel work kits here on The Crewel Work Company website. There are three different levels of kits, but mostly, the techniques are similar in each level. It's the scope of the project that places them in their particular levels.
Join Me?
I'll be working this kit off and on over the next who-knows-how-long, as a grab-and-go project. I'll share project updates as I work through it, and any little bits of learning (or accidents and corrections!) along the way. If you've been hankering to take this particular kit on, or to work through an epic crewel kit, feel free to join me!
I should warn you in advance that there's never any time table with my grab-and-go projects. They develop as I have time for them. But that's the joy of this kind of project – the journey may be slow and meandering, but it's lots of fun, and one day, it will be finished!
Have a terrific weekend!