I mentioned at some point last week that I'll be doing some organizing and cleaning up in my workroom over the next couple weeks.
Just mentioning "organizing the workroom" sparked a lot of interest. You asked if I'd share before and after pictures, if I'd share tips on organizing and so forth.
Organizing can be a real bear! And I'm probably the last one in the world to offer tips on how to do it efficiently, on what storage solutions to use and all that kind of stuff. Because right now, I'm completely disorganized.
My Biggest Problem right now is a Book Problem.
Here's a question for you: Can you have Too Many Embroidery Books?
My answer: a resounding YES.
To give you a better understanding of my Embroidery Book Problem, let's take a little peek in my book cabinet: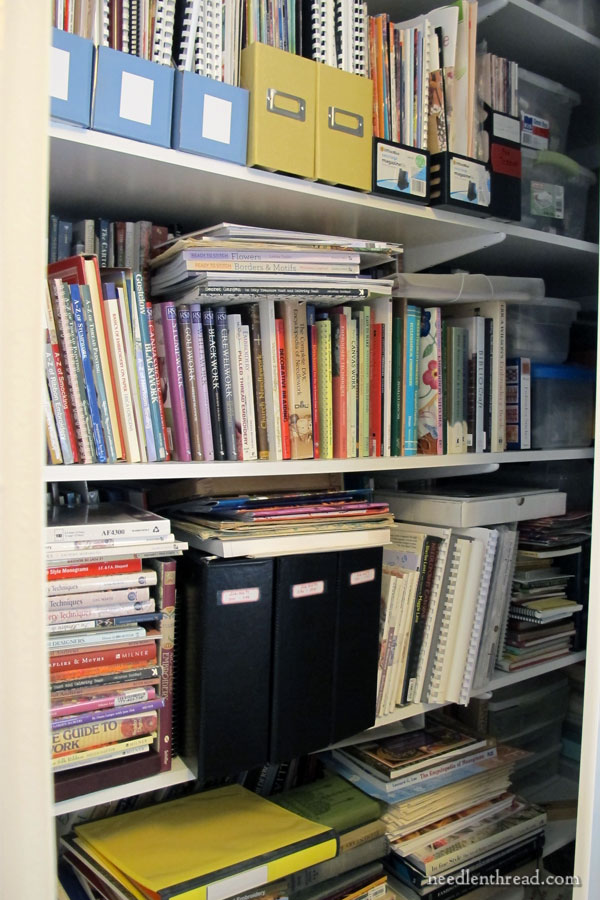 My workroom is a finished garage. You can read about it and see pictures of it here. When things are in order, it's a great place to work!
When things are out of order, it's hard to face. And right now, things are Definitely Out of Order.
Unfortunately, it's the book section that's completely Out of Order.
(Ok, so are several other areas, but this is one that I need to tackle first – you'll see why!)
So, I have these floor-to-ceiling cabinets (that close – thank goodness!), one of which is devoted almost entirely to books, and you can see in the photo above that this particular cabinet is pretty well stuffed.
The front of the eye-level shelf holds most of the books that I frequently grab for reference. Makes sense. They're the books I use most.
You'll also find additional stacks of books I just couldn't fit anywhere else and didn't have time to fiddle with – so the whole stack got stacked on top of the books already stacked there.
(This is how problems develop!)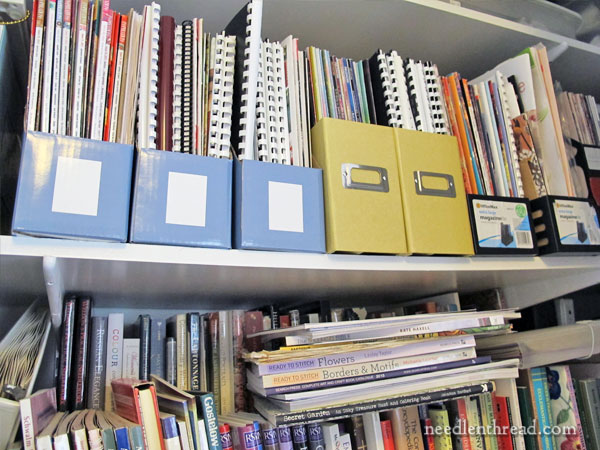 Above that, I have magazines, some old books, and pamphlets, which I try to keep in handy magazine holders. All the Inspirations Magazines are up there somewhere, as well as quite a few Sampler and Antique Quarterly magazines (no longer in publication), and others.
On that shelf, you'll also find reproductions of old books, bound with combs. And any pamphlet type books that are in good shape and relatively new.
Below the eye level shelf, you'll find more reference books, project books, and some other larger reprints bound with combs.
You'll also find additional stacks of books slid in wherever they fit.
(The problem continues to develop!)
The black folders in the front are my Silk Mill silk set – you can read all about those threads and organizing them here and here.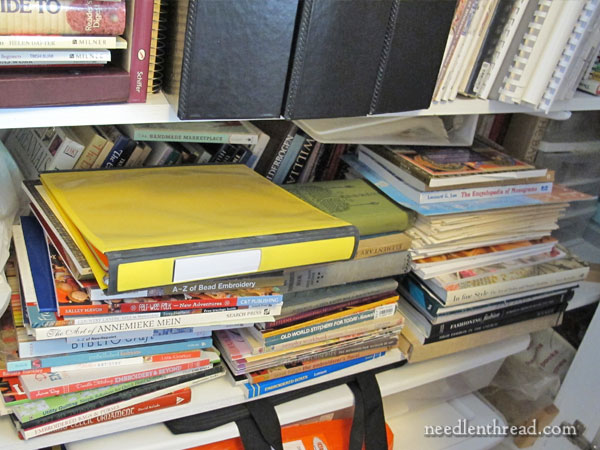 Way down below, just before ground level, you'll find…more books – project books, books I don't access as frequently…
…and more random stacks slid in, just because there was room!
What you might not notice right away on all of these shelves – and indicated by the red arrow in the photo above – is that they are all double-stacked with books already.
The shelves are 24″ deep, so there is plenty of room for two lines of books. To lift the back line up enough to see the books, I used an additional narrow board supported by two covered bricks under each end.
How Does this Happen?
If you haven't noticed, I like books. And I like needlework books especially.
But it's more than just a liking of books that has gotten me to this point of Absolute Book Overload.
People send me books that they come across – often at estate sales or in thrift stores or used books stores – that they know I'll like (and I always appreciate that – I love books and many of you know me well enough to know exactly what I love!), publishers send me books in the hopes of a review, authors send me books, and, over the years, I've bought a lot of books, many to review here on the website.
And now my book cabinet is at the point of bursting.
They take up a lot of space.
I'd like to be using some of this space for something else. But in order to do that, I have to discover another way of storing at least some of these books in a way that they're still accessible.
Why Keep Them?
You might ask why I keep them all.
Surely, you say, you could never use all those books! Why not sell them or donate them to libraries?
It's true, I will never be able to use them all.
But one of my dreams for the future (if I can ever build the capital to do it) is a local art center / learning studio where locals can come to learn arts and crafts, to work on projects, and so forth. Not a school, but more of a community place for different types of arts and crafts. And part of that dream includes a well-stocked needlework library with books that range from old and rare to brand new.
So I do see a place for all these books somewhere in the future. And that's why I keep them.
But in the meantime, I have to get them under control!
Whoops…There's More
Now, if I could just close the cabinet doors, all would be well enough, right? At least I wouldn't see them. I could still work in peace, right?
But see – there's this stack of books, too. And it's not in the cabinet!
And this stack isn't in the cabinet!
And neither is this stack!
All over my workroom, I have stacks of books right now that range from small to large.
And that is the problem.
I'm contemplating the problem. I'm trying to develop a solution that's financially reasonable and that keeps the books at least semi-accessible.
When I finally arrive at the answer, I'll share it with you. I'll even share the before and after pictures, which means we must be really good friends!
Ten Years
Incidentally, ten years ago today – back when I didn't own a digital camera (let alone a mobile phone or even a decent computer) – I wrote my first blog post on Needle 'n Thread.
Where does time go?