This morning, I'm sending out to you four more letters in the floral script monogram alphabet – letters I though L.
If you're just joining us recently on Needle 'n Thread, you'll find all the earlier letters in this beautiful alphabet available here, on the monogram index, and I'll be adding the rest of them as I get them cleaned up for you.
You'll also find stitching tips and ideas on each article for these letters, if you're looking for ideas on how to embroider them.
So, here are the next four letters with some more stitching ideas!
As is often the case in old monogram alphabets, the I and the J were not both present in this alphabet. This is the original I, above.
But I tend to like I's and J's that have a little variation to them, so this is how I adjusted the J:
It's a little scripty, but now that I look at it, it occurs to me that you can still use both letters (I and J) interchangeably! Pick whichever one you like best!
Incidentally, you can also use the I above as a T. The T in this alphabet is a different style, but if you like a T in the style of the I above, it would work as long as you aren't embroidering both letters (T and I) on the same project.
We already chatted about using a combination of long and short stitch and stem stitch on these letters, and we talked about combining shadow work embroidery and regular surface embroidery, too.
Today, my stitching tip is to go traditional, with classic monogram embroidery, which generally involves satin stitch.
Here on Needle 'n Thread, you'll find a lot of tips for creating beautiful satin stitch in hand embroidery.
Some of those apply directly to monogramming. For example, this article begins a short series that takes you step by step through a monogram project featuring satin stitch. At the end of the article, you'll find chronological links to the other articles in the series.
If you really want to get into traditional monogramming, then I strongly encourage you to invest in one of the best books on the subject – Monograms: The Art of Embroidered Letters by Susan O'Connor.
Here's my in-depth review of that book, with links to where you can find it affordably now that it's back in print. It was out of print for a while, and prices soared to ridiculous heights in used book sources. Whew! Glad it's available again!
If you have any interest in traditional monogramming – or in whitework embroidery – you'll never be sorry for adding that book to your library!
PDF Printable for Letters I through L
Here's the handy PDF printable that you can download and keep, for letters I through L. The letter's will print at 2.5″ tall, if you choose "100%" or "no scaling" or a similar option in your printer settings. You can also enlarge or reduce them on your computer or on a photocopy machine.
Floral Script Alphabet Letters I through L (PDF)
You can find the rest of the letters in this alphabet, and several other complete monogram alphabets, available here on Needle 'n Thread.
Favorite Monograms – PDF Collection
This complete alphabet is available in PDF format in Favorite Monograms, a collection of 16 monogram alphabets perfect for hand embroidery and other crafts.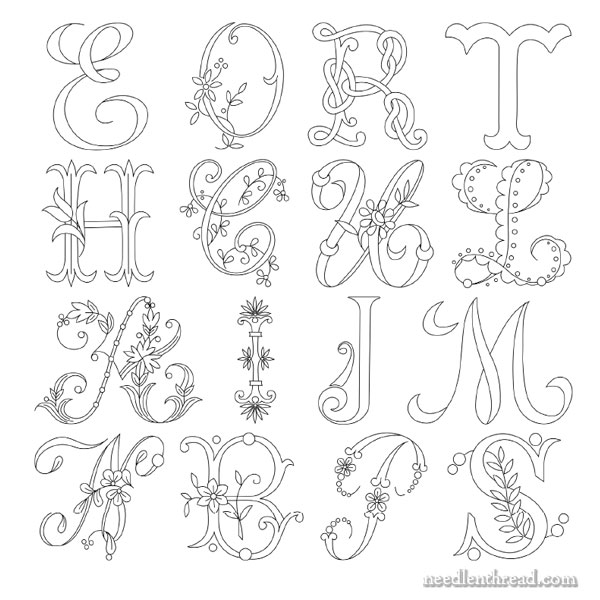 In the photo above, you can see samples of each alphabet available in Favorite Monograms.
Each letter in each alphabet in Favorite Monograms has been carefully traced into a clean line drawing that can be easily enlarged or reduced on a home printer or a photocopier. If printed straight from the PDF, the letters print at 2.5″ high, when choosing "no scaling" or "100%" in your printer settings.
The 16-alphabet collection is delivered as via a download link to your inbox shortly after purchase, so that you can begin creating right away! Priced at less than $1.00 per complete alphabet, monogram lovers can't go wrong with this collection!
Favorite Monograms is available in my shop, here.