Good morning, friends, and a Happy Saturday all around!
Here in the US, it's a holiday weekend! And while the Fourth of July weekend usually smacks of outdoor weather, picnics, sunshine, fireworks and the like, here in my part of Kansas, we're finally getting (a lot) of rain! In fact, it's practically flooding. In the Midwest, it's never a good idea to complain about rain. Whenever it comes, it's a good thing. It's good for the crops, it's good for the cattle…
… and it makes great indoor weather to catch up on stitching-related pursuits! So that's my plan!
Today, I'm going to share with you two things: my last stopping point on Late Harvest, an embroidery project designed by Hazel Blomkamp that I've been slowly working my way through and sharing here on Needle 'n Thread; and a personal update, because many of you are inquiring how things are panning out with my Big Life Adventure with Cancer.
First, Late Harvest! Then, I'll share the personal update with via a link to a PDF file (so that you can skip it if you want to).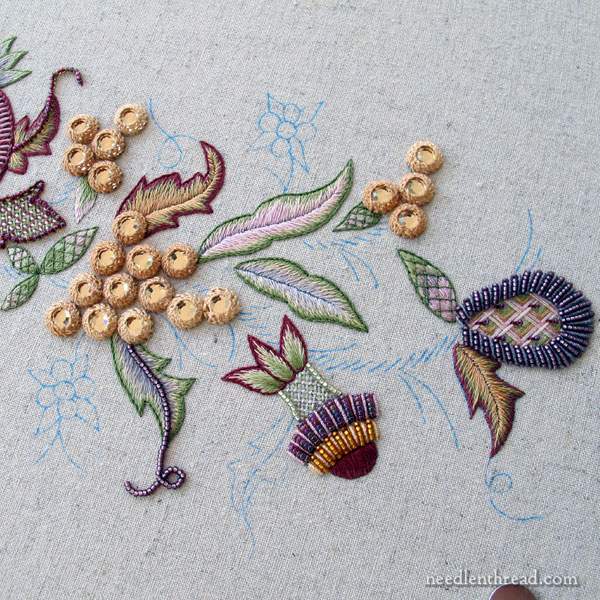 You're welcome to click on the pictures to see larger versions if you'd like.
I took these photos outside, in fairly stark light. It always amazing me how the details stand out more, when using sunshine as the light source. It makes my stitching look so dadgum strange! Every thread is noticeable.
This can be a good thing. I can see a few areas I'd like to repair, that I wouldn't have noticed if I were photographing this under studio lights.
On the other hand, it can be a bad thing. Now you know what my stitching really looks like, right?!
The photo above is the left side of Late Harvest (it's upside down). Initially, when I got to this point, I thought I was finished with the Embroidery Proper and that I just had beadwork and stumpwork left to do. I rejoiced!
And then I noticed that I missed a leaf.
And then I noticed those two flowers that aren't finished.
What was I thinking?
And this is the whole thing so far. Every time I look at the center pomegranate, my nose wrinkles. It really is drawn that shape on the fabric – it's not a Perfectly Round fruit. It's ok – practically the whole thing will be covered by large stumpwork leaves, with just the bottom half or third peeking out.
I was supposed to finish Late Harvest by mid-June. Sometimes it bothers me to miss a deadline, but other times, it doesn't. I'm not really concerned about missing this one. It's a personal project, after all, and I have no definite plans for it yet.
Right now, I've set Late Harvest aside while I concentrate on other more pressing projects for the website. I'll get back to it when I can, and I'll let you know when I finally start adding the stumpwork layers.
If you're just joining in on this particular journey, you can find all the articles relating to Late Harvest here, including plenty with tips and tricks and mistakes and fixes along the way.
Personal Update
If you're keen to know what's up with me, you'll find my personal letter right here. It's a PDF, so it should open in a new window for you. If you're not interested, you don't have to read it! You won't hurt my feelings. (And in fact, I won't even know!) I'm sorry it's not better news, but I'm in good spirits and slogging along wholeheartedly!
Thanks to all who have inquired how things are going. I appreciate your support, solicitude, and kindness so much!
I hope, wherever you are, you have a terrific weekend, and that you get a chance to spend some quality time with your needle and thread!
See you next week!