What makes a good summer stitching project?
The answer to this will vary, undoubtedly, depending on what you like to do in the summer, the type of climate you live in, and whether you're a "seasonal" stitcher. And of course, there's the whole question of what you like to stitch, too!
For me, a summer stitching project should have a few key attributes. I'll share my ideas on those below, and then suggest some projects that would make a good fit for summer stitching.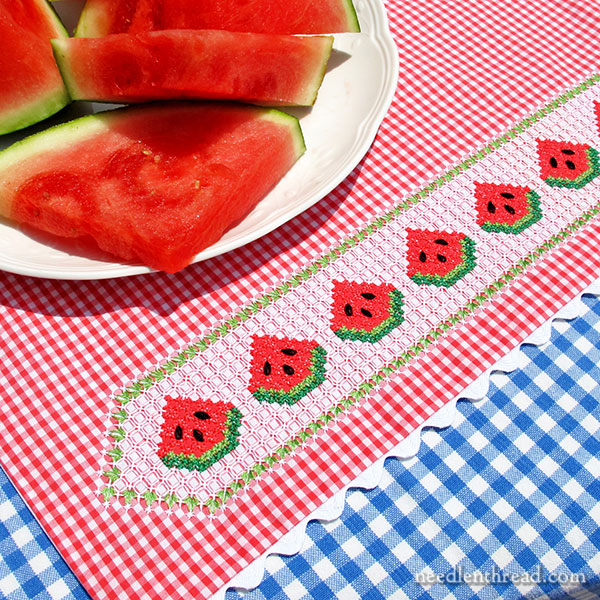 Summer Embroidery Projects
These are the criteria I like to consider when it comes to putting together a fun project for summer embroidery:
1. It should be portable. I tend to go more places during the summer, whether it's out of town or just visiting with friends and family locally. So I like a project that can be easily toted hither and yon, that I can put a few stitches in while waiting here or there or while just sitting around visiting.
2. It should be light. I don't like heavy duty embroidery in the summer, set up on big hoops or frames with excess fabric or heavy threads. When temperatures soar, I like something light, easy to hold, comfortable – something that doesn't smack too much of "warm and cozy," because who wants warm and cozy when it's 100 degrees out?
3. It should be relatively simple embroidery, something I can do right off the top of my head. If I'm toting it around, I don't want to tote around lengthy instructions, reference books, or anything extra that I'd require for more complex techniques. In summer, simple is good!
4. It doesn't hurt if the project sort of screams Summer! Although I don't consider myself a "seasonal" stitcher – I don't necessarily anticipate the seasons and stitch something particular for each season – I do like embroidery that reflects different seasonal changes, whether it's in the type of project or in the color scheme or in the materials used.
With those points in mind, here are some ideas that I think would make great summer stitching in case you're itching for a portable, light, summery project:
Embroidered Flour Sack Towels
You just can't go wrong with flour sack towels when it comes to portability.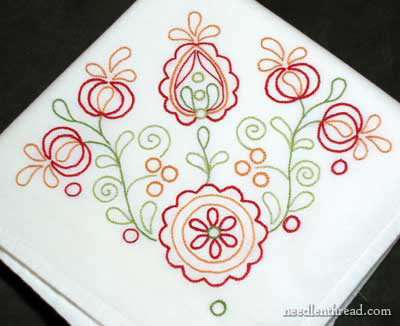 Here are a few articles that might help you set up some fun flour sack towels for stitching:
Embroidered Dish Towel – a Class Project Sample (includes my favorite resource for really good flour sack towels!)
Playing around with Transfer-Eze (This is the same stuff, more or less, as Sticky Fabri-Solvy). You'll find the conclusion of my experiment here. This stuff (and Sticky Fabri-Solvy) make stitching on a flour sack towel pretty simple!
The Back of a Flour Sack Towel – just some general reflections on embroidering flour sack towels and what to be concerned about on the back.
Gingham Embroidery
Gingham embroidery is So Much Fun! It's light, it's cheery, and you can use it to adorn all kinds of summery-related things, from your picnic supplies to your children's garb to a bright and happy apron.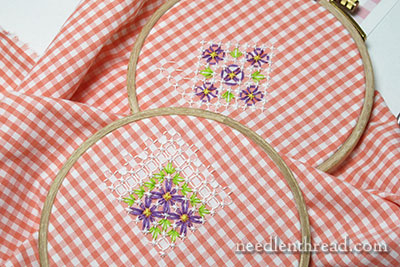 You'll find a list of gingham embroidery related articles right here, including a tutorial on "chicken scratch" and lots of patterns for unique designs.
And you can't miss this article on gingham embroidered watermelon, because it's the kind of project that really screams Summer!
Embroidered Initials and Monograms
Decorative embroidered initials are generally small, they can be worked in a variety of techniques on small things, and they open up possibilities for all kinds of playing about with color, threads, stitches.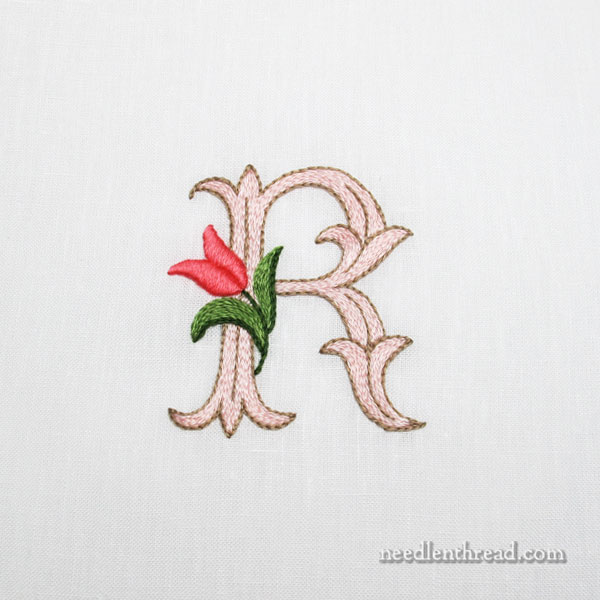 You can find information on this little monogram above here.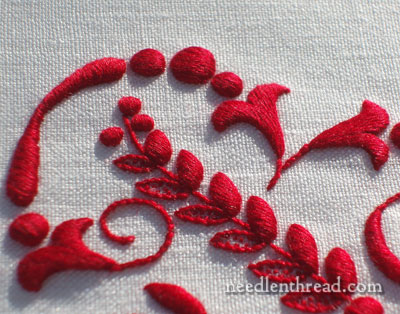 You might decide to monogram a pretty little linen towel, like this. You'll find a list of helpful articles at the end of that post.
You can also find a series of tutorials on monogramming another linen towel here. The links to subsequent articles in the series are at the end of the article.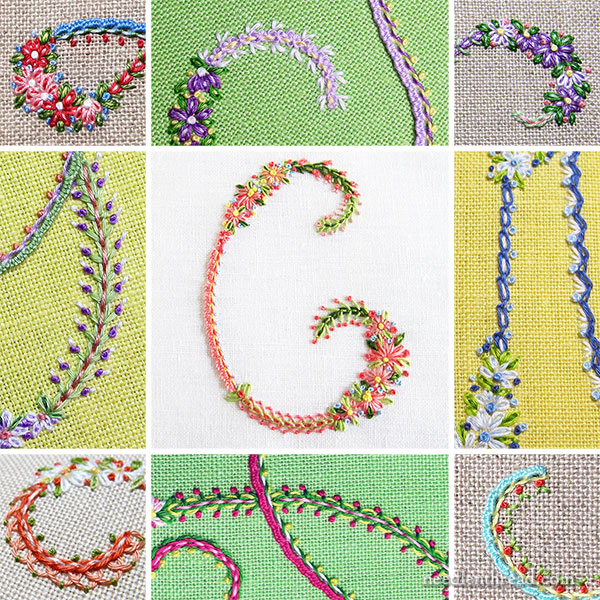 And then, of course, there's the fun of the decorative initials that appear in my Stitch Sampler Alphabet e-book. Those were a blast to stitch and, because they mostly fit in a four inch hoop, they were easy to tote around.
How About You?
What type of stitching do you like to do in the summer time? Do you have any particular criteria when you're setting up a project to while away those hot summer hours? I'd love to hear your take! Feel free to join the conversation below and share your ideas with the stitching community here on Needle 'n Thread! You never know who you might inspire!