Earlier this year, I brought up the subject of "designer" embroidery kits – that is, embroidery kits made and sold directly from designers (as opposed to kits bought in a big box craft store) – and their value.
Since then, I've been reviewing several embroidery kits from different designers around the globe, so that you can see these kits up close and get an idea of what different embroidery designers have to offer in kit form.
Today, we're going to take a close look at a crewel embroidery kit designed by Jessica Grimm, an RSN graduate who lives in and works her embroidery business from Bavaria, in Germany.
Jessica explores many different types of embroidery on her blog, and in her shop, she sells her own embroidery kits that cover different techniques, too.
Her crewel embroidery kit called Carol's Rose caught my eye, and so that's what we're going to look at up close today.
Carol's Rose is a vibrant crewel kit that involves all kinds of crewel stitches and some decorative beads in one compact piece that sports a Jacobean flavor, but is definitely contemporary.
The leaves and blossom in this kit give plenty of scope for working a huge variety of stitches! You'll find something like 18 different stitches & combinations packed into the piece, making it a really good learning project.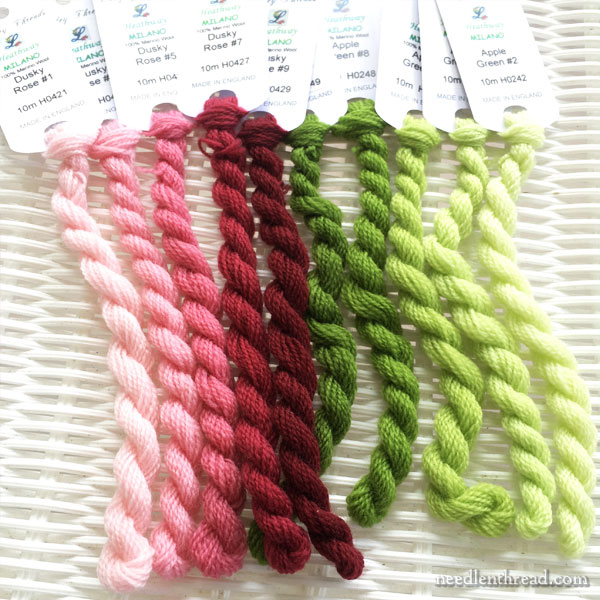 Perhaps my favorite aspect of the kit is simple color line-up. While there are only two color families involved in the embroidery, there's a nice range of shades of Heathway wools in those two color families.
I love the combination of the vivid greens and pinks.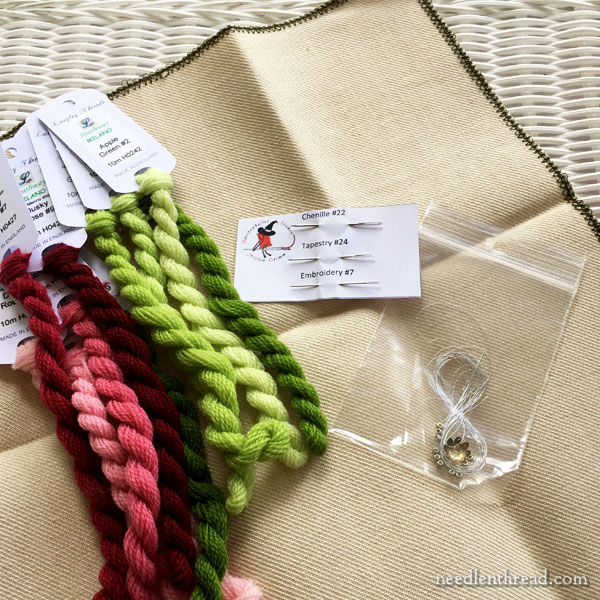 The kit comes with linen twill for the ground fabric, needles, 10 shades of Heathway wools, a silver thread, beads, and instructions.
The design is not pre-printed on the fabric, and on this particular fabric, you'll need to transfer the design in some way other than tracing (prick and pounce, dressmaker's carbon, iron-on transfer pen – just some ideas).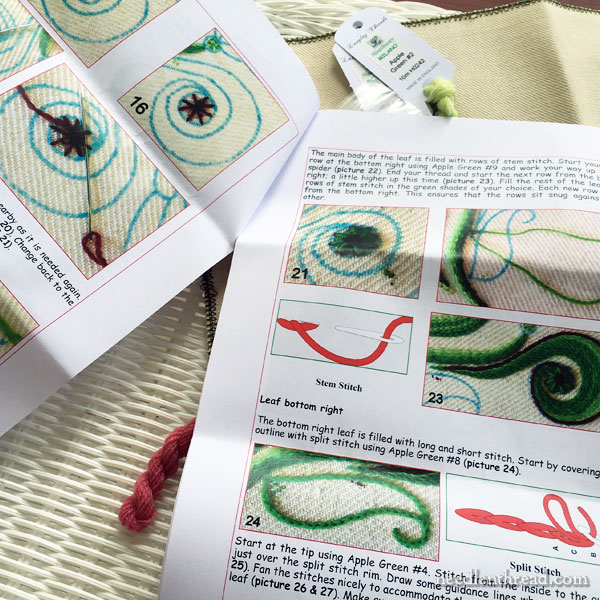 The instructions include a line pattern, a photo of the finished piece, and step-by-step photo instructions for the techniques in each section of the design.
The kit is listed as an "advanced" kit. After looking it over carefully, I'd say that anyone who is familiar with basic stitching and project set-up, and who is accustomed to following stitching instructions and troubleshooting where necessary, could handle it as an introduction to crewel work. If you've never done crewel, but you've done other types of surface embroidery, it's definitely doable. The techniques are not difficult.
Where to Find It
You can find Carol's Rose Crewel Kit in Jessica's shop on her website. You can order Jessica's kits with instructions in English or German.
If you're in the US, don't forget to take into account the currency conversion from Euro to US Dollar. Also, be aware that at checkout, there are two shipping methods offered. The default one is DHL, which is almost as expensive as the kit. If you're not in a hurry, choose the second option!
While you're there, do stop by Jessica's blog. I'm especially enjoying her progress on this Or Nué figure embroidery.
Coming Up on Needle 'n Thread
The next kit we'll look at down the road a bit involves an amazing dragon. Yes. A dragon! So, dragon lovers, beware!
I've got some progress to share with you on the floral voided monogram we looked at on Monday.
I've also been setting up another kaleidoscope project, and I'll give you a sneak peek and chat a bit about a subject that can be troublesome to stitchers, but that we all have to face at some point. But hey, I won't present a problem without discussing possible solutions, too!
And then some thread talk. I'll let you in on a little secret policy that I've been keeping for the past year and a half, and it seems to be working out pretty well.
And we'll tackle other stitchy subjects that might arise, too, as usual.
One of these days, for those who are asking, I'll share a personal update, too – thank you for your solicitude! I'm doing well and I'm pretty confident I'll have some good news to share soon.
Wishing you a marvelous Thursday!