Appliqué is a needlework technique that involves adding smaller fabric shapes onto a larger piece of fabric, usually in some kind of ornamental way.
While we often hear the term appliqué in association with quilting, it's also a technique that's closely associated with embroidery. Some embroidery books out there address the very basics of appliqué, but finally, there's a new book on the market that delves very (and I mean very) thoroughly into appliqué as it pertains to hand embroidery.
The book is called Appliqué: Techniques, Projects & Pure Inspiration, a Royal School of Needlework book by Kate Cross and published by Search Press.
If I had to pick one word to describe this book, it would be thorough. It is a Gem of a Book, full of precise, clear instruction, plenty of inspiration, and some nice projects to get you started in pursuing the wonders of appliqué with embroidery.
Unlike the previous books in the RSN Essential Stitch Guide series, Appliqué is a larger book, and it covers more than just the basics to get you started in the technique.
It's a book that's suitable for beginners who have never tried appliqué in embroidery, as well as for advanced embroiderers who want to take their embroidery to another level.
The book begins with a blurb on the Royal School of Needlework and moves right in to an introduction to appliqué – what it is, how it can be used, examples of its use in needlework. This is very readable material and gives a good overview.
Next, we move on to the history of appliqué. Here, you'll find images of the technique used throughout history and information on the development of appliqué techniques. Again, very readable – and picturesque!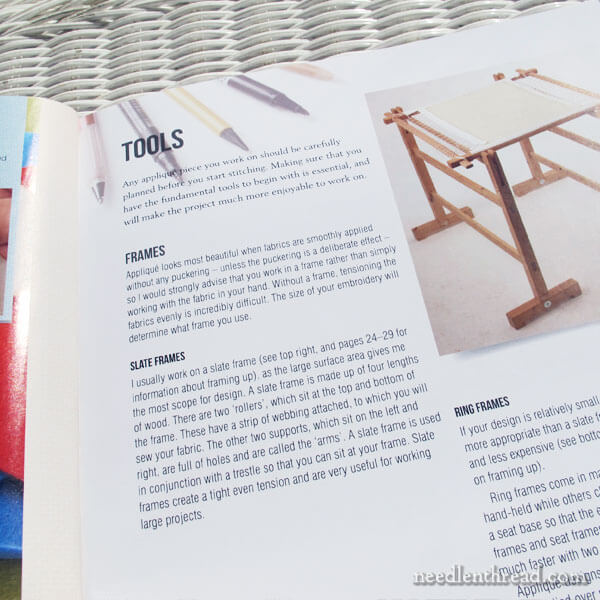 Next up, there's a chapter on fabrics used in appliqué, followed by an extensive coverage of the tools required.
The tools are pretty much the same as the tools used in embroidery, surprisingly enough! There are a few extra gadgets that come in handy with appliqué work, and it's not unusual to use an iron more frequently than you would with straight embroidery, but pretty much, if you've been embroidering for a while, you probably have all the tools you need.
In the section "Getting Started," you'll find comprehensive instructions for setting up every aspect of your work, including mounting your work in a frame or in a hoop, and preparing your ground fabric.
As is usually the case with the RSN books, you'll find very detailed instructions on using a slate frame. But in comparison to other RSN books, this one is even more detailed, with lots of clear, large photos of the equipment, of the framing-up process, and the like. Good stuff!
You'll also find an excellent chapter on design, covering questions of what makes a good appliqué design and how to interpret a design into an appliqué piece.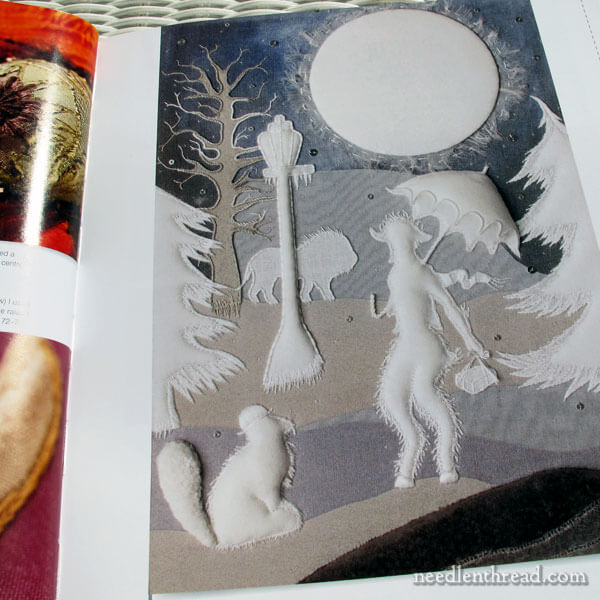 Here and there, throughout all this information, you will, of course, come across photos of appliqué projects that will inspire you to try the techniques for yourself.
Oh, Mr. Tumnus! How white and chilly you look!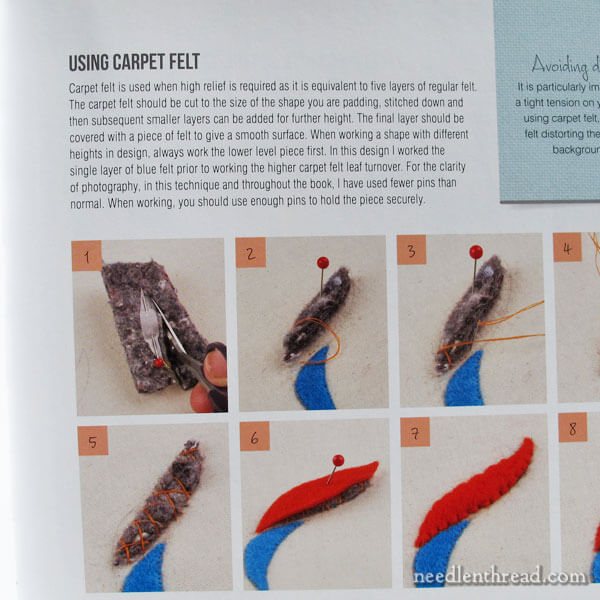 Before we get into the actual principles of appliqué, there are chapters on order of work, transferring your design, and essential starting techniques – all of which have excellent and useful information in them.
Then, we get into the fun part! The principles of building up! Appliqué in needlework relies on the building up of a foundation underneath the applied fabric and the author discusses several different ways to build up foundations in the chapters on building up and on padding in layers.
You'll find instructions for felt padding, string padding, slip padding and trapunto padding.
Following the building up, there's a chapter on covering up – that is, applying the top layer of fabric over the built up foundations.
The author demonstrates the appliqué edge, the turned edge, and reverse appliqué.
The next chapter is devoted to adding interest with texture, and this is where we learn to use leather, add frayed and gathered fabrics, and use heavy weight interfacings.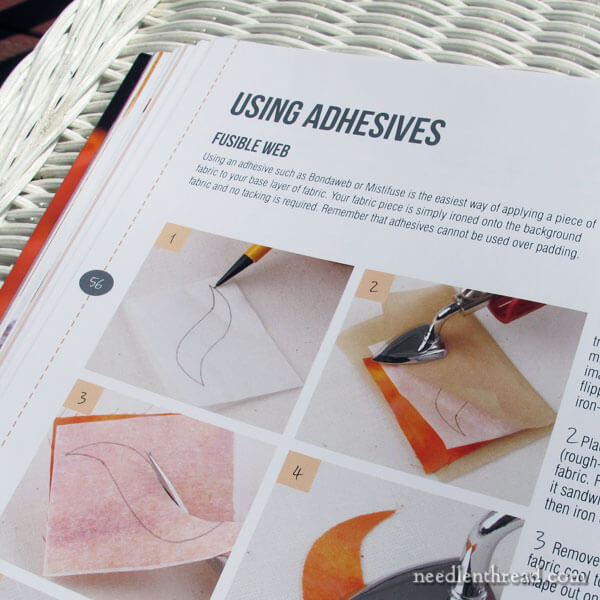 There's an excellent chapter on using adhesives, with lots of tricks and tips that will help you use adhesives effectively.
Yes, adhesives. It really is ok to use adhesives for some techniques!
Once you get your fabric applied the way you want it, in the shape you want it, built up as much as you want it, there comes the question of embellishing.
Edging is a big part of appliqué work, so you'll find a chapter devoted to all kinds of different ways you can edge an appliquéd element, with tips to help you through the tougher spots, like tight corners and the like.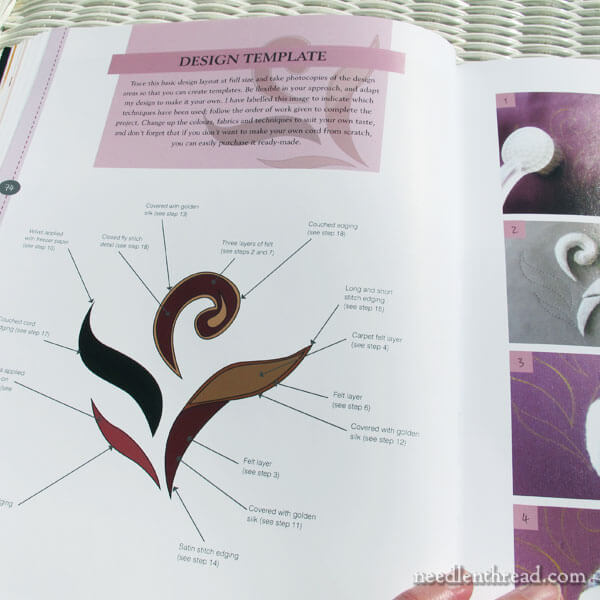 Then, we come to the projects. There are really only two projects in the book – a fern and a poppy.
In each project, you'll find a design template, step-by-step photos of the order of work, supplies needed, and so forth.
Both are nice, but what's really nice about them is that you'll find, when reading through the projects, a lot more instruction to take in, that you can apply to your own undertakings.
For example, you'll find instructions on using metal threads…
…and on cutting away fabrics for reverse appliqué techniques and the like.
You'll also discover how to use sheer fabrics and shadow work!
In the back of the book, there's a reference section with embroidery stitches, featuring step by step photos of a variety of stitches…
…along with an awesome needle reference chart!
There's a glossary of terminology and an index at the back of the book, along with a short list of suppliers.
In a Nutshell
It's been a long time since I've been as impressed with an instructional book as I am with this book. Sure, I've reviewed a lot of project books that are terrific – but when it comes to really detailed, comprehensive instruction, this book tops the charts in recently published instructional needlework books.
After reading it cover to cover, I didn't find anything that was vague. It covers everything you need to know about the subject, and then some. It's a really good book, and if you have any interest in adding the kind of dimension to your embroidery projects that appliqué affords, then this is definitely an instructional book you want on your shelf!
Especially for folks who are interested in ecclesiastical embroidery, embroidery from the 17th century and other historical periods, goldwork and other metal thread embroidery, the book is a must!
Where to Find It
You can find Appliqué: Techniques, Projects & Pure Inspiration from the following book affiliates:
In the US, Appliqué is available here through Amazon.
Worldwide with free shipping, you'll find Appliqué available here at Book Depository.