Continuing on with our recent exploits into embroidery kits from designers who sell their own kits, today I want to show you a kit for an Absolutely Fantastic Dragon!
Jade Dragon hails from Roseworks Embroidery Designs in South Africa, the work of designer and embroiderer Colleen Goy, who has produced a prolific amount of embroidery kits suitable for all tastes and levels. Roseworks has been producing embroidery kits for a long while, and they have over 100 designs available in kit form now!
Let me introduce you to Jade Dragon, up close and personal. I'll share with you all the pertinent details of the kit, chat a bit about the level of embroidery, and share information on where you can find it.
When I first saw this kit, I thought, "Wow, that dragon is pretty incredible!"
And I thought of all of the embroiderers I know who like the world of fairy tales, fantasy, dragons and the like. If you fall into that category, this kit is definitely for you!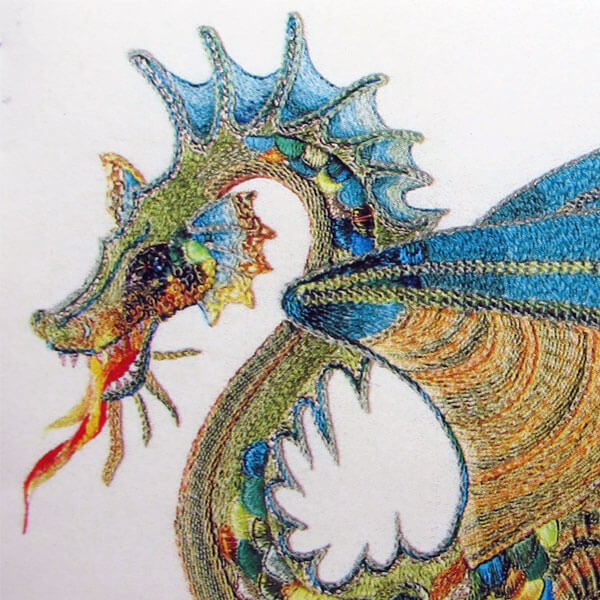 Jade Dragon is a riot of color, stitches, and textures.
The suggested threads for the kit include cotton floss, perle cottons, metallics and rayons.
The piece can be embroidered either on a silk or a cotton ground fabric. For the nominal difference in price, on something like this, I'd go with the silk, and I'd back it with a good cotton muslin.
Most of the stitches involved in Jade Dragon are simple stitches to learn – buttonhole, chain, stem, split stitch, raised chain and stem, and the like.
But even though the stitches are pretty simple, I wouldn't suggest this particular piece for a beginner. I'd say a determined intermediate embroiderer could undertake it successfully, if really determined. Otherwise, I'd put it at the advanced level.
The kit includes the pre-printed fabric (you can choose silk or cotton), a photo of the finished piece, and all the instructions for stitching it as shown in the finished photo.
There are no threads (or needles) included in the kit.
This works out well for the embroiderer who likes to choose colors. For those who want to work the same color scheme, no worries – there's an extensive thread list included.
The silk version of the kit is a very light rosy-gold silk dupioni. It's silk screened with the design, in a fine, easy to cover line.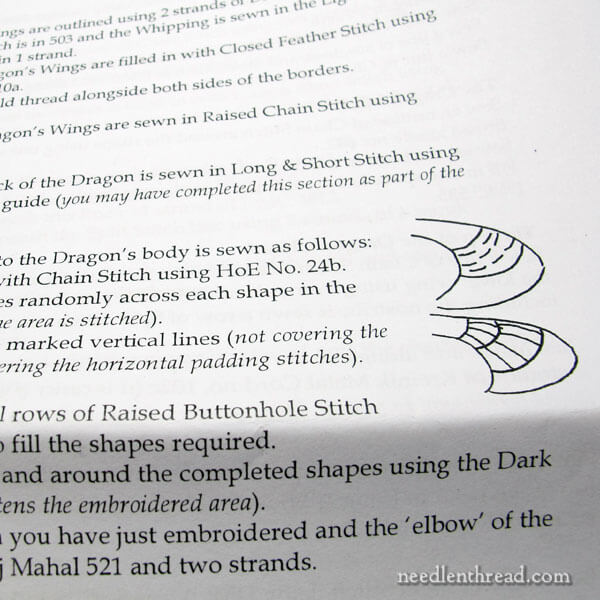 The instructions for Jade Dragon are mostly written instructions, which is one reason I'd recommend it for determined intermediate and beyond.
You definitely need to know how to read and interpret stitching instructions. Occasionally, there are small drawn diagrams that help clarify the written instructions.
You'll find clear stitch diagrams for all the embroidery stitches used in the project.
The instructions include a clear layout of every part of the dragon, with stitches and colors for each area marked out.
Think of this as a kind of "paint by number" map, so that you can see what goes where, according to the designer's original concept for the dragon.
The thread list (remember, the kit does not include threads) is fairly extensive, and it includes House of Embroidery threads, Raj Mahal Art Silk threads (they're rayon, not silk), DMC stranded cotton, and DMC Satin (also rayon). There are also a few metallics.
All the threads can be substituted. You could use EdMar rayons, for example, instead of DMC or Raj Mahal. You could substitute your favorite colorways of overdyed perle cottons for the House of Embroidery Threads, and you can substitute Kreinik metallics for the Madeira metallics.
But I think for substituted threads to work together well, you definitely need to have a good sense of color and a knowledge of texture and thread sizes, to make good choices in substitutions – which is another reason why I'd rank this as a determined intermediate to advanced level kit.
Here's the selection of suggested DMC floss colors…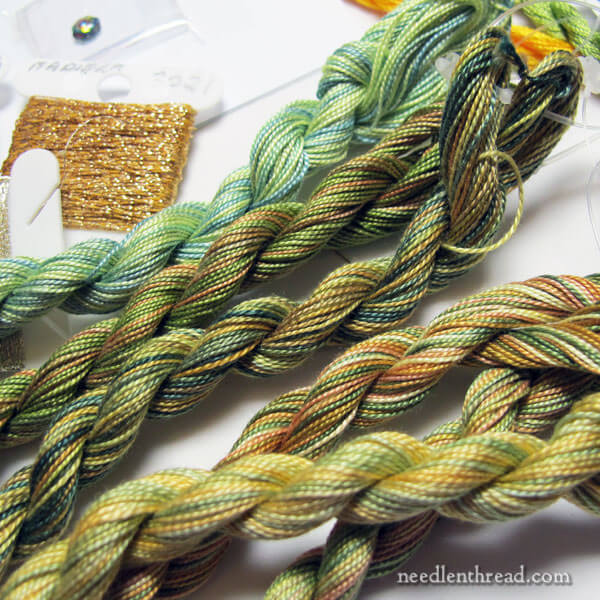 …and these are the House of Embroidery perle cottons used in the design…
…and these are the specialty threads called for (rayons and metallics).
The design also calls for a little flower shaped bead in iridescent jewel tones, for the eye of the dragon.
Pros and Cons
The pros:
Nicely pre-printed fabric, which is always a pro in my book!
The instructions are clear and understandable, especially for intermediate or advanced embroiderers.
The design is fantastic, and so are the color and stitches choices!
For those who like to choose their own threads and colors, threads are not included, so you aren't burdened with that extra expense.
The cost is quite reasonable, especially with today's currency conversion rates.
The cons:
If you're used to step-by-step instructions, you might find the instructions hard to follow.
For those who like all their threads gathered in one place so they don't have to hunt them down, threads are not included, so that might be problematic.
Where to Find It
You can find the Jade Dragon kit (with a choice of a silk or a cotton ground fabric) at Roseworks, right on the home page.
The kit, which does not include thread or needles, but does include the pre-printed fabric and all the instructions, is priced in South African Rands, so you'll need to do the currency conversion for your own country to determine the cost of the kit.
For US readers, with the today's currency conversion rates, the cost ranges from $11.83 to $13.68, depending on whether you opt for cotton or silk, which is quite reasonable. I'm not sure what the shipping rates are on just the one kit.
For ordering, you submit your information and they contact you via email with the invoice for payment.
So, that's the Jade Dragon! For all you dragon-lovers out there, it's a pretty wonderful design!
I can't help thinking what he might look like in reds… I think I'd like him sort of Welsh-ish!