A few weeks ago, I shared with you some progress on the embroidered kaleidoscope design I was working on, and we discussed the big job naming embroidery projects.
You came up with some great ideas for a name for this one! Thank you! I've settled on a name – it wasn't directly mentioned by anyone, but there were some related suggestions.
Today, we'll take a look at the finished kaleidoscope (yippee!) and chat about it a bit. I'll answer some questions that have come up about the project, too.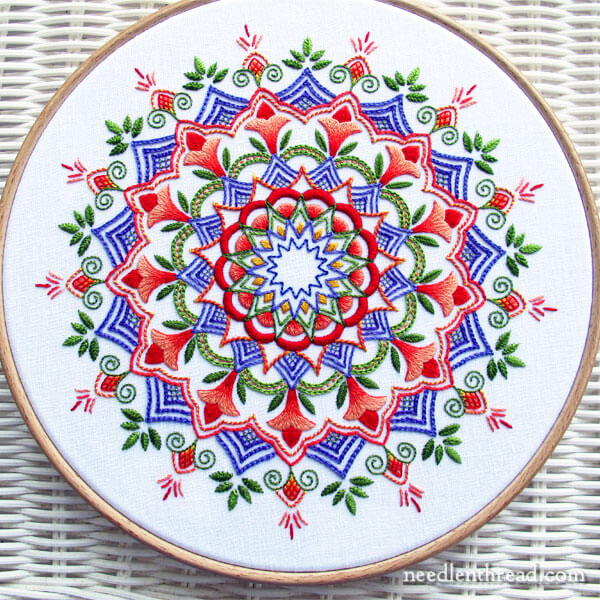 There it is! Finished!
The embroidery is 7.5″ in diameter. (You can click on the photo for a larger version.)
Now, one of the really fun things I'm finding about these kaleidoscope designs is that they are super-duper versatile. They can constrict themselves into a very small embroidery project, or they can expand themselves into a larger one.
Let me show you what I mean!
With this particular design, you might decide you want to stop right there, with the green scallops and leaves.
And there's no reason why you can't! In fact, maybe you just want to stop at the green scallops – or maybe at the red scallops? Or the blue layers?
Maybe you like the tulips and you don't want to go any farther?
Or maybe you just want to give the tulips a little edge and then call it quits?
(Please pardon these two photos – that's called Cell Phone Photography in Really Poor Light!)
I think you get the idea! With the designs built layer on layer, you can always plan to stitch as little or as much of it as you want to.
Finishing Ideas
Many folks have written to ask how a piece like this could be finished and displayed or used.
I'm sure many of you have some amazing ideas, and I'd love to hear them! You're welcome to share ideas in the comments below!
In the meantime, these are some ideas I've had for this design and similar designs I'm working with now:
1. Throw pillows. These designs would make great accent pillows to add a splash of color and interest to a sitting room or a bedroom.
2. Journal covers. This particular design might be a bit large for a journal cover (unless you have a really big journal!), but a portion of it would work. Smaller designs, or slices of designs, would work great, too.
3. Framed. They'd be a great way to brighten up a wall!
4. Quilt squares. They'd make a gorgeous edition to any kind of quilt that sports embroidery.
5. Footstool covers. Enlarged, worked perhaps in wool on linen twill – they'd make vibrant, fun footstool covers!
6. Box lids. Whether mounted in a pre-made wooden box lid, or made into a fabric box lid for a fabric box, they're perfect designs for lids.
7. Tray inserts. Sudberry House makes a darling square tray to mount needlework in. A round, bright kaleidoscope would look amazing in one of their square trays. Their trays and boxes are often available at local needlework shops, but you can also find them online if you don't have a shop close by.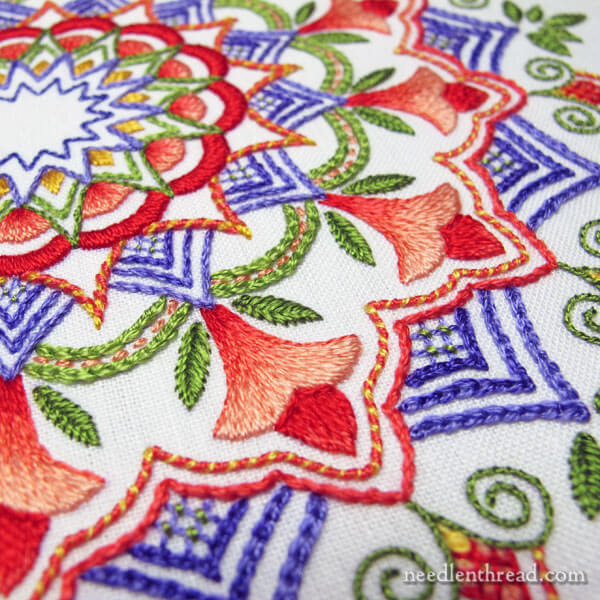 Availability
You can find the pattern for Tulip Festival, the embroidered kaleidoscope featured here, in my pattern e-book, Favorite Kaleidoscopes.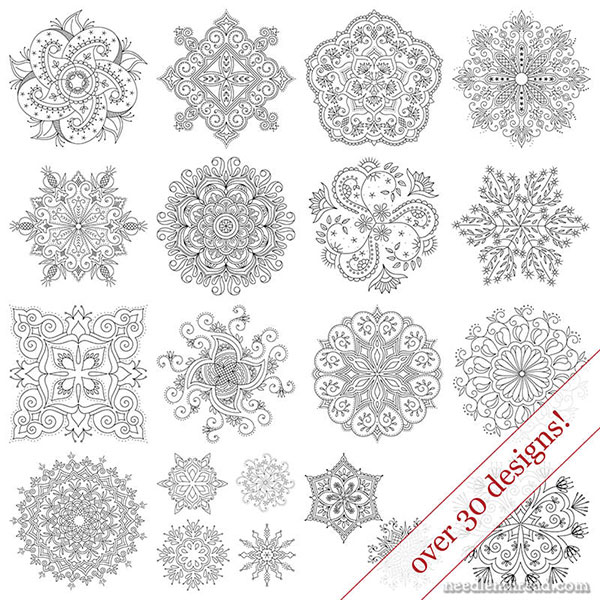 Favorite Kaleidoscopes features over 30 kaleidoscope embroidery designs, ranging from small to large, from simple to complex. They're a lot of fun to stitch, and a great way to create unique embroidered art using your favorite fabric, threads, and colors!
If you'd like to follow along with the stitching of Tulip Festival, you'll find the first article in the series of step-by-step development for this project here.
More to Come
I really enjoy working with these types of designs! Doodling them up is great fun, and then bringing them to colorful life with needle and thread is exciting! I like watching them develop, layer by layer.
Come to think of it, if I told you how many of these things I've doodled into existence over the past few months, you might think I'm a bit off my rocker.
They won't all go the way of embroidery. I just pick out one now and then that looks like it would interpret well with thread, and then I play around with it a bit. It's slow going – but slow is good!
If you have any questions, comments, or suggestions, feel free to leave them below!