Boo!
And there you have my Big Tribute to Halloween.
Instead of focusing on ghouls and ghosts this morning (I have none! But I do have candy if you're out trick-or-treating!), I thought we could look ahead a bit.
With November less than 24 hours away, and December showing up shortly thereafter, it's time to think about embroidering something special for Christmas.
And to get you started, here's a beautiful embroidery pattern for an angel in cutwork (or Richelieu) embroidery.
The pattern (you'll find the PDF at the end of this article) is from Joanna at Haft Richelieu, and it is part of her Christmas collection design booklet that will be out by December (no. 61 in the Haft series). No. 61 includes 10 angels adorned with beads, along with 12 other little whitework ornaments for the tree.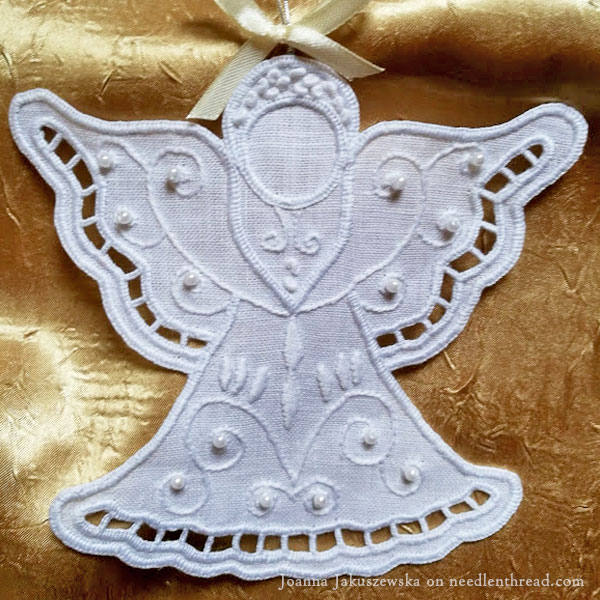 The fun thing about these little ornament patterns is that they are relatively quick embroidery projects.
Now, admittedly, this kind of whitework – called Richelieu and sometimes just called cutwork – is not really a quick embroidery technique. All the cut edges and the inside cut away areas are lined with closely worked buttonhole stitch, and all those stitches can take a bit of time!
But in the scheme of All Things Richelieu, where the designs are usually for much larger items such as table linens and the like, little ornaments like these help you get a good taste and feel for this type of whitework, without overcommitting yourself to a massive project.
Want Color? Interpret It!
What I really love about small designs like this angel is that you can get inventive and interpret the design with regular surface embroidery, too.
For example, you could use all kinds of colors and textures to stitch the scrolly lines and the edges that define the angel. It doesn't have to be done in cutwork.
It doesn't have to be cut at the very edge of the fabric, either. The shape is simple enough that you can even make a stuffed, sewn ornament from it.
A little (big) part of me wanted to throw away all my current scheduled plans and embroider this design, reinterpreting it in color with surface embroidery stitches. I picture it in a multitude of colors that fade out to white in the wings, with textured stitches and lots of beads.
But then the Cold, Wet Fish of Reality slapped me in the face, reminding me to restrain myself to the current to-do list.
And so, I will leave the interpretation up to you!
(Unless, of course, I decide to slap that silly fish down and do it anyway.)
Free Richelieu Angel Embroidery Pattern
If you'd like to print out the angel and stitch it up, here's the PDF:
Cutwork Embroidery Angel Pattern (PDF)
Hope you enjoy it!
Looking for More on Richelieu or Whitework in General?
Looking for more information on Richelieu and whitework embroidery? You might enjoy browsing some of these articles or experimenting with some other patterns:
An Easter Bunny Cutwork Pattern
Articles about Whitework on Needle 'n Thread
Transferring Whitework Embroidery Designs with Confidence
Whitework: The Essential Stitch Guide from the RSN
A-Z of Whitework: A Book Review – and some photos
Schwalm Embroidery in a nutshell
Schwalm Embroidery by Christine Bishop – with a bit of background information